Women in Luxury: Eshita Kabra-Davies, founder and CEO of By Rotation
The fashion tech entrepreneur explains why bravery is important in business – but so is a realistic mindset
The path to entrepreneurship is different for every founder – but for Eshita Kabra-Davies, founder of fashion rental app By Rotation, there was never any question she would get there. The daughter of globe-trotting entrepreneurial parents, she grew up between India, Singapore, the US and the UK, and from childhood knew she wanted to follow in her parents' footsteps and own her own business.
You won't, however, find a series of failed ventures and try-it-and-see-what-happens start-ups trailing in her wake. All too aware that the odds were stacked against her as an immigrant South Asian woman – a 2020 Extend Ventures report found that just 1.7 per cent of UK venture capital funding goes to ethnic minorities and only 2.87 per cent to all-female teams – Kabra-Davies began By Rotation as a side project while working in finance.
Then, in 2019, came a tipping point. "The opportunity became too obvious and large to ignore," Kabra-Davies explains. "By Rotation could no longer be just my side hustle." By Rotation, a social network-style app that allows members to lend and rent designer and contemporary clothing to one another, struck a chord with a growing cohort of consumers looking for a more sustainable way to participate in fashion. Kabra-Davies left her job and never looked back, growing By Rotation to over 500,000 downloads and a staff of 12 in just three years.
Which is not, of course, to say that it's been easy. "It's been a wild journey since our launch," admits Kabra-Davies. "We've had three global lockdowns where no one was changing out of their PJs (so no fashion rental needed!), competitors threatening to shut us down and a challenging macroeconomic environment now with the cost of living crisis and recession. The biggest lesson I've learned throughout my entire career, not just By Rotation, is that tenacity is what gets you through."
Did you always have a clear career path in mind and how has reality compared?
I found myself working in investment management after university, having completed two internships at banks and asset managers during my undergraduate degree. I was hired on to a very corporate graduate programme as an investment analyst, and the career progression and goal was clear: to get my CFA qualification and become a portfolio manager. In reality, I did a complete career change by making my side hustle – founding a fashion tech startup – into my full-time career!
What were some of the biggest challenges you faced when starting out in your career?
I was one of the very few females investing in corporate bonds. I was also only 24 years old and not white. I was asking CEOs and CFOs of listed companies in intimate meetings and industry-wide conferences to explain their (under)performance and why I should continue investing in them. Owning my position, role and duties was an incredibly steep learning curve professionally and personally, but I've never been more grateful and proud to be so trusted and respected.
Not many solo female founders (that are also first-timers, women of colour and immigrants) have been able to raise venture capital. I'm grateful to have done so, and I continue to hold a large majority stake in my company, which again is rare in the consumer space.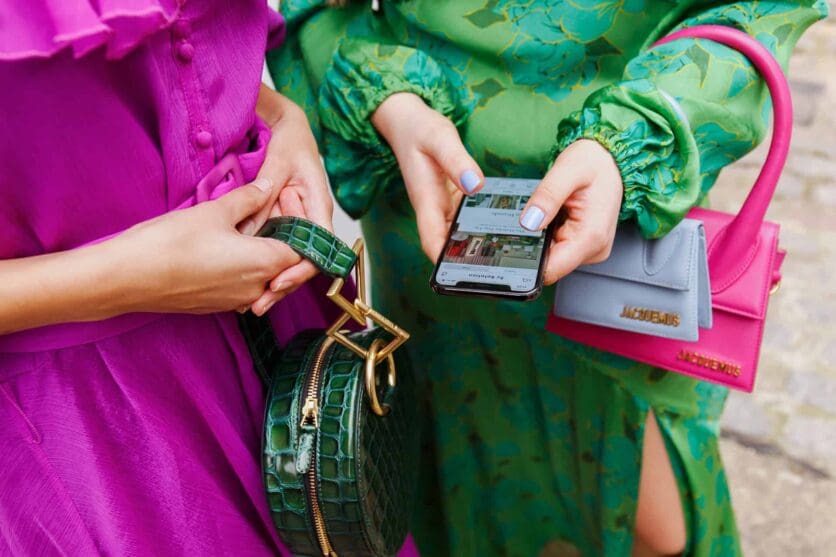 What convinced you to leave your job and start By Rotation?
My husband, our community – which had grown without any paid marketing campaigns or connections – and the overwhelming support for the sustainable and circular fashion movements that we were beginning to see in mainstream media in 2019.
What does an average day look like for you?
It really is different every day! Today, for example, I did my hair and makeup (for a change!) at 7.30am, ran an investor meeting at 9am, then filmed with three guests for our podcast series, On Rotation, at our Marylebone townhouse office and, finally, dashed to the other side of town for another investor meeting.
What are the best and worst parts of your job?
Best: Reading heartwarming stories from our community about how By Rotation is helping them, and meeting our community in real life.
Worst: Hiring, fundraising… They are a lot of work and time-consuming, require all your attention and can be quite admin-heavy but are also incredibly important.
How easy do you find it to switch off?
While I am usually very composed during times of stress, I have an anxious and hyper mind and thus find it very difficult to switch off. I am really always 'on'! That said, I love to work out alone. Also a glass of wine at my favourite local wine bar, The Italians in Marylebone, is always nice!
Tell me about a woman you count as an inspiration.
I recently spoke alongside Natalie Massenet (founder of Net-A-Porter) at Harvard Business School for their 32nd annual Women in Business conference and had the pleasure to connect with her. I was deeply impressed and inspired by her mettle and story – she's tough love, no nonsense, self-aware and very authentic. I also love her focus on wanting to do things that are completely different to others, and not follow the herd.
What qualities do you think are most important in a good leader?
I'm still very much learning on the job, and this is one of the areas where I'm constantly understanding new things. What I've experienced so far is that a good manager hires people that have expert skills that he/she does not possess, equips them to become better versions of themselves professionally and does not micromanage.
How have you seen the landscape change for women working in luxury over the course of your career?
I'm grateful to see more women of colour being highlighted in this space – even a female Indian CEO at Chanel is so encouraging! I am super excited for a luxury industry based on merit (substance), rather than the 'right' background (style).
Do you think attitudes to work have changed significantly since you joined the workforce?
There's certainly much more flexibility than I experienced as a fresh graduate working in finance. Take, for example, new trends such as 'quiet quitting' where people have little connection to their work beyond the bare minimum.
What would you tell your younger self with the benefit of hindsight?
Lean in to the things that make me unique and continue to show my personality beyond my work – don't feel worried about the rules of the corporate world and ruffling feathers! Also, don't give up coding and graphic design because these industries end up being extremely coveted.
What advice would you give to young women thinking of founding their own business?
I'd recommend starting off the business idea as a side hustle first and validate your commitment to it – passions should not be confused for livelihoods.
Read more: In conversation with Helen Brocklebank, CEO of Walpole