Is the new Nightster the most un-Harley Davidson-like Harley-Davidson ever?
With high-tech drive modes, traction control and a new LCD display, the Nightster is a motorcycle for the 21st century. But in the rush to join the future, has the manufacturer lost its classic Milwaukee soul?
The road seems to lead to nowhere. It dissects a flat, desert-like stretch of land populated by a mixture of simple, wood-panelled shacks, telephone poles and two lighthouses. A power station looms in the background, while a single tavern provides a welcome break for weary travellers. The grey-and-black Harley-Davidson Nightster looks right at home. Despite feeling like it, I'm not in a dusty, remote California outpost. Rather, I'm on the most southerly tip of Kent, just 75 miles south of London.
Dungeness is a unique headland that looks about as far removed as possible from anywhere else in the UK. The protected area of land houses some of the rarest wildlife in this part of Europe, as well as alien-sounding plants, like 'Viper's Bugloss' and 'Queen Anne's Lace'. It's a uniquely flat, sparse stretch of shingle, said to be one of the largest in Europe, but it's become as well known for its architecture as it has its nature. Dotted around are converted Victorian train carriages, reconfigured as homes for local fishermen. Elsewhere, there are strikingly modern, Grand Designs-style holiday homes. The lighthouses watch over everything, all-seeing concrete guardians.
To get here, I took the all-new Harley-Davidson Nightster, which stands out in its own way. First off, you don't have to know much about bikes to recognise that it's a Harley-Davidson. The distinctive silhouette has been immortalised in film 100 times over. But throw a leg over and this new iteration becomes a completely different Harley than the bikes you thought you knew. This is a thoroughly modern motorcycle – far from the basic, unpretentious bikes upon which the brand has built its name. And it's caused quite a stir among the Milwaukee faithful as a result.
It's said to be based on the company's Sportster line of bikes, which Harley-Davidson has produced continually since 1957. One of the longest-running families of any motorcycle manufacturer, the Sportster has always been the brand's most versatile bike. It has competed in, and won, numerous dirt track races over the years. It was Evel Knievel's favourite bike. The Sportster is often thought of as the entry point into Harley ownership, with its winning combination of smaller size, unintimidating riding position and less powerful engine.
In the UK, however, the Sportster as we know it is no more. Emissions laws made its distinctive air-cooled V-Twin engine defunct, unable to pass strict Euro 5 tests, so changes had to be made. The new Sportster, released in 2021, took things in a drastically new direction. The old thumping V-twin was replaced with the brand's new Revolution Max engine, resulting in sports bike-levels of power and torque. The styling was beefed up, too, meaning that it possessed little resemblance to what had come before.
This is where the 2022 Nightster comes in. It's got the classic Sportster silhouette, including the signature peanut tank, rear guard and upright forks. But it, too, is powered by a Revolution Max engine, and it features sophisticated brakes and suspension. In truth, other than the looks, there are few similarities between the new Nightster and the Sportsters of yesteryear. But is that necessarily a bad thing?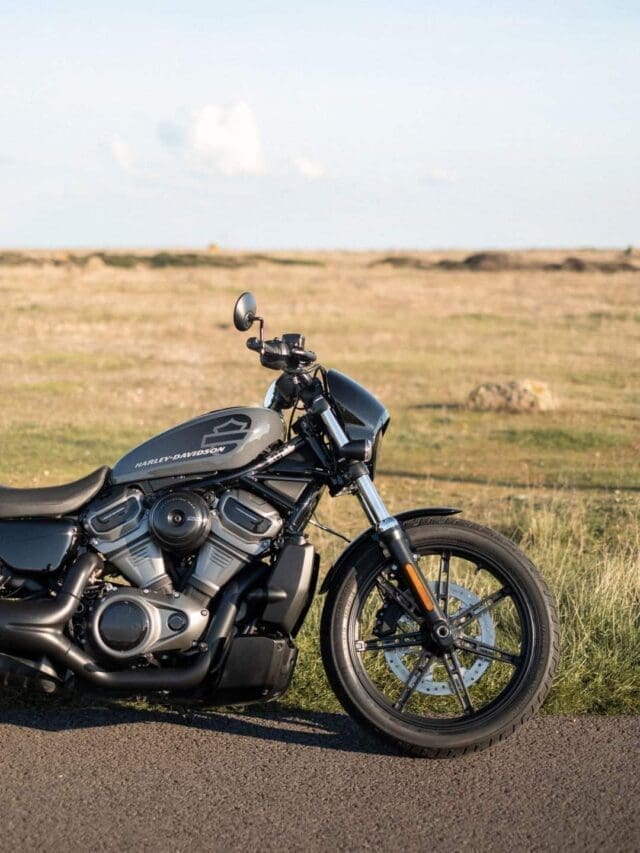 It certainly doesn't feel like it riding south out of London and down into Kent. The bike is light and nimble, making it easy to navigate through hordes of busy city traffic. The relatively slim profile ensures filtering is a breeze, while the large, two-into-one exhaust lets cars know you're coming through. On that note, the sound is something that sets this bike apart from any other Sportster made from the 1950s through to last year. It's made by the liquid-cooled, 975cc Revolution Max engine, Harley's new, 21st-century take on the V-twin engine around which its bikes have always been forged. It produces 89bhp, and a hefty punch of torque that far outperforms any other Sportster. Just don't expect that signature bassy rumble you've come to expect from Harley-Davidsons. Start up the Nightster and it clatters to life, making a strangely tinny, empty idle that will disappoint purists.
Things make more sense under load. As I escape the stop-start traffic of London and make it onto the A2, a twist of the throttle produces a surprising roar that seems to want to go on forever. The bike rushes forward, the addictive intake noise willing you to tease every ounce of the bike's seemingly infinite torque. I eventually make it to the M20 and once settled in, the Nightster is right at home cruising on the motorway. Which makes sense as long, wide roads are the ancestral seat of the Harley-Davidson brand.
The bike is also fine for short journeys. The M20 is no Pacific Coast Highway, but you could happily relax on it for an hour or so. Anything longer than that and you might find you get a sore backside. The slightly forward foot pegs and low-slung seat mean that most of your bodyweight goes through your rear, which looks far cooler than it feels.
Things improve on Kent's flowing B roads. While often too narrow for extracting the most out of a car, the Garden of England is perfect for exploring on two wheels. The Harley dices up the back roads leading down to the coast; its light, easily-chuckable weight and explosive torque making it feel more like a sport bike than a traditional cruiser. On the longer stretches it's an effortless overtaker, while on the more technical, tighter bends it inspires confidence with its predictable, easy turn-in and surprising ability to lean.
It's perhaps on these roads that the Nightster makes most sense. Harley-Davidsons have never been known for their performance. But the new, incredibly responsive engine and large, Brembo disk brakes means you can start and stop as quickly as most things on the road. There are three ride modes, including a 'Sport' option, as well as a fancy drag torque slip control, which better manages the power in slippery conditions. Combine this with its lightweight feel and low centre of gravity, and it makes for a thoroughly modern package – one that's more than capable of keeping up with sport bikes. For younger riders who may not have that nostalgic attachment to the thumping V-twins of old – yet still appreciate the classic cruiser silhouette – this might be the perfect bike.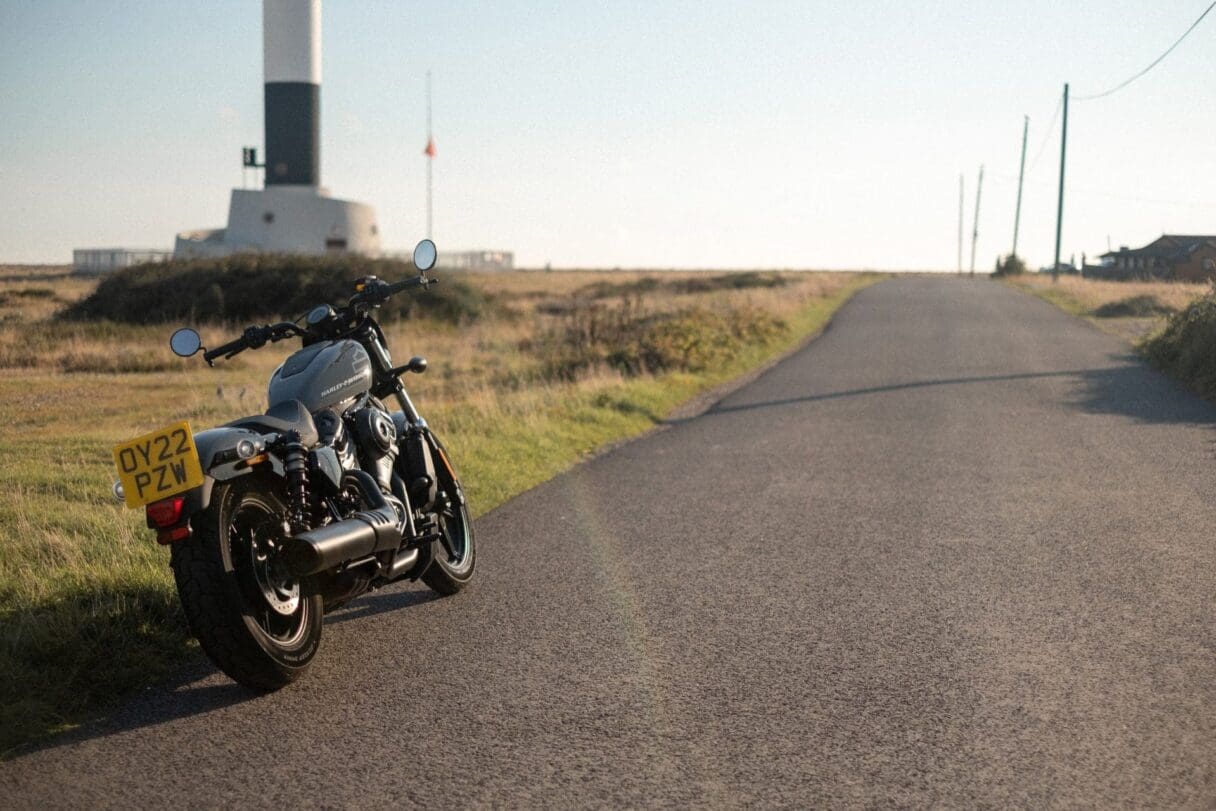 Regardless of how it rides, the Nightster certainly looks like it belongs in Dungeness. The vast, desolate landscape opens out as I crawl along the single tarmac street that splits the shingle expanse in two. At first glance, it looks as though Dungeness hasn't changed a great deal in 100 years. But look a little closer and you notice the trendy fish hut serving fresh catches, the modernist black holiday homes, and, famously, that power station. Time moves forward, places adapt, design evolves.
A remote headland in Kent isn't immune, and neither is the longest-running model in Harley-Davidson's history.
Harley-Davidson Nightster – The Numbers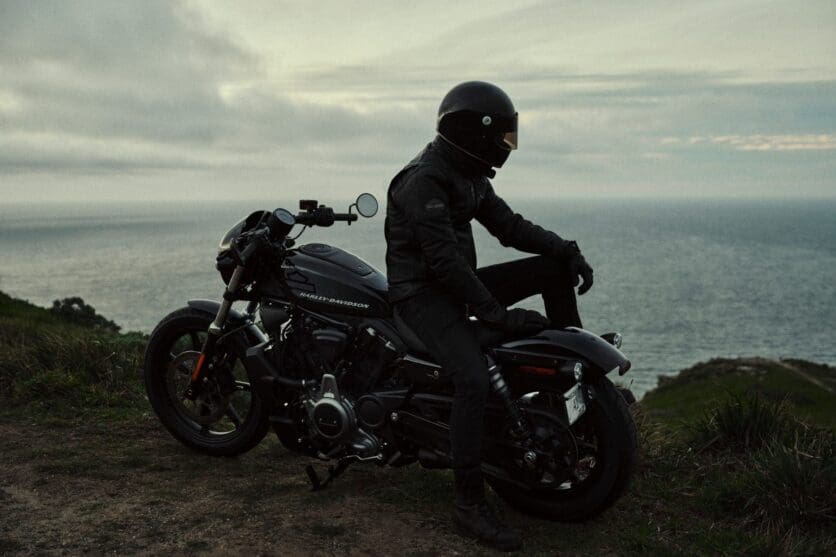 Engine: Revolution Max 975 ST
Displacement: 975CC
Torque: 95NM
Horsepower: 89HP @ 7,500 RPM
Fuel economy: 5.1L / 100KM
From £12,995, harley-davidson.com