EMS training: How it works and the classes to book in London
Promising serious results from weekly 20-minute sessions, we delve into the science behind EMS training – and try a class for ourselves
Electric muscle stimulation (EMS) training is perfect for those who don't like fitness. This may sound ironic, but hear me out. Within 20 minutes, you'll be tensing and sweating while performing basic lunges, squats and bicep curls – and then you're done. Consider your workout for the week complete, and you're in and out of a fitness studio in under an hour. Essentially, EMS exercise contradicts the idea that you need to spend endless hours in the gym to yield results – so no wonder it's so popular.
Once a workout reserved for professional athletes and celebrities (Madonna, Roger Federer and Usain Bolt are reportedly fans), EMS training has become a popular choice for those who find they don't have enough time to spend in the gym or wish to complement their training regime with something a bit different. However, this isn't a workout you can perform at home – at the end of the day, it does involve carefully and safely electrocuting your muscles – and for years, the UK had not been at the forefront of this fitness trend.
"There are thousands of these studios in Europe, we're just slow as an industry in the UK," says Sam Turpin, national manager at leading EMS fitness brand, Feel Electric. "We started our journey three years ago and currently have eight studios across the UK: four in the north and four in the south including Clapham and, more recently, Fulham." 
Feel Electric's first London outpost opened minutes from Clapham North tube station at the beginning of the year, before high demand led the brand to open in Fulham in August. Each session here is satisfyingly simple: it's 20 minutes in length, guided by a personal trainer and uses specific activewear and machines to maximise the time and produce real results. It sounds too good to be true, right? We give it a try.
How does EMS training work?
"If you're in the gym doing a bicep curl, and you repeat that once, you contract your muscle once. If you were to do the same exercise using our EMS machine, you'd contract the muscle up to 85 times a second in every muscle group which is why it's so effective," explains Turpin. The EMS machine – similar to a TENS machine which emits currents to relieve symptoms of pain – releases electrical impulses to stimulate your muscles, causing them to contract. It also targets deep muscle fibres that aren't usually activated during conventional workouts, such as walking or cycling, as a result of the impulses' speed and power.
At Feel Electric, clients are asked to change out of their own activewear and into thin, space-like neoprene suit with no clothing underneath – a common practice in EMS training in order for the impulses to directly target skin and, therefore, muscles. Instructors will then attach electrical conductor straps to your thighs, biceps and glutes as you put on a vest with electrical conductor pads targeting your abs. The entire kit is sprayed with water, helping it stick to your body and, as Turpin explains, "It's a great conductor of electricity so it helps you feel the impulses a lot more effectively." 
What to expect during EMS training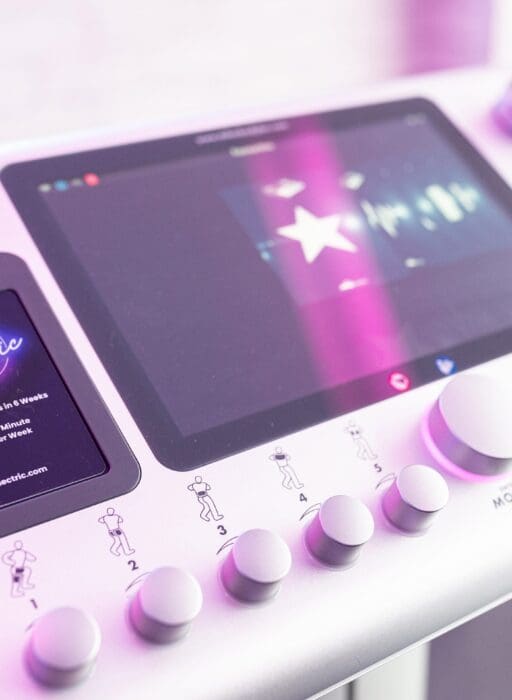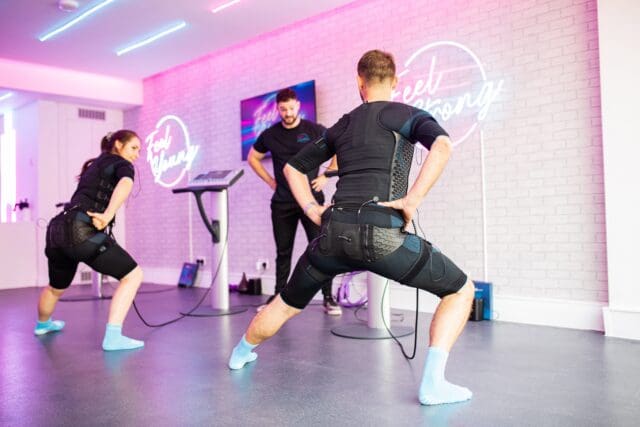 Sessions at Feel Electric begin with a thorough health examination by a personal trainer, discussing goals and lifestyle factors that may affect your workout. This is aided by the InBody 770 in-studio machine (retailing at more than £16k) which measures 48 different metrics including your body composition, muscle fat, cellular water, metabolic rate and segmental lean analysis. "This leads on to our third offering which is our food programme hosted by our in-house online nutritionist which is offered free at the start of a trial."
Clients then choose a membership: Standard, including one 20-minute session per week, and Supercharge which offers two. "We have two types of workouts: strength and metabolism. Metabolism is really good at getting your heart rate up and burning fat whereas strength is really good for toning, firming and shaping those muscles. That's why if you're coming in twice a week, the best combination is one of each.
"Strength EMS sessions need to be at least 96 hours apart to allow your muscles and immune system to recover," explains Turpin. "Every time you contract a muscle it releases an enzyme called creatine kinase and the body, in particular the kidneys, needs time to get that enzyme out of the blood so it's a safe time to perform EMS."
The workout itself is not as easy as it looks. The exercise moves are basic, but when combined with an intense electrical buzz pulsating through your body, you're actually pushing against what feels like heavy resistance to maintain your form. As you tense and push harder, you fatigue faster. After 20 minutes, I was breathing hard and sweating, and for days afterward I could feel DOMs in my core, as well as my glutes. "It is a super effective workout when performed correctly," adds Turpin. "Some people just do this twice a week and see results – it's great for those who aren't time-rich."
Classes from £25, visit feel-electric.com
Read more: Lagree: Hollywood's favourite workout lands in London