The top beauty trends to look out for in 2023
Want to know what's going to be big in the worlds of skincare, makeup and hair this year? You've come to the right place…
As London Fashion Week comes to a close, it's time to take stock of the biggest looks of the AW23 season. From iconic pieces from Burberry's new creative director Daniel Lee to catwalks by Christopher Kane, Erdem, Roksanda and S.S Daley, February's LFW proved a stellar showcase for the UK's world-class fashion talent.
And as fashion month continues to project industry trends in Paris and Milan, it offers the perfect opportunity to not only geek out on the outfits on the catwalk, but the beauty looks too. From the return of the side parting to the makeup looks that will be dominating your feeds, we speak to experts about the biggest beauty trends of 2023.
2023 Hair Trends
A great hairstyle can make or break your look, whether that's paring hair back to let the clothes do the talking or opting for a bold cut to accentuate an outfit. The expert stylists at luxury haircare brand Neäl & Wølf let us in on the latest hair trends and discuss three key looks set to take over this year.
The power bob
A number of celebrities entered 2023 with a power bob, including Jenna Ortega and Hailey Bieber. This sleek and silky cut isn't new to the fashion world (Victoria Beckham has been sporting one for years), but the team at Neäl & Wølf predict this look will play a big part in sculpting hair trends this year, as it's easy to achieve and suits almost everyone.
Neäl & Wølf's head of education Laura Elliot says: "If you're considering making the cut but are worried about it suiting you, the good thing is you can tailor the bob depending on face shape. Ask your hairdresser for a blunt bob, cut all one length with a glossy finish. To get that salon-quality straight finish, you'll need good straighteners and for added polish and shine try using Neäl & Wølf's Glow Super Shine Spray which adds deep lasting shine and helps to smooth and control frizz."
Deep side parts
Gen Z may have boosted the popularity of the centre parting in a big way over the last few years but, thanks to new campaigns from the likes of Miu Miu, many are switching to the side instead. The side part is a popular look for those with thin or fine hair as it instantly creates volume and body.
Elliot explains: "There are different ways to style the deep side part. There's the slick, deliberate deep side part and the blown-out style. For a more subtle look, I would recommend the bouncy blown-out look, let your hair fall wet and wait to see which side your hair naturally falls. Use a volumising mousse to give hair a long-lasting durable hold. Begin with lightly towel or damp air-dried hair, shake the mousse, add a small amount to palms, massage evenly into hair from root to tip, and blow dry immediately."
Slicked-back bun
The super-glossy slicked-back bun is one of the easiest hairstyle trends to perfect and was recently spotted on Maya Jama at the 2023 Brits. It's also a look supermodels have been rocking since the '90s but, with its classic appeal, doesn't seem to be going anywhere.
"The slicked-back bun is one of the hairstyles that's dominating runways right now. It's the ideal hairstyle for a long day on the catwalk and even with its effortlessness, it screams elegance," adds Elliot. "Be sure to stay away from harsh gels that can cause damage when trying to achieve the slicked-back look, as this can prevent hair from breathing, making it weak. Instead, try using a conditioning hair mask that doubles as a hair treatment. Look for treatments that are enriched with nourishing ingredients such as shea butter, argan oil, avocado oil and jojoba oil."
2023 Makeup Trends
For all things makeup, we turn to celebrity MUA Hila Karmand who has created looks for some of Britain's biggest stars, including Little Mix's Jade Thirwall and Leigh-Anne Pinnock, as well as Olympian Dina Asher-Smith and BAFTA-winning actress Emma Mackey. We get the lowdown on the products Karmand predicts she will be using the most in 2023. 
Bold blusher
"Spring looks bring in bold colours on the cheeks," explains Karmand. "Think modern '80s-style blusher, layering rosy and berry tones for beautiful, sculpted cheeks. My current favourite blushes are Made By Mitchell cream to powder, best applied with fingers for a wash of colour or a stippling brush for fuller coverage. I am really into multi-use products, I often use lipsticks for blusher and the Ctzn Cosmetics Code Red range has numerous shades that give a pop of colour on cheeks".
90s Redux
"The '90s nude minimal makeup trend is probably my go-to for a quick, easy and polished look," says Karmand. "To create flawless but skin-like skin, I love using Pat McGrath concealers as foundations, dotting around wherever coverage is needed as well as using a perfect nude lipstick on eyes, cheeks and lips."
Metallic Eyes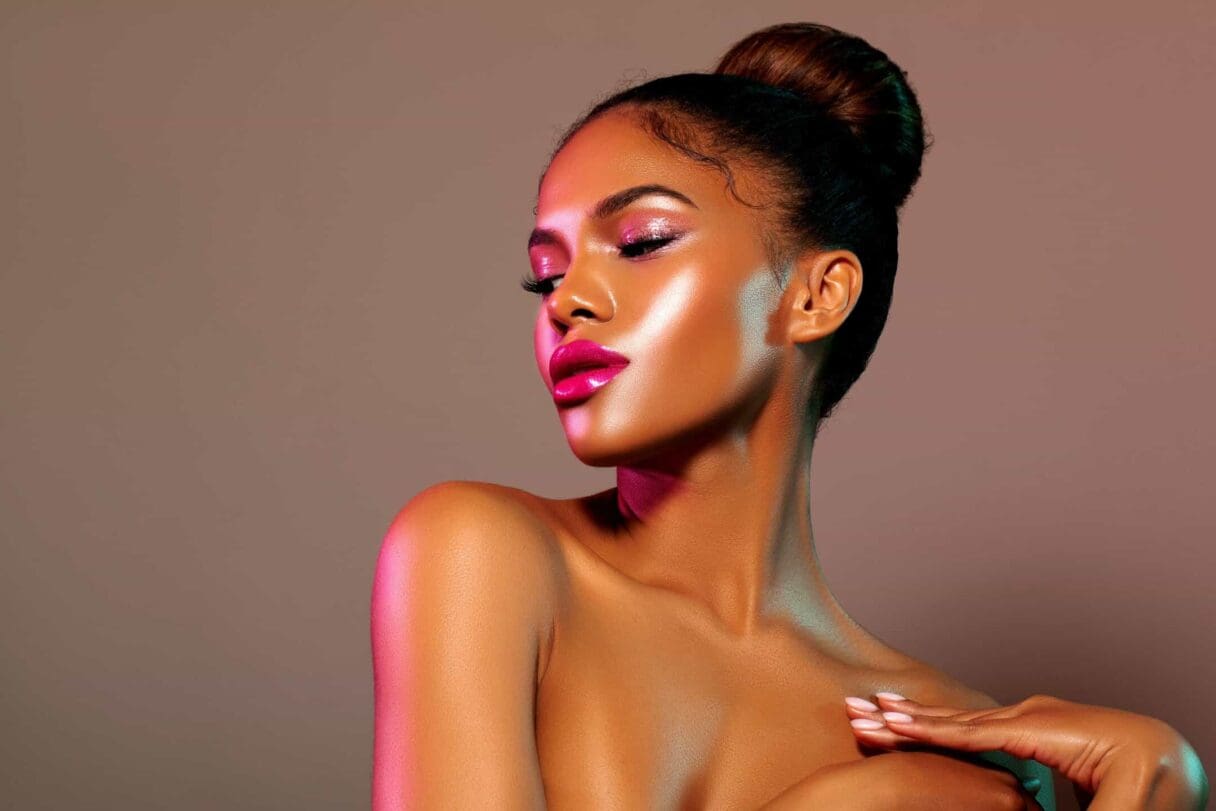 "Everyone can play around with this trend. Be as bold or as subtle as you like. My top picks would be the Danessa Myricks' Colorfix pigments — they're easy to use – simply apply on lids with fingers – and long-lasting. This is also a very buildable look, go lighter if you're not confident and build up the metallic".
2023 Skincare Trends
From everyday cleansers to medical-grade injectables, the skincare world is hugely innovative, so there's always something new to discover. With new brands and products landing on shelves every week, there's a plethora of products to try, all boasting different benefits. Swiss dermatologist Dr Tiina Orasmäe-Meder founded Meder Beauty to create products suitable for all ages and skin types. Here, she predicts what's going to be big in the dermatology field in 2023.
Microbiome-friendly skincare
"Microbiome friendliness is coming," explains Orasmäe-Meder. "[People are getting] a better understanding of the microbiome's role in skin health, so all 'microbiome-unfriendly' ingredients, such as alcohol and benzoyl peroxide (an ingredient known for treating acne), are disappearing from formulations.
"Microbiome friendliness means that products don't affect a healthy skin microbiome, but microbiome-oriented products bring beneficial changes. So a gentle cleanser with no AHA or alcohol is microbiome-friendly, but a gentle, prebiotic-based cleanser is microbiome-oriented and designed to help people suffering from acne, rosacea or skin sensitivity to improve and restore their skin's health."
Personalised skincare
Orasmäe-Meder says: "We speak about it every year, but this year is different because we are now welcoming scientifically-personalised skincare. This personalisation is based on microbiome and epigenomic skin analysis which is slowly being introduced to the market."
Finding and booking an affordable dermatology consultation has become easier and the popularity of consultation platforms, such as online dermatology service GetHarley, will grow even more in the upcoming year. This, in turn, is creating conscious consumerism in the beauty industry, as consultations help people buy products they need and, as Orasmäe-Meder predicts, "avoid spontaneous emotional shopping, leaving a lot of unloved products on the bathroom shelf".
Stocking up
Once you find a product that works for you, it's hard to see the benefits of trying other formulas which may damage the skin barrier you've worked so hard to protect. Orasmäe-Meder says she's seen an increase in people bulk-buying products that work for them. "It can be explained by the financial crisis and inflation but consumers aren't experimenting with new brands, instead, stocking up on products integral to their skincare routine. The biggest change here is that skincare is seen as an essential product and not as a luxury."
Read more: Squeaky clean: The best shampoos for every hair type