Celebrity Cruises: The travel brand redefining luxury holidays
Forget your preconceived notions of cruising. With Celebrity Cruises, five-star comes as standard
The world is reopening and, after the monotony of the last 18 months, isn't it time you tried something new? If there's anything that lockdown has taught us, it's that there is no time like the present for fresh, exciting experiences – and Celebrity Cruises is primed to offer just that.
If you've never really considered yourself a 'cruise person', stick with us, because sailing with Celebrity Cruises isn't your average cruise. In fact, it's more like staying at a floating five-star hotel that offers ever-changing access to some of the world's most beautiful destinations.
Whether you're looking to discover the wilds of Alaska, sample the beaches of the Bahamas or immerse yourself in the culture of the Mediterranean, Celebrity Cruises' huge range of itineraries offers something for every kind of traveller. Its cruises sail to more than 300 destinations and feature 236 overnight port stays, more than any other premium European cruise line, meaning, wherever you choose to go, you'll have plenty of time to explore your destination to the fullest, no clock watching necessary.
But, of course, a holiday with Celebrity Cruises is about far more than just the destination. Meticulous attention has been paid to every detail of the on board experience to ensure a stay on one of its award-winning ships is like no other.
Take, for example, the unique design on display in each vessel. Celebrity Cruises has worked with notable designers and architects, including Kelly Hoppen CBE, Patricia Urquiola, Jouin Manku, Scott Butler and Tom Wright, to ensure its liners look beautiful while offering a glamorous and luxurious experience for guests.
This can be clearly seen in the innovative Celebrity Edge® range of ships. Highlights on these ground-breaking cruise ships include sleek and spacious condo-style staterooms, triple-height conservatory-style Eden lounges designed to connect guests with the ocean and Magic Carpet®, an industry-first restaurant and bar that extends from the side of the ship, floating above the water and immersing guests in their surroundings. These are experiences no traditional luxury holiday can provide.
But what is a gorgeous locale or stunning stateroom without the service to match? With more than 30 years of experience in the hospitality industry, every member of the Celebrity Cruises team, from your stateroom attendant to the waiters and pool staff, possess an uncanny ability to anticipate your every need and always be on hand – but never in the way.
Celebrity Cruises understands that it is this level of service that makes all the difference when it comes to a dream holiday. Accordingly, its team features members from more than 50 diverse cultures, who each employ their unique experiences and skills to create a world-class stay for every guest.
Happily, this global approach extends to the kitchen, where a team of international chefs turn out exquisite dishes designed by Michelin-starred chef Cornelius Gallagher and inspired by cuisines from across the world. Celebrity Cruises' award-winning culinary offering allows guests access to an array of restaurants, speciality dining, bars, lounges and clubs, so whether you fancy alfresco fine dining, late-night sushi or a long, lazy lunch, you can eat when and where you like with no compromise. Plus, with a sommelier on hand in every restaurant, subpar pairings are a thing of the past.
If after all that indulgence you feel the need to hit the gym, Celebrity Cruises is happy to provide. Depending on your ship of choice, its 360-degree approach to wellness may include a state-of-the-art Technogym fitness centre, F45 classes or Peloton cycling. The brand's Women in Wellness programme also means you can benefit from the knowledge of experts including goop Wellness Director Kiki Koroshetz, Soul Cycle co-founder Ruth Zukerman and Olympian Morgan Mitchell, among others.
R&R more your thing? Step into The Spa. With a full-service menu of facials, massages and high-tech treatments on offer, alongside Persian Garden aquatherapy centres and Sea Thermal Suites on select ships, you'll leave positively glowing.
And, while Celebrity Cruises strives to give its guests the best experience in every way possible, it understands that this cannot come at the cost of the planet. After all, no-one knows better than a travel firm that our earth is precious and we must protect it. With this in mind Royal Caribbean Group, the parent company of Celebrity Cruises has launched Destination: Net Zero and pledged to achieve net zero emissions by 2050.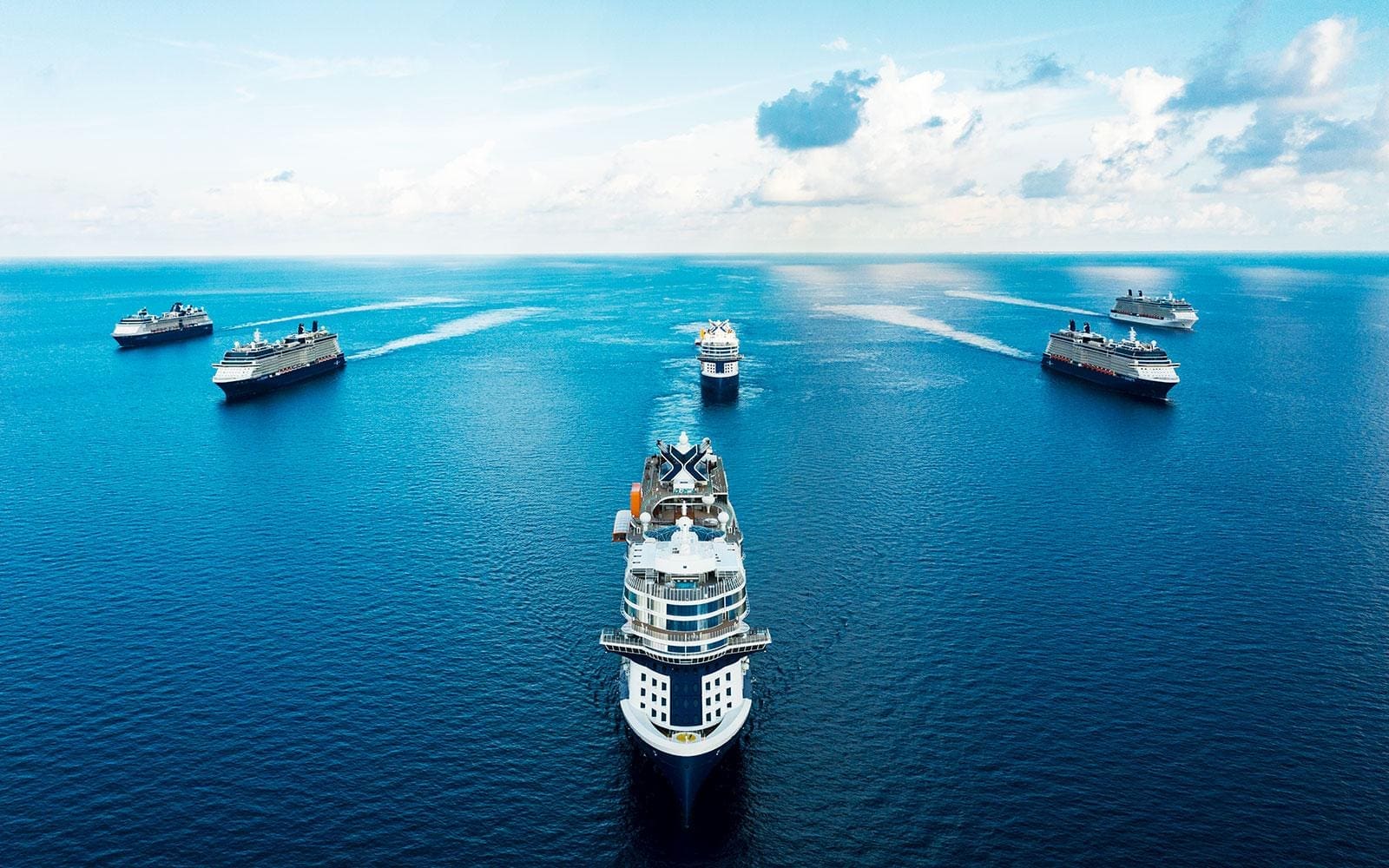 As part of its long-term sustainability efforts, the group will also introduce new energy-efficient vessels to its fleet, invest in wind farms to offset carbon dioxide and contribute to the development of alternative fuels and power solutions. The Group's efforts to date saw it achieve the World Wildlife Fund's ambitious sustainability targets in 2020, having removed 60 per cent of single-use plastics from its supply chain, produced 90 per cent of its freshwater on board and equipped its entire fleet to become landfill-free.
A luxury holiday that doesn't cost the earth? We're on board.