Fairmont Château Laurier, Ottawa: The facelift that has got famous faces up in arms
THE GOTHIC SILHOUETTE OF THE OTTAWAN HOTEL HAS BEEN A SYMBOL OF CANADA FOR MORE THAN 100 YEARS. NOW, A PROPOSED EXTENSION IS PITTING IMPATIENT PLANNERS AGAINST INFLAMED LOCALS
There's a joke they tell in Canada. In Toronto everyone says, 'Thank God it's Monday!' Joke being, in Toronto, everyone is obsessed with making money. In Montreal they say, 'Thank God it's Friday!' Joke being, in Montreal, people like to let their hair down. Over in Vancouver they say, 'Yo man, what day is it?'. Joke being, well, you get the joke (NB. Hollywood comic and cult stoner Seth Rogen is from Vancouver).
Ottawa, Canada's capital, doesn't get to be part of the joke. You can look at that in one of two ways. Either, that Ottawa is so culturally rich and socially diverse that it's impossible to pigeonhole into some pseudo-geo-anthropological identity box. Or, that Ottawa is boring. (NB: shock-noughties-comic Tom Green is from Ottawa. Which in no way reinforces the point in this paragraph in the same way the Seth Rogen reference nods towards the point in the paragraph above. Green's a good guy. He'll prove it later.)
There is one joke about the Canadian capital: How many civil servants work in Ottawa? About half of them. Ho ho ho. Here's the context…
In 1840, the Act of Union merged French-speaking Lower Canada (today's Quebec) with English-speaking Upper Canada (now Ontario) to form the united Province of Canada (the country, by the way, didn't officially gain control of its own constitution until 1982). Unable to settle on which city should act as the capital – in the space of two decades, Kingston, Montreal, Toronto and Quebec were all, to varying degrees of limited success, granted capital status – the Canadian parliament eventually asked Queen Victoria to pick for them.
In 1857, after considering various proposals, the Queen, or more likely her advisors, plumped for Ottawa.
What's all this got to do with a joke about civil servants? Well, between 1859 and 1866, Canada embarked on the largest construction project in North American history (up until then), building a string of authoritative-looking buildings on top of a hill that would eventually house the Canadian Parliament, the Supreme Court, the residence of Canada's viceroy, and the Office of the Prime Minister.
Over time, Ottawa became home to almost all of Canada's federal government institutions, including the Bank of Canada, the Royal Canadian Mint, the Department of National Defence, and the Canada Customs and Revenue Agency.
Upshot being, today the federal government is Ottawa's largest employer. Somewhat staggeringly, according to a survey published in 2021, it employs more than 116,000 people in a city of just over one million.
Hence, jokes about civil servants and Ottawa being 'the city that fun forgot'. It probably doesn't help that Ottawa also emerged as a hub for the famously riotous biotech and telecommunication industries. (Nortel was based in Ottawa, before some creative accounting led to the largest bankruptcy in Canadian history.)
Personally, we didn't struggle for things to do in Ottawa. There's plenty to fill up a three-day itinerary, between the markets and the museums and the river and the canal. It may not buzz like Toronto, or deliver the sort of spontaneous, disco-in-a-disused-church kind of nights out that Montreal has the potential of frisbeeing your way. But it dwarfs Kingston and was the most attractive city centre of our 17-day honeymoon rail trip (Toronto > Kingston > Ottawa > Quebec > Montreal > Dead).
Ottawa is the Loire Valley, Edinburgh's Royal Mile, Palladian England, baronial Scotland and Ancient Rome, on steroids, all in one place. There are other hotels in the city, but you'll want to stay in the Fairmont Château Laurier (the Loire Valley bit). It looks up to the Parliamentary buildings (the Edinburgh bit), across to the Senate Building (the Rome bit), and down on the Rideau Canal (which you can't really compare to anything else; in winter the canal freezes to form the world's largest skateway).
Indeed, so emblematic of not just Ottawa, but of Canada in general, has the hotel become, that when EPCOT was designing its Canadian pavilion, the Floridian theme park based its imitation mini-hotel on the very-maxi Château Laurier.
An interesting, if macabre, historical footnote: the launch of the hotel, in June 1912, had been delayed by three months out of respect to Charles Melville Hays, President of the Grand Trunk Railway, who commissioned the building's construction, but who died onboard the Titanic while journeying back for its grand opening.
If the outside of the hotel is Renaissance-era French manor house blown up to North-American-sized proportions, inside it's highland-castle-meets-Great-Gatsby-mansion. Floors are an ocean of marble; walls a forest of wooden-panelling. Corridors are wide enough to herd moose down, if indeed it's possible to herd moose (I'm pretty sure they're solitary animals, thinking about it). You could plonk an ice hockey rink in the lobby and still have space for a concierge desk.
There's an indoor Art Deco swimming pool that takes you back in time; and a contemporary restaurant and bar that brings you right back. With building statures in central Ottawa previously restricted to the height of the Peace Tower, directly opposite, the hotel's ritzy rooms offer some of the best views in the city. Previous lodgers include Sir Winston Churchill, King George VI, Nelson Mandela, Herbert Hoover and Queen Elizabeth II.
Fairmont Château Laurier has made headlines recently for a couple of unrelated reasons. One story involves a roaring lion, the other some greedy clowns.
In August 2022, a staff member noticed something suspicious about a famous portrait of Winston Churchill that had been taken in the hotel in 1941, and which had hung there since 1998. The picture, known as The Roaring Lion, was taken by revered photographer Yousuf Karsh, who was residing at the hotel at the time, shortly after Churchill had given a wartime speech to the Canadian parliament. It's the picture you picture when you picture Winston Churchill. Black waistcoat, black blazer, polka-dot bowtie, his hand on his hip, his forehead furrowed. It's the one on the £5 note.
Something about the portrait was off. The frame was different. On further inspection, it transpired that the photo was a fake. The original had been nicked. Hours of trawling through CCTV footage revealed it was taken sometime between 25 December 2021 and 6 January 2022. The real artwork is yet to resurface.
The second story has been rumbling on for some time longer. In 2016, shadowy Vancouver-based real-estate baron Larco Investments, which acquired the historic building in 2013, submitted plans for a super-modern extension. The proposal would have seen two giant, straight-lined pavilions added to the Château – one 10 storeys high, the other 11 – creating an additional 214 suites (the hotel already has 426 rooms, to give you a sense of scale) and effectively covering the building in a Christo-type wrap of steel and glass.
It's as if an investment company were to buy St Paul's Cathedral and then erect a huge silver box around it, so the only thing you could see was the tip of the lantern on top of the dome.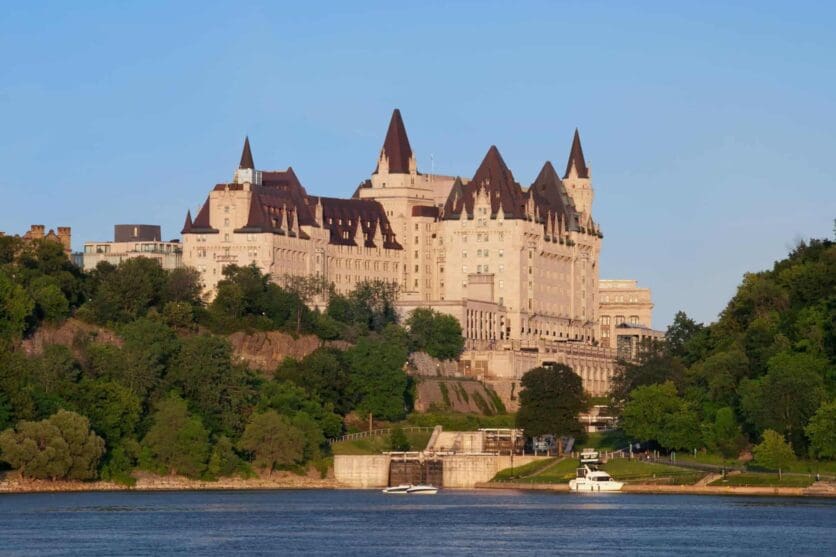 Larco Investments – which, despite funnelling hundreds of millions of dollars into tax havens, the Panama Papers revealed, also owns the building in which the Canada Revenue Agency is based, lolz – has since submitted new proposals, reducing the height of the pavilions to seven stories and the number of suites within them to 147. It's done little to quell public ire.
"It's almost as if somebody said, 'How are we going to hide that building?'" said Tom Green (see, good guy), speaking on a Canadian news channel. "'What is the best, most effective way you could do that?'"
On Twitter, the extension has been compared to a giant air conditioning unit. And a prison. Those are some of the politer tweets. Following the city council's decision not to rescind planning approval in 2019 – to shouts of 'Shame! Shame!' from the public gallery – Green arranged a picnic in a neighbouring park in protest.
"It's an incredible place," he told reporters. "It is a world-class place. You can't recreate that. That's something that we have that shouldn't be messed around with."
In 2021, the extension was given the green light.
You can joke about Ottawa all you like. But when corporate greed trumps public sentiment – paving paradise to put up a parking lot, as Canada's Joni Mitchell might have said – you've got to wonder who's doing the laughing.
Rooms from approx. £330 per night, fairmont.com