An email arrives in my inbox announcing the opening of Mayfair's newest fine dining restaurant. Sparrow Italia, it promises, will be offering something called Modern Coastal Italian cuisine. Great. Mayfair isn't short on seafood restaurants thanks to the likes of Scott's, Miro and Bentley's Oyster Bar. Yet it is lacking a restaurant that combines seafood with an emphasis on quintessential Italian flavours.
But what's this? An online menu that, yes, features monkfish Livornaise and lobster linguini but also a surprisingly hefty offering of steaks, chops and charcuterie? Clearly, a little more context is going to be required here.
'Modern Coastal Italian', it transpires, was a term coined, not on the shores of the Amalfi Coast or Sicily, but in the kitchens of the upscale restaurants of New York and LA. In these places (one imagines to the chagrin of actual Italians) the food of any destination near a body of water, from Liguria and Livorno to Venice and Brindisi, may end up on the menu.
The real purpose of the term, however, appears to be to distinguish these elevated, fine-dining establishments from the 'red sauce joints' that the majority of Americans associate with Italian cuisine. Think ubiquitous red-checked tablecloths and a menu specialising in spaghetti and meatballs catering to wannabe Tony Sopranos. It's not hard to see why an ambitious chef might want to find a way to set themselves apart.
And ambitious is certainly one way to describe Sparrow Italia. Led by executive chef AJ McCloud and backed by the might of the Noble 33 hospitality group – which operates the US Toca Madera and Casa Madera restaurant chains – the Mayfair outpost is the second in the Sparrow brand; the first having opened to rave reviews in LA in late 2021.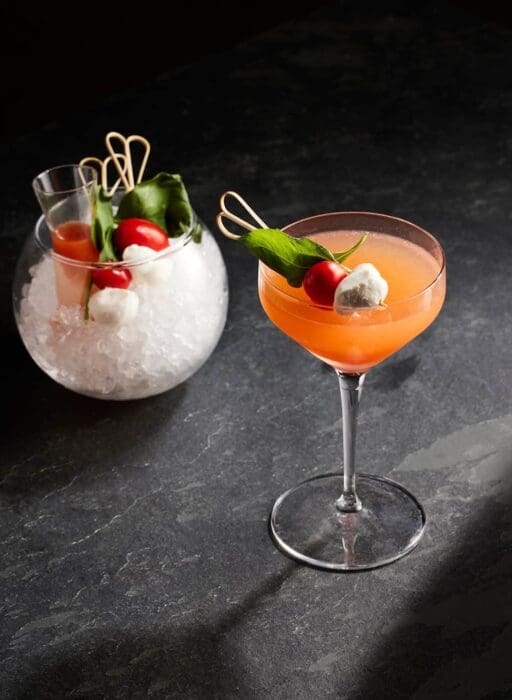 Accessed from an entrance at the Grosvenor Street end of Avery Row, discreet save for its besuited doorman, Sparrow Italia opens up into a tardis-like space expensively attired in velvet banquettes, marble bars and even a live olive tree or two. Some truly masterful trick of lighting design means that it is simultaneously seductive and romantic while being bright enough for flattering selfies and for influencers to leave the ring lights at home.
The ground floor is given over to a buzzy bar soundtracked by a rotating roster of live musicians and DJs (we were treated to covers of classic pop tracks played on a see-through violin) with elegant dining rooms occupying floors two and three. A rooftop bar and cigar lounge, I'm told, is in the offing.
The vibe finds an easy balance between Mayfair's party palaces, like Sexy Fish and Amazonico, and the formal (read 'stuffy') fine dining rooms of old. The food, happily, follows suit. Flexible enough to cater both to patrons willing to embrace the modern vogue for shared small plates and those who like a three-course meal to have, well, three courses. It's a confident affair that doesn't hesitate to place a humble pasta puttanesca next to a glamorous bone marrow agnolotti.
Yes, it wanders the coasts and countryside of Italy in a way that may send the authenticity bores into a rage but it gets the big hitters right. A deliciously al dente cacio e pepe leaves lips tingling with black pepper spice while a thick slab of Branzino is bright with the citrus hit of lemon and softened with the nutty creaminess of pistachio. Special mention also goes to a dessert of zeppole: miniature Italian doughnuts served with whipped ricotta and Nutella ganache. Think churros given a Gucci makeover.
A word on the pricing: Sparrow Italia is a destination restaurant in the heart of Mayfair with a menu that doesn't shy away from caviar, truffle and Wagyu tomahawk steaks. It is priced accordingly. Don't expect to walk away from a three-course meal with wine for less than three figures per head. That said, take a seat at the bar for a bowl of pistachio pesto spaghetti and a glass of house champagne and you might just get change from £40.
Well, I did say Sparrow Italia was anything but discriminatory.
Visit sparrowitalia.com