"I've been having nightmares about Maris Pipers," says Jack Blumenthal, from his kitchen in west London. Jack and his business partner, Scott Perkins, are in the middle of preparing 100 orders for a roast dinner service they are due to deliver a couple of days from now. What the pair started as a short-term pop-up during lockdown in April 2020 has turned into a fully-fledged catering business with its soon-to-launch private dining experience.
When Jack Blumenthal, 28, launched into a career as an independent chef, he was always going to be compared to his father, Heston. But while his father's critically-acclaimed, Michelin-star restaurant, The Fat Duck in Bray, was closed through much of last year, 2020 turned out to be the making of his son.
While on furlough from The Fat Duck, Jack saw an opportunity to team up with his long-term friend, Scott Perkins (32). Both Michelin-trained cooks and sons of high-profile chefs – Scott's father, Neil, has worked with Raymond Blanc and Gordon Ramsay – the pair shared an instant connection when they met at the University of West London. At the time, Jack was studying culinary arts and management while Scott was doing a part-time culinary management degree while working as head chef at Harrison's catering.
Theirs was a natural chemistry in spite of, or perhaps because of, polar opposite personalities. "I think we're strong together because we're each other's Yin and Yang," says Scott. "We're at other ends of the spectrum, like our fathers. I'd say Jack's the extreme glass over-spilling, pumping water down the street person while I'm the glass half full person saying, 'let's pull it back a little bit, let's look at the cost and profit margins.'"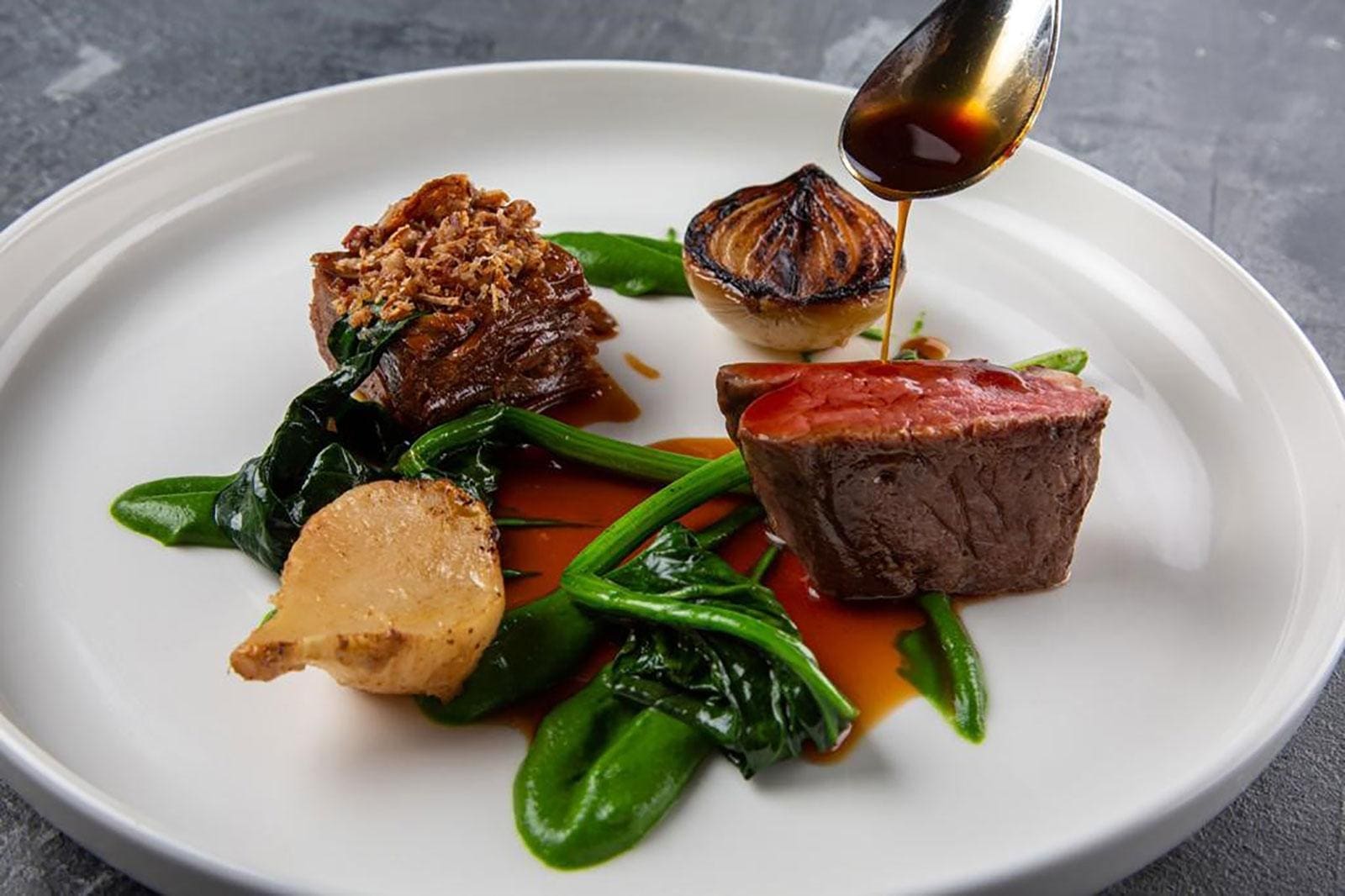 "I get very over-excitable," admits Jack. "But that's why it works. Even when we're menu writing, I'll say 'let's do this', he'll say 'let's do that', then we bring it together and change it around. What we're doing here doesn't feel like work. We can be here for up to 18 hours a day so we might get tired and groggy, but we love it."
When the Covid-19 pandemic hit, Jack teamed up with the Café Globe in Marlow, Buckinghamshire, to raise money for the NHS. The eight-week Sunday roast initiative raised £8,000 for the NHS and received overwhelmingly positive feedback. He realised the concept had legs and teamed up with Scott to create a new brand, Roasted by Jack & Scott, through which the duo deliver ready-to-cook roast dinner kits to addresses across London, Buckinghamshire and, from this year, the entire country, every Sunday.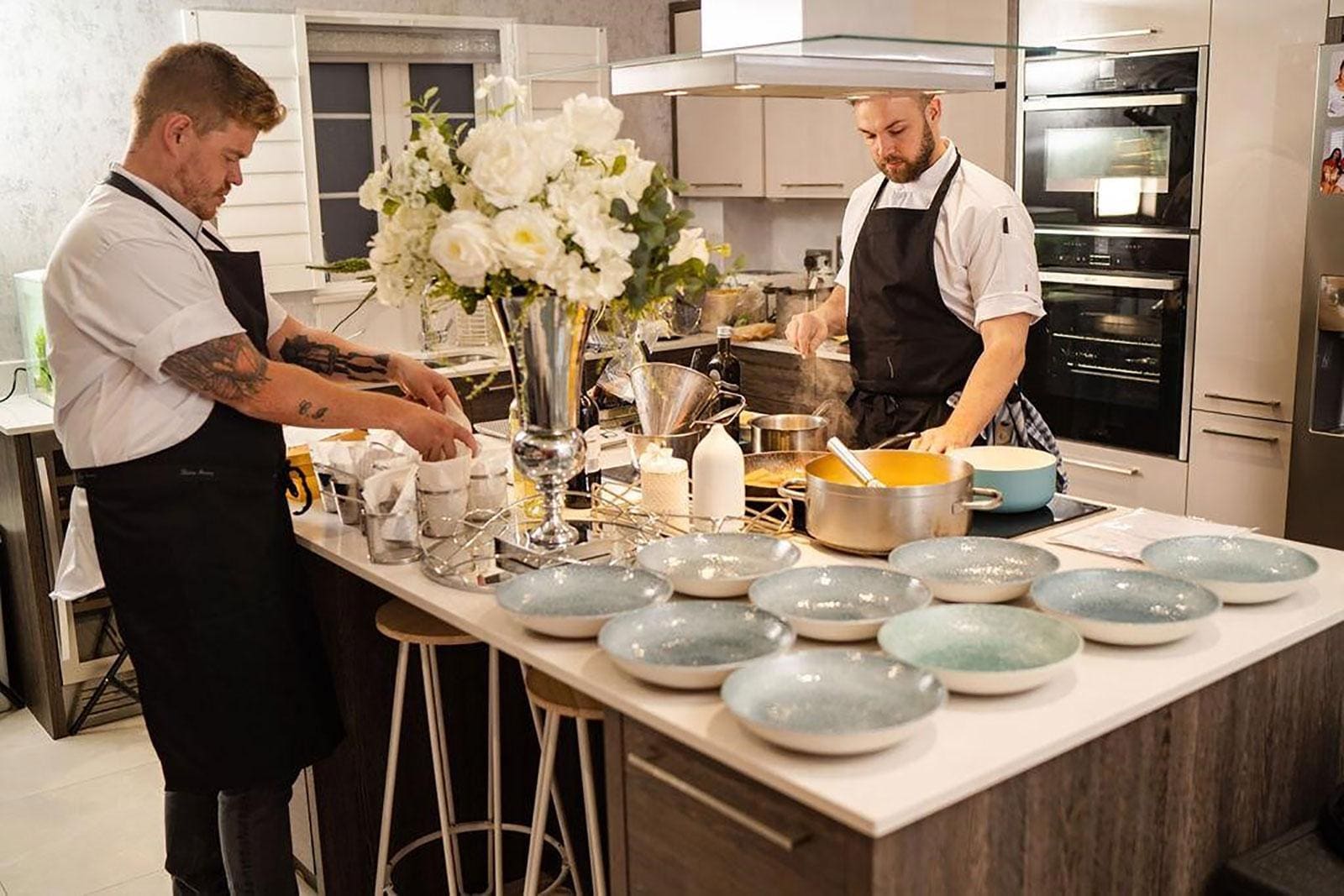 "Scott and I set up our company in my mum's kitchen in June," says Jack, admitting this arrangement came to an end when she caught him washing hundreds of scallop shells in her dishwasher. In autumn, they moved to a shared kitchen in Park Royal, west London, quickly outgrowing that space and moving into their own kitchen in the same building in January 2021. "We're quite laddish so it's good to be locked away out of people's sight," Jack jests.
Those who order a Roasted box can rest assured that everything has been made by Jack and Scott. "We do all of the work because it is our product," says Scott. "That means hours making gravy, cooking sirloin, prepping potatoes… we make everything from scratch. You're getting love with your food."
As well as Roasted, the pair launched a catering service – one of their first clients was a special needs school in Hammersmith – and private dining experiences at addresses within a 90-minute drive of their base. "Private dining was going through the roof and we had about 100 bookings before December but unfortunately, because of Covid, we had to hit pause," says Jack. "We offer a set menu package or, if you pay a bit extra, we can create a bespoke dinner."
Each meal is prepared and hosted by the duo – a source of interest in itself. "People often have expectations of me and expect me to come in, feathers out, but that's not who we are," says Jack. He admits that their offering is a far cry from what some may expect from the son of Heston Blumenthal, who is famed for his multi-sensory dining concepts, unusual flavours and flamboyant persona, but this is exactly the point. Jack doesn't want to emulate his father, although he says he's "very, very proud" of what Heston has achieved.
Instead, Jack and Scott focus on British dishes done extremely well. "When we started, we tried to do fine dining with really intricate details, but we realised that people just want really good, simple food cooked at home," Jack says. "We want to put our personality into the food, so we add our own twist here and there to keep it exciting and give people something special. So, if we're going to make steak and chips, we'll make it the best steak and chips you've ever had."
They do this by embracing and updating traditional cooking techniques and sourcing quality ingredients from "the best" suppliers in the UK, many of whom they've cultivated relationships with over years of working at some of Britain's finest restaurants, including The Fat Duck, The Hand & Flowers, L'Ortolan and Pétrus.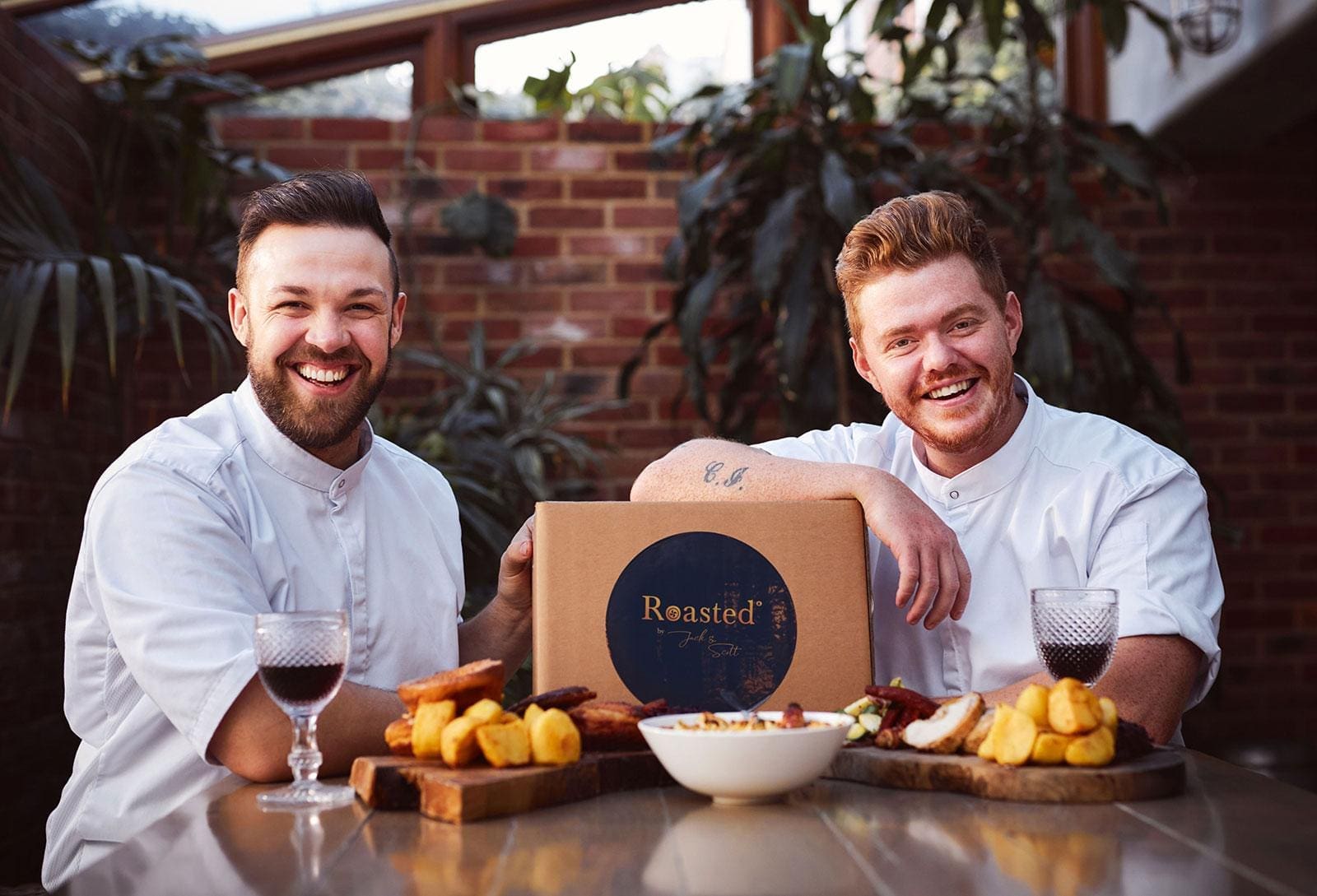 Ironically, considering his upbringing, Jack initially rebelled against the idea of working in a restaurant. "I hated cooking for a long time," he says. "Every day, Dad would come back stinking of garlic and onions and on Sundays he had me stirring cream at The Fat Duck, which I hated because I wanted to play football." At 15, Jack worked at another of his father's famous establishments, The Hind's Head in Bray, to "pay off an iTunes credit card debt" he'd racked up.
As he grew older, Jack tried out marketing, sales and admin roles but could never settle. "Every time I've tried something else, I've sat there thinking 'I wish I was in the kitchen'. Eventually I thought, 'why keep fighting it?' My dad always said to me 'don't become a chef because you'll lose your mind', but I love doing what I do."
Scott, meanwhile, always had his sights set on a career in the kitchen – and a Michelin star, which he's hoping they can achieve with their new Chef's Table concept. Above their current kitchen is a dining room where Jack and Scott plan to host 12-person dining experiences as soon as rules allow it. "We're going to take the tasting menu and start building that up," says Jack. "Scott wants a Michelin star."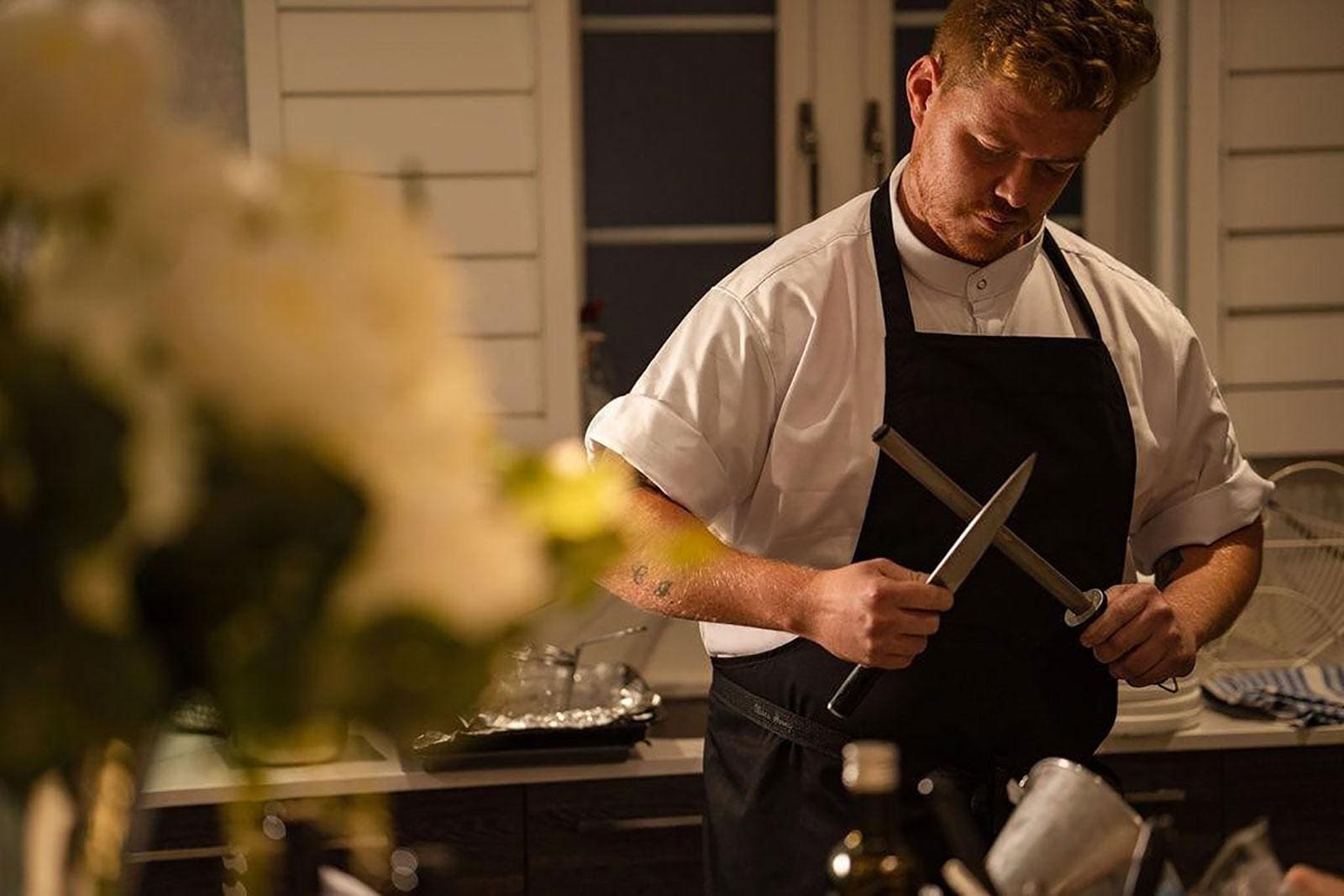 "I want us to be known as the 'Kings of the Royal'," jests Scott. "I'm a big believer that you can be as busy as you want to be. Even during lockdown, there were opportunities. I think one of our biggest threats to people is that we will always take a negative and turn it into a positive. Like Gordon Ramsay says, 'you can't be a three-star chef sat on your arse all day'."
And the pair are prepared to work for it, even if that means preparing 100 portions of potatoes every week. "We wanted to become businessmen first, before chefs," says Scott. "A lot of chefs open restaurants and go bust because they don't know how to run a business, so we've gone the other way and started a catering company so we can learn how to work out food costs and manage people, and so on, and then implement the restaurant into that business. We're putting all the foundations in place now so we can have a Chef's Table and focus on being creative."