Celebrate Lunar New Year with a meal to remember at Pan Pacific London
Toast to new beginnings with stellar afternoon tea and feasting menus at the luxury London hotel
While the western world honoured New Year on 31 December, it doesn't mean international celebrations have ended. Lunar New Year — also known as Chinese New Year — follows the moon's cycle and is observed by numerous cultures across the globe. In 2023, the new lunar year begins on 22 January as we welcome the year of the rabbit.
The rabbit symbolises longevity, peace and prosperity in Chinese culture, suggesting 2023 will be a hopeful year. With that in mind, and in a bid to extend the celebrations to Londoners and tourists alike, the luxurious Pan Pacific London hotel has curated two Asian-inspired culinary offerings to enjoy in January and beyond so you can celebrate the Lunar New Year in style.
Lunar New Year Afternoon Tea with Diptyque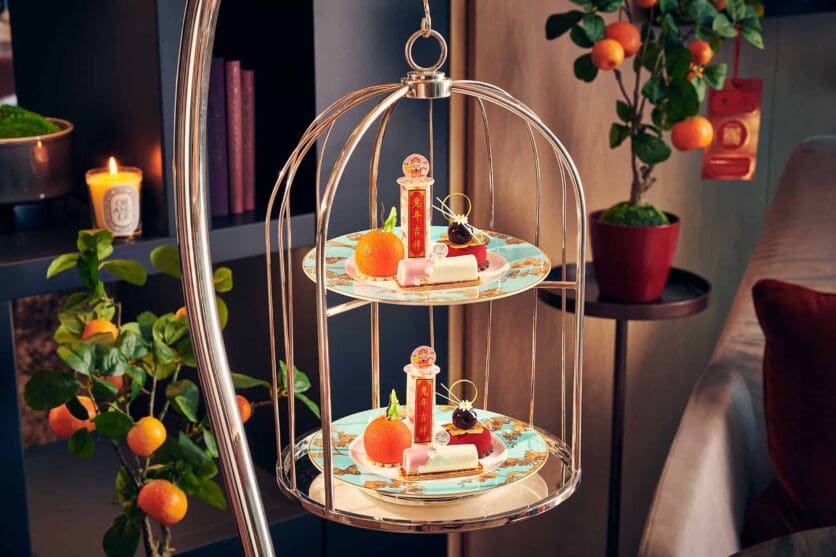 If you're after show-stopping patisserie, look no further than Pan Pacific London's Orchid Lounge, headed by Executive Pastry Chef Cherish Finden. In partnership with luxurious candle brand Diptyque, Finden and her team have created a special and meaningful Lunar New Year Afternoon Tea — the perfect way to celebrate new beginnings.
Taking inspiration from Diptyque's popular orange tree and orange blossom scents — oranges symbolise luck and happiness in Chinese culture — the candlelit afternoon tea is served in a beautiful birdcage and features citrus notes throughout. Available until 27 March, book a table to try the rich mandarin and white chocolate mousse with orange marmalade or lychee mousse with longan compote, as well as standout Chinese savoury dishes including crispy wonton with aromatic duck and tofu, and lobster bun and Kaya toast.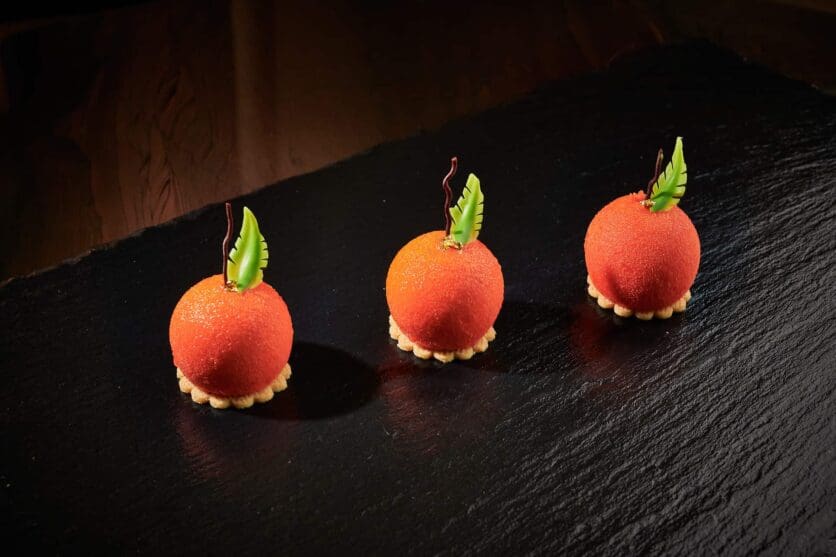 And what would afternoon tea be with the tea? Pick from a choice of loose-leaf teas curated by The Rare Tea Company or opt for The Orchid Lounge's Bespoke Blend — a mix of Indian and Malawian black tea, Chinese oolong tea and Indian rose petals. For a touch of indulgence, add a crisp glass of English sparkling wine.
Alongside its afternoon tea, the Pan Pacific London will be paying homage to South Asian hospitality with a Wishing Tree in The Orchid Lounge. Here, guests are invited to write their wishes, hopes and dreams for the year ahead on a red card or 'hóngbāo' before attaching it to the tree.
Traditionally a time of gift giving, the Pan Pacific London has also released a limited edition gift voucher offering the chance to treat loved ones to an unforgettable day. As well as the full afternoon tea for two, the experience also includes a Diptyque Bougie Classique Oranger candle to take home.
The Lunar New Year Afternoon Tea is priced from £78 per person; Afternoon Tea For Two With Diptyque Candle voucher is priced at £220.50.
Chinese New Year at Straits Kitchen
At the centre of Chinese New Year celebrations is often a heaped plateful of food (think soft dumplings, oodles of noodles and crispy spring rolls) which, traditionally, brings families and friends together. Channelling this spirit, Pan Pacific London's restaurant Straits Kitchen is hosting limited-edition sharing dinners on 21 and 22 January that are as interactive as they are delicious.
On 21 January, the four-course feasting menu kicks off with a traditional Rainbow Yu Sheng salad — a symbol of prosperity and abundance which requires friends and family to toss the salad together. The higher the toss, the more prosperous the year ahead will be. Also on the menu is a true culinary delicacy: braised abalone. One of the most sought-after seafood ingredients in the world, eating abalone is believed to usher in good fortune.
If you're looking for a celebratory family affair, meanwhile, head to Straits Kitchen on 22 January for an indulgent Sunday sharing feast featuring crispy pork belly, Hainanese chicken and native lobster laksa before finishing with a dessert selection by Cherish Finden.
The four-course sharing dinner on 21 January is priced at £138 per person and the Sunday sharing feast on 22 January at £118 per person.
Find out more at panpacific.com