108 Garage opened quietly in late 2016, without fanfare or PR-push. Just a few months later and this Golborne Road garage-turned-gourmet restaurant is booking up faster than you can say automobile, and boasts a tantalising backstory as juicy as its menu.
The restaurant was founded by Italian-born Luca Longobardi, a former Wall Street financier who wrote a tell-all bestselling book in 2015 titled The Mafia's Banker, which details a stint in a Brazilian prison after being falsely accused of money laundering for the Italian mafia and topping Interpol's Most Wanted list. The entrepreneur now lives in London, exonerated of any wrongdoing. He met chef Chris Denney after placing an ad on Gumtree for a chef "ready to sail on a new adventure in Notting Hill".
Despite a Michelin-starred, globe-trotting CV that includes Mayfair's The Square, Coworth Park, Milan's Piazza Duomo and Nahm in Bangkok, Denney has remained, until now relatively unknown. The 38-old-year trained in fine art before swapping paint brushes for pans and his menu at 108 Garage is nothing short of a masterpiece.
The erstwhile garage's past life flickers in the industrial-chic décor: bare brick, polished concrete and corrugated metal matched with Bertoia-style diamond chairs and tempered by seductive amber lighting and chic cowhide leather. It is cool, cosy, dimly-lit and brimming with characterful touches. One wall features an imposing, two-metre tall painting of Henry IV, Duke of Saxony, which guards the door while you dine.
My guest and I perch on stools at the gleaming copper bar top, which overlooks the theatrical open kitchen. These are, in my opinion, the best seats in the house, offering an intimate glance at the alchemy of the kitchen, as Denney's team swiftly oil up wooden plates, turn skewers and preen dishes with skill and aplomb. Chefs also share small, enticing off-menu handouts: mustard leaves and barbecued meaty morsels, served with an enthusiastic narrative.
We settle in with cocktails (a zesty negroni and a '108 Mule' tankard of gin, ginger and Angostura bitters). Bread arrives in a wooden box on a bed of fresh herbs, served with fluffy whipped butter, chicken liver parfait and creamy tarama. I was won over there and then, as I slathered fresh sourdough with a cloud of butter, while Gimme Shelter hummed in the background.
The dishes that follow are equally superb: a bowl of delicate, salt baked beetroot, crowned with a generous dollop of sheep's yoghurt flecked with smoked eel caviar; crispy guanciale (an Italian cured pork cheek) tossed with a piquant blend of black mustard and fiery piccalilli. Next, soft turbot elegantly resting on a juicy bed of monks beard with plump chickpeas. My partner has the star attraction, Jacob's ladder: a glistening, two-storey beef tower of short rib topped with tartare, served with a rich smear of black garlic puree.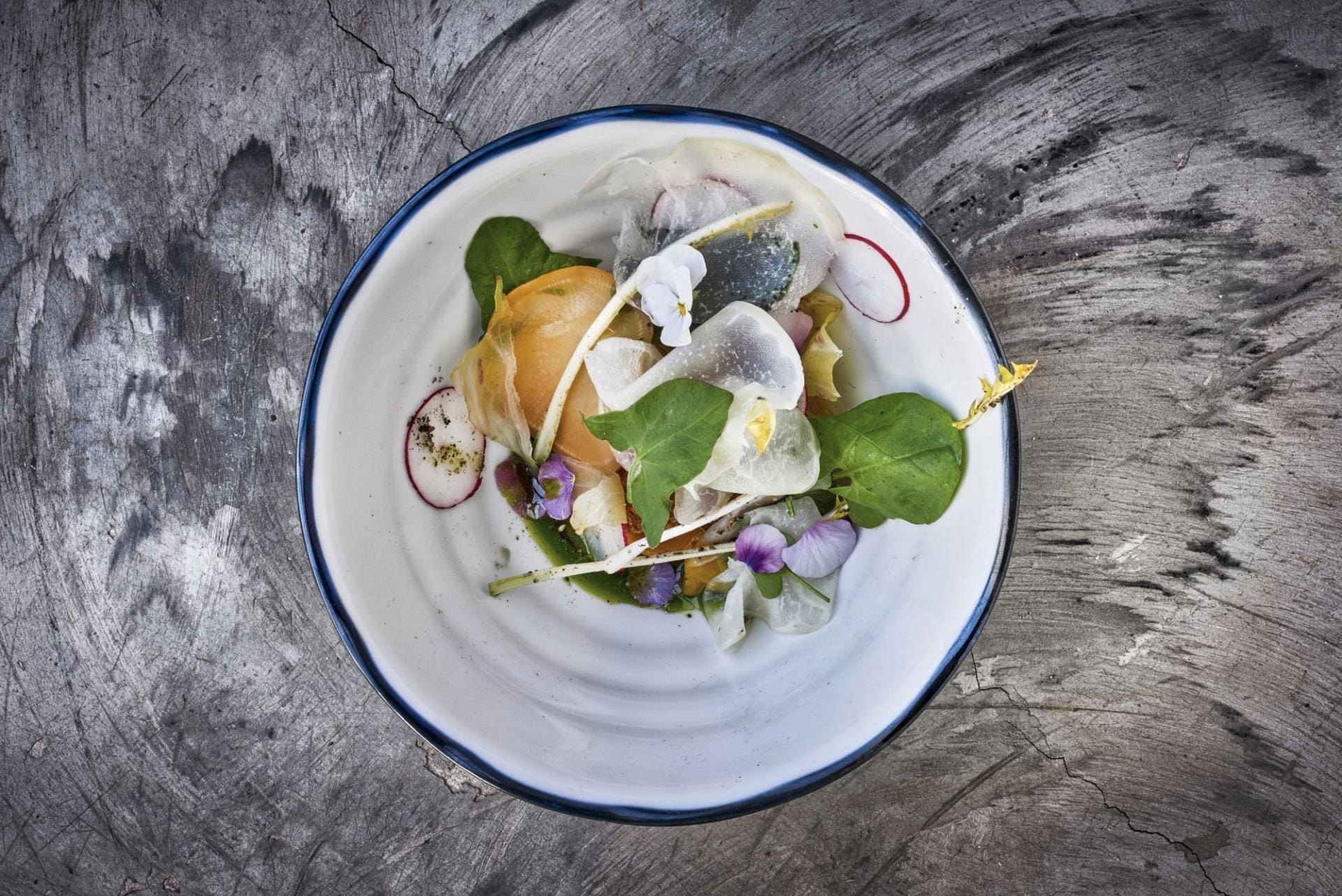 While the 'black bomb' cheese cracker sounds brilliantly intriguing, we finish with a decadent chocolate crémeux, served atop crispy wild rice with artichoke ice-cream, scooped up with great delight. The dish exemplifies Denney's knack for bringing together unusual pairings in deft, delicious harmony.
108 Garage is a potent combination of cutting-edge cuisine and seductive design, enriched by cheerful chefs and attentive staff. I leave feeling like a car that's had a complete service: revved up with a tank full to the brim.
108 Golborne Road, London W10 5PS, www.108garage.com