Vine and dandy: How Norfolk became the unsung region of English winemaking
The UK now boasts some 800 vineyards, and while makers of sparkling wine in Sussex and Kent have dominated headlines, a collection of vintners in East Anglia are proving that when it comes to premium plonk,
"I have to admit that I absolutely cannot delegate," says Lee Dyer, pouring from behind his bar another glass of his award-winning Bacchus wine. "But I don't apologise for it, really. I think the plaudits we've received are partly down to my refusal to compromise." From a family of fruit and vegetable traders, Lee leads what seems, from my vantage point on a bar stool at least, a far less frenetic (and certainly more garlanded) life than those of his relatives. I pad over the wooden decking to the side of Dyer's outdoor bar, grapevines running across the land like neat green stitches, and place myself on a leather armchair to sip what just might be the greatest wine England has ever produced.
The Winbirri vineyard, a 20-minute drive from central Norwich, comprises just eight acres of the Norfolk countryside, an area better known for its potatoes than its pinot. A minor eruption occurred back in 2017 when Lee's vineyard, only set up by his father Stephen in 2007, won Decanter's Platinum medal for Best in Show for the 2015 run of the wine I'm now drinking.
No English vineyard, before or since, has won an award of this magnitude for a still wine. Dyer isn't one to boast, so I'll do it for him – that's the equivalent of scooping an Oscar within a decade of graduating from film school.
The Bacchus grape is fast becoming something of a signature among UK vignerons, partly due to its resilience against the vicissitudes of the British climate. With English wine still dominated by sparkling varietals, mostly as a way to combat the acidity that can come with grapes that aren't perfectly ripened by the sun, producing a still wine with the level of sophistication of Dyer's in England is a genuine revelation. Very gently spiced but with hints of lime, satsuma and almond, this is a wine that gently trapezes on the tongue with a genuine nuance that I previously thought was purely the reserve of wines from the more obscure and expensive parts of the Loire Valley.
"We're actually trying to get away from the spotlight a little," says Dyer, the sun casting shadows over neighbouring fields of parsley, maize and wheat. "We don't enter any competitions now and we're not really looking to take on big-name London restaurants to stock our wine. We get approached a lot, but my attitude is always, 'where were you when we were nowhere?' That's why you'll still see my wine stocked in obscure places in Norfolk – those were the places that were on our side from the beginning.
"You can get my wine in Waitrose, but only in the Norwich branch. I need to be careful with suppliers. We don't make much wine and the worst thing you can do as a winemaker is accept an order and then not be able to fulfil it because you don't have enough wine."
Unless you're speedy and nimble with your online orders, you really do have to head to Norfolk to sample the wines of this region – which makes for a rather exquisite road trip. It's effortless to visit four or five vineyards in a weekend (all of which have tasting rooms and tours) before heading back to Norwich for dinner and a bed for the night. And although it's only Winbirri that has so far scooped a top-level global award, there's a raft of other vintners making wines every bit the equal of those being produced in the better-known English wine regions of Sussex and Kent.
"The thing you have to remember is that officially the sunniest and driest region of the UK is right here," says Hannah Witchell, of Flint Vineyard, from her tasting room in a barn opposite the vineyards of the winery she runs with her husband, Ben. The couple made the decision to leave their former home in Beaujolais, where Ben worked as a winemaker, to come to Norfolk where their wines, easily identifiable by the Venn diagram logo on their bottles, have developed something of a cult following.
The cute-as-a-button farmyard is frenetic on the morning I visit, with grapes having just arrived from the fields for the beginning of the process that will eventually result in new bottles of Flint's much-lauded Bacchus and Silex white wines (blends of pinot noir, pinot blanc, pinot gris and chardonnay). Both wines offer another rebuke to the notion that England can only produce acidic, brittle, sparkling wines.
One of the old stables in the Flint farmyard is now a rustic tasting room, complete with tables made from old barrels, which serves a '15-mile lunch' – so-called because every ingredient, from the Marsh Pig charcuterie to the artisan bread from Hempnall, comes from no further than 15 miles away.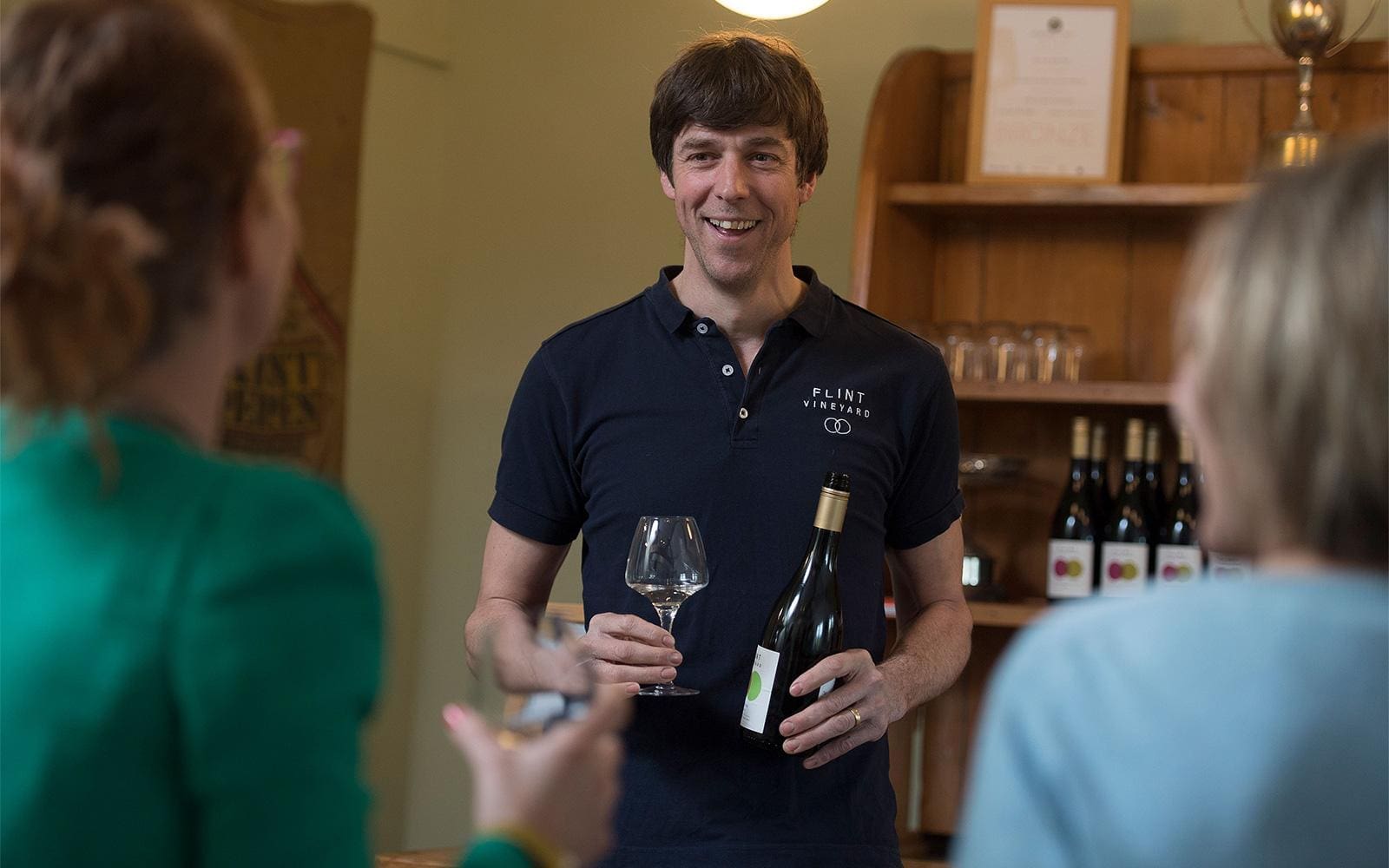 Despite their commitment to local produce, Hannah and Ben's agenda is far from parochial when it comes to wine experimentation. "The 'charmat' method is something we embrace, though not everyone agrees with it," says Hannah. "Basically, it means that, unlike the traditional method used when you make champagne, we allow the secondary fermentation to happen in a tank rather than in the bottle. It's how all prosecco wines are made but it's never been done here. We use the charmat method for our rose and we were the first producers in the UK to ever try it."
Hannah and Ben's rosé is a far more sophisticated beast than the Italian sparklings you may have gotten used to. It's much softer and creamier than prosecco and leaves a much longer finish. Think of it as an unexpected yet luxurious stopover on the well-paved journey between prosecco and champagne.
The number of vineyards in Norfolk is now in double figures. It's a small contribution to the national total but is set to grow. With 178 wineries and 800 vineyards now operating in the UK, the amount of hectares under vine has exploded from just 196 in the mid-1970s to almost 4,000 today – extending as far afield as Wales and Yorkshire.
Before heading back to Norwich, I pay my last visit of the day to the Humble Yard vineyard. After entering a farm shop chockfull of fresh leeks, potatoes, eggs and cakes, the owner, Robert Preston, drives me to a small canopy next to his vines where, sitting in hay bales, we taste his delectable sparkling White Cuvée, a blend of sauvignon blanc and chardonnay.
"We're pretty ambitious here," says Preston. "Most vineyards in the UK stick to a very small variety of grapes but we want to experiment. We currently have nine different grapes including some you won't really see anywhere else in England, like cabernet cortis and sauvignon blanc. I've always wanted to make a Kiwi-style sauvignon here."
In terms of international recognition, barring the miraculous Winbirri win, English wines still have a substantial distance to go in order to compete with our sunnier European neighbours. But the chalky soil and semi-arid climate of Norfolk suggests that it won't just be the south coast that's at the forefront of English wines' growing reputation for quality. Not only that, but the pomposity of the champagne houses are gloriously absent in these parts. As the wriggling country lanes guide me back to the (relative) urban sprawl of Norwich, Dyer's words stick with me as an admirable mantra for winemakers everywhere – even in France.
"There's a romance to owning and running a vineyard," he told me. "Ours evolved from a hobby that became a passion and a love. And now I get to play at it seven days a week."
Winbirri (winbirri.com), Flint (flintvineyard.com) and Humble Yard (humbleyardenglishwine.co.uk) all offer tasting experiences and tours.