Immerse yourself in a world of fine jewellery at Vashi's new Covent Garden flagship store
The jeweller has put the personal touch at the heart of a reinvigorated shopping experience at its new concept store
When Vashi Dominguez founded his eponymous jewellery brand it was with the aim of making bespoke fine jewellery accessible to everyone. Fast forward to the present day and Vashi is now one of London's most exciting jewellery players, with six (now seven) beautiful stores across the capital and a loyal clientele that cherish the brand's personal approach to creating jewels destined to be treasured for generations.
Today, Vashi is building on that legacy with the opening of its new flagship boutique in Covent Garden. Designed to uphold the brand's core philosophies of transparency and interaction, the 4,476 square foot space will be Vashi's largest store to date and will also mark the beginning of an exciting new chapter for Vashi.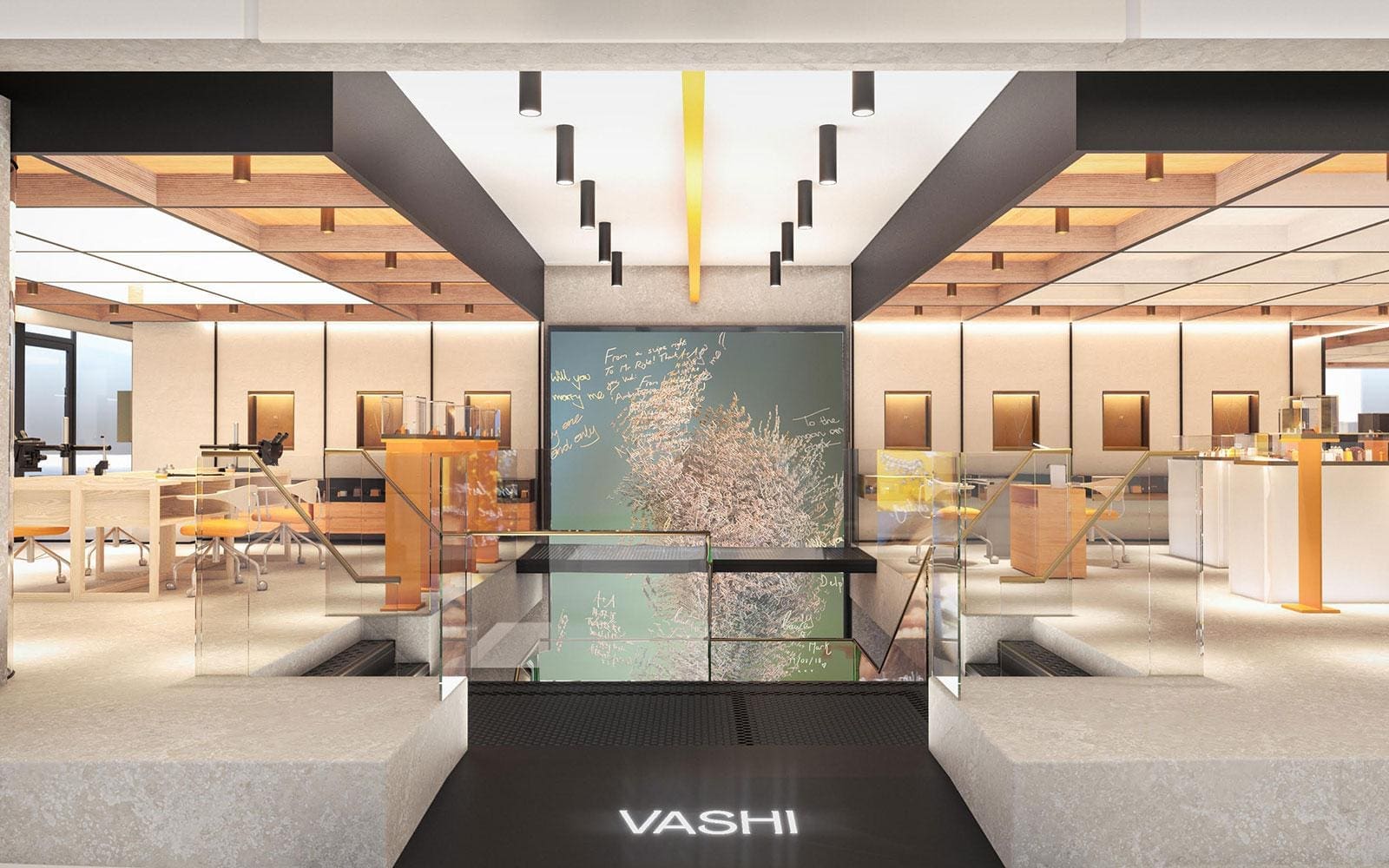 Set across two storeys, the boutique takes inspiration from an artist's studio, in homage to the processes of design, craftsmanship and creativity that go into each piece of jewellery. As with each of the Vashi stores that have come before it, a focal point of the Covent Garden flagship will be the in-house workshop, which takes centre stage on the shop floor. Keen to make the skill and expertise of its jewellers more visible than ever, the new boutique will even feature makers' benches in the shop windows, so customers and passers by alike can marvel at the work that goes into bringing Vashi's creations to life.
This workshop will also play an integral part in Vashi's ongoing commitment to making the jewellery buying process as personal as possible. Since its foundation the Vashi Creation Process has been at the heart of every piece it makes and aims to put the client at the centre of the every design decision and aesthetic detail, resulting in a piece that has been co-created by the client and is, ultimately, far more special than something simply chosen from a display cabinet. Every piece in Vashi's ready-to-wear collection can be made unique using its cutting-edge laser engraving machine while the brand also excels in customisation and bespoke commissions, with clients able to choose their perfect gem from Vashi's wide selection of ethically mined and certified conflict-free diamonds and vast array of precious stones. Preparing for your big day? Vashi can even take a 3D scan of your engagement ring to create a wedding band that fits perfectly alongside it.
The state-of-the-art workshop in the Covent Garden boutique will allow clients unrivalled access to their jewellery at every stage of creation, giving them the opportunity to play a key role in the design, casting, setting and polishing, and even letting them gets hand-on, adding the finishing touches to their design while guided by one of Vashi's experts. To celebrate the opening of the new store, for a limited time Vashi will be offering all customers the chance to set a complimentary diamond of up to 2mm anywhere on the piece of jewellery they design, working with one of its makers to determine the location and size of the diamond. And to celebrate this exquisite finished piece? An elegant lounge bar and seating area has been built into the space to allow for toasting with something delicious to mark the occasion.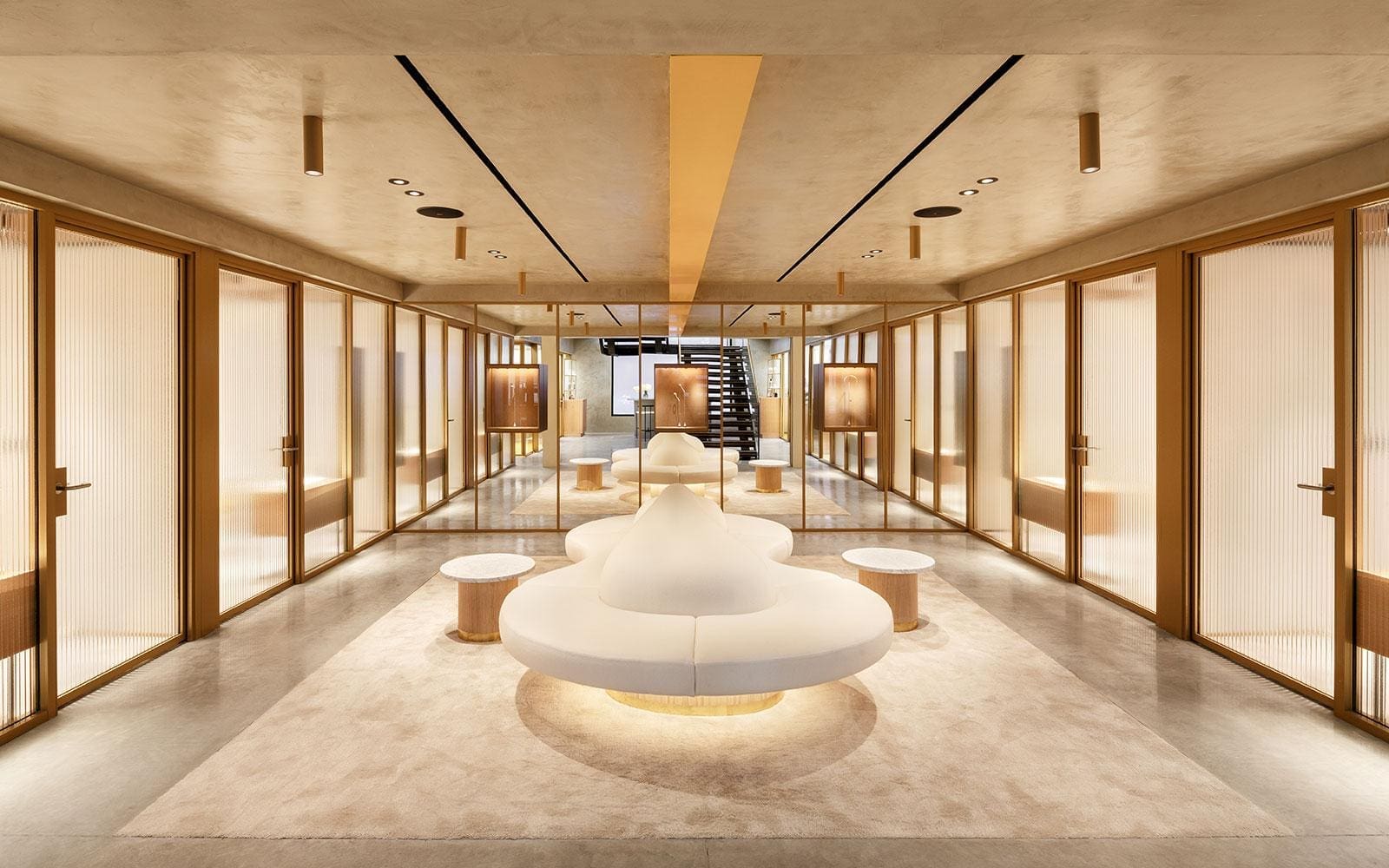 As any jeweller will tell you, however, it is not just quality craftsmanship, but the thought and emotion that goes into choosing or creating a piece of jewellery, that makes it special. Determined to make its new flagship a warm, welcoming store in which customers feel comfortable taking the time necessary to find a piece that really speaks to them, a key part of the boutique's interior design will be a dynamic digital installation exploring the love stories behind the brand's jewellery.
The 'Love Stories' installation will display messages left by previous customers on an interactive screen spanning both floors, animating each story with colour, movement and shape to turn each one into its own unique artwork. Those visiting the new boutique will also be encouraged to add their own note to this ever-changing roster of personal anecdotes and heart-warming tales of engagements, new births, anniversaries and much more, with the messages coming together to form a beautiful visual representation of the Vashi universe.
The installation will also play a key part in special competition Vashi is holding to celebrate the opening of its new flagship. Offering a bespoke experience day worth £10,000, including a bespoke piece of Vashi jewellery, plus dinner, show tickets and an overnight stay at some of Covent Garden's top attractions, entries are made by writing a message on the Love Stories wall about the loved one you most want to spend time with post-lockdown.
"The world has changed and jewellery has to change with it," explains Dominguez. "With the new Covent Garden store, we have created a retail concept that we think people will want to spend more time in. We want jewellery to be accessible, interactive and, most of all, personal."
This innovative new store is the first stage in a major reimagining of the Vashi brand and will mark the first time clients are able to see its new direction come to life. As well as introducing a new logo, packaging and colour palette, Vashi has worked with several local partners to help immerse guests in its new vision. London-based perfumer Timothy Han has created a custom scent for the store while staff are outfitted in the signature sharp tailoring and clean lines of palmer//harding.
Furniture, meanwhile, will come from Fred Rigby and will perform a key role in softening the structured spaces, strong geometric lines and monochrome palette that characterise both the boutique and Vashi's overall aesthetic. Also being updated is the brand's jewellery displays, with its extensive ready-to-personalise pieces presented in show-stopping floating presentations that make the jewellery appear as if suspended in mid-air. It really is a feat that has to be seen to be believed.
Whether you're searching for the perfect engagement ring, a stunning birthday gift or just something to treat yourself with, Vashi's new Covent Garden boutique is turning the traditional fine jewellery buying experience into an event worth savouring. We, for one, can't wait to visit.