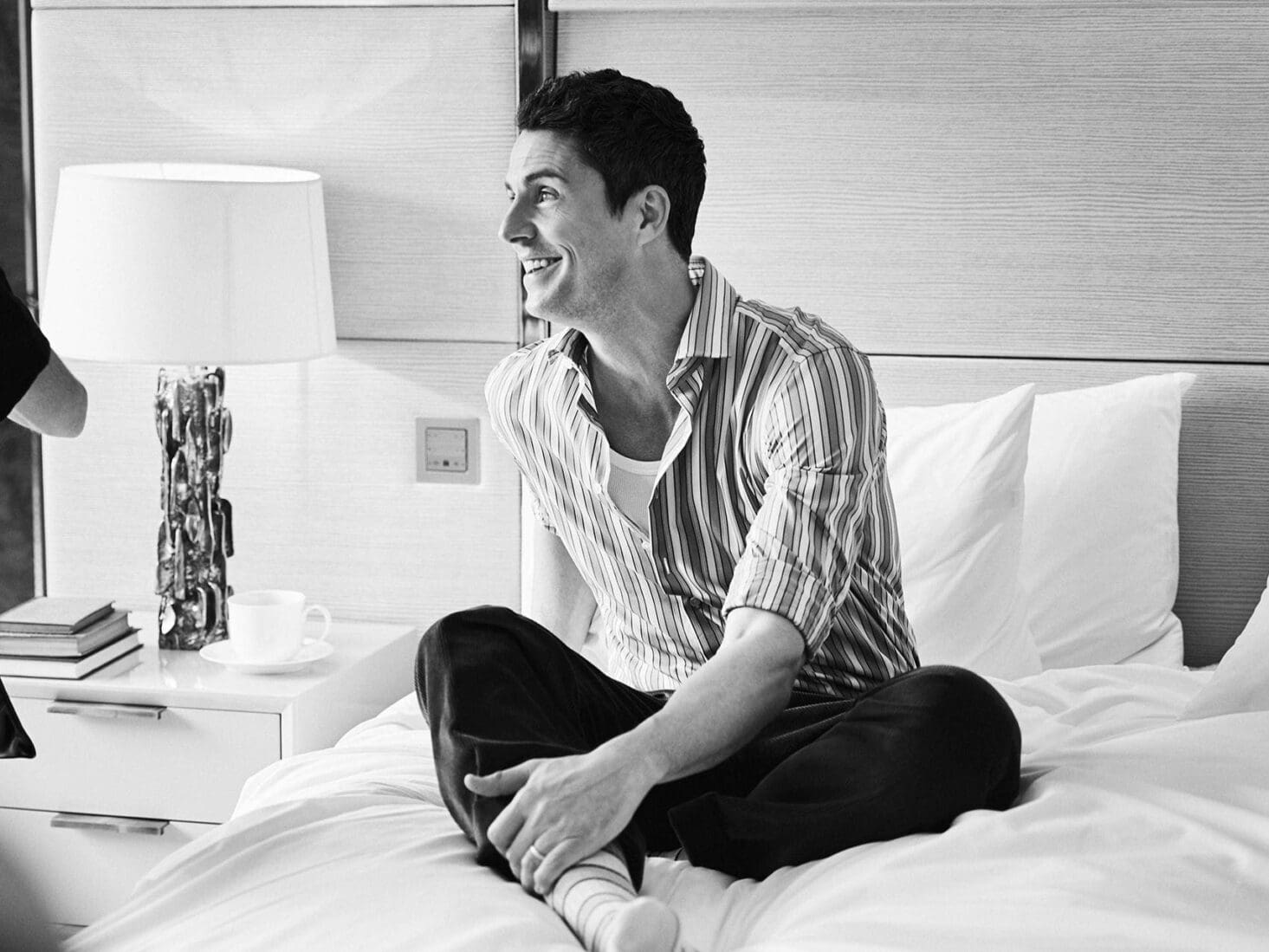 Pink Shirtmaker London: the Square Mile's favourite shirt brand is back
It's easy to forget, especially if you made your living outside of the Square Mile, just how big Thomas Pink was in the Thatcher-Major-Blair years
Before I fell into writing, I fell into insurance. Not fell, exactly, so much as followed a path, well-trodden in my parts, from sixth form to Square Mile. To Lloyd's of London, specifically, thanks to some lithe-fingered string pulling by a well-placed godfather in risk assessment. It's never what you know, especially in the City. One Lime Street – now there's a place to put the whatsits up a wannabe underwriter.
If the outside of Richard Rogers' lugubrious masterpiece is all menacing steel stairwells and kraken-like air conditioning ducts, inside is a barrel-vaulted concrete-and-glass cathedral to pomp and circumstance.
Floors and floors of formality. Of old boys and young bucks and inner circles and insider slang and square jaws and slick side-partings and polished shoes and pinstripe suits and braces and Blakey's and blazers that had to be worn at all times even in the scorching heat of high summer. That part was enshrined in law. Woe betide the broker who broke the rules. For not dressing up, he'd receive a dressing down from one of the ruddy-faced porters paid to patrol the perimeter of the underwriting room. When one acquaintance reported for duty with a case of the five o'clock shadow, he had a razor thrown at his face and was told by his boss to go and shave.
It's no longer lunchtime sharpeners and blazers at all times at Lloyd's, so I'm told. But back then going tie-less would have been akin to marching between boxes in a tutu. What I'm trying to say is that this was a serious place for serious people – people who took the way they dressed as seriously as the slips they signed. And back then serious people all bought their shirts from Thomas Pink.
It's easy to forget, especially if you made your living outside of the Square Mile, just how big Thomas Pink was in the Thatcher-Major-Blair years. Big enough to pique the interest of LVMH, which, in 1999, purchased 70 per cent of the company for around £30miilion. At that point, Thomas Pink – founded by Irish brothers James, John and Peter Mullen in London in 1984 – had 20 stores, including a flagship on New York's Madison Avenue that was thought to be the largest shirt shop on the planet. The LVMH deal placed Thomas Pink in a stable of brands alongside Louis Vuitton, Christian Dior, Fendi, Givenchy, Bulgari and DKNY. The luxury conglomerate bought the shirtmaker outright in 2003.
Empires rise and empires fall. Thatcher's Big Bang was succeeded by the dot-com bubble. Power dressing was out, dress-down Fridays were in. By the age of tech stocks and electronic trading, wearing a suit and tie to work was to identify as a digital dinosaur. The de facto look in the Square Mile today – as has become the subject of a zillion finance-themed Instagram memes – is a button-down shirt, navy chinos and a gilet; urban orienteering City Boys having taken style pointers from their Wall Street brethren (who, in turn, got their sleeveless cues from that most unlikely crucible of style, Silicon Valley). Savile Row has taken a pummelling. Jermyn Street, too. By 2017 it was time for a Thomas Pink rethink.
Cue the arrival of Christopher Zanardi-Landi. The former Louis Vuitton executive vice president was drafted in as president and CEO. He, in turn, persuaded John Ray, previously of Dunhill and Gucci, to join as creative director. The duo were joined by a raft of names from the worlds of fine fabric and high-end tailoring. In November 2018, the button was pressed on a complete relaunch. Social media channels were wiped clean; stores reimagined; logos, packaging and labelling redesigned. 'Thomas Pink' became 'Pink Shirtmaker London'.
One of Zanardi-Landi's first moves was to open a workshop in London. "It was important to me to establish a 'maison'," he explains. "I wanted to return English shirtmaking traditions to the capital – to celebrate both the design of our shirts and also the way they are made."
You'll find Pink's new shirtmaking premises in Vauxhall. Expect you won't. Unless you know where to look. Nestled between Victorian terrace houses on a nondescript residential street near Oval, the timber-and-concrete workshop is hidden behind a blink-and-you'll-miss-it wooden gate. It used to be part of a vinegar factory, then a dairy, before it was converted into a sleek and sprawling mid-century-modern workspace by MoreySmith, the design studio behind both the recently reimagined LVMH House and Dunhill HQ in Mayfair. There's a swimming pool on the roof (though, unfortunately for employees of Pink, that belongs to a neighbour).
The south London space is dedicated to Pink's new Bespoke service (see left). "We wanted to create an experience that is on the one hand very old-school, back to the real details of English shirtmaking," says Zanardi-Landi, "but which brought a modern twist to it. We wanted to make bespoke an engaging experience that celebrates every step of the shirtmaking process."
The workshop opened in April. Since then it has served more than 200 clients, one of whom placed the presumably rather welcome order of 50 shirts. Pink predicts that bespoke will make up an increasing proportion of its business. Yet for all of the clients willing to splurge £330 on a custom shirt, it will be the brand's revamped stores, with their bread-and-butter, block-colour, white and blue collections, that hold the key to success. In the age of the cut-price multi-pack, can Pink, which says it won't do discounts, ever, persuade high-flying office workers to part with £115 for an entry-level off-the-peg business shirt?
Judging by the brand's latest marketing campaign, which stars Emmy-nominated Downton Abbey actor Matthew Goode – good choice – Pink is banking on a return of the stripy statement shirt. How much time Zanardi-Landi and Ray spend in the world's financial districts, only they know, but the last time I looked – and this magazine is based in Canary Wharf, providing a pretty reliable viewpoint – masters of the fiscal universe don't wear stripes. (Cartier's relaunched Santos, on the other hand, does appear to be back in fashion.)
The bolder shirts in the new collection, says the company's website (still thomaspink.com, confusingly), is the brand reverting to type. The shirtmaker has even used patterns from its original 1980s archives. It's not all nostalgic references to the era of the boxy blazer and brick mobile phone, however.
The recently launched Smart Shirts collection is the brand modernising with contemporary tastes. Shirts have a shorter silhouette, smaller cuffs and a narrower collar. The effect is a more casual look; a shirt that can be tucked in or worn loose, in the boardroom or at the bar (of The Ned, most likely). Interior plackets – the strip of fabric on which you'll find button holes – have been widened, so that the shirt doesn't gape when you sit down. Seats – the widest part of a shirt, a few inches below the waist – are positioned further down, so that the fabric doesn't ride up when tucked in.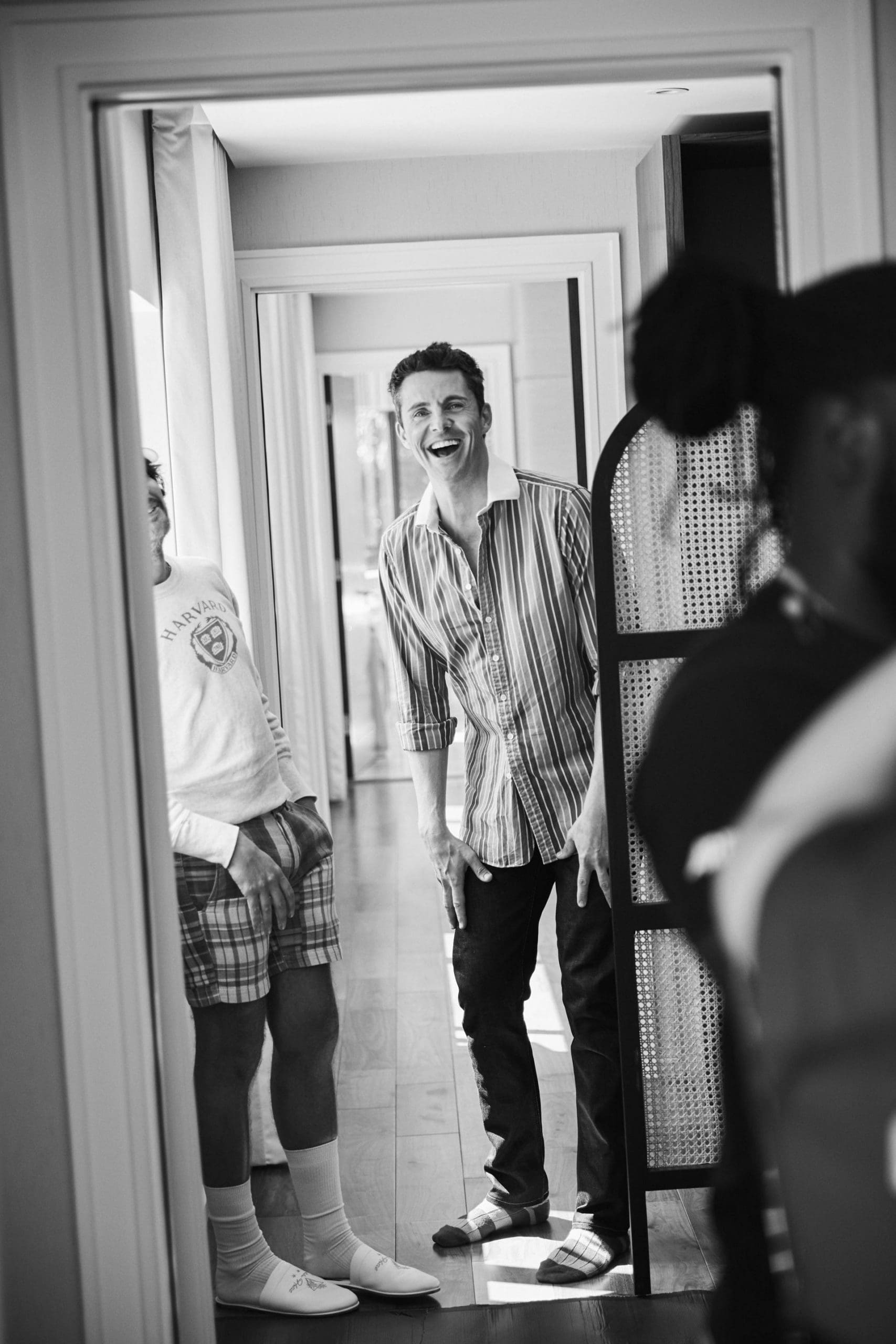 There are other design details particular to Pink: offset side seams, which create more volume in the front of the shirt than in the back; a P-shaped front hem, curving the fabric to ensure that it covers the stomach when sitting; and the Pink collar, which, with its gentle roll at the top, forms a distinctly elegant line and allows more room for a tie (which some City types do still wear, apparently).
Aside from the shirts, there are chalk-stripe suits, waterproof rain macs, herringbone pea coats, cashmere crew necks, printed silk ties, contrast wool braces, Bengal-striped boxer shorts and – move over gilets – merino zip-neck jumpers. Don't, however, mistake what Pink 2.0 is all about, which is a return to serious shirtmaking. Serious people take note.
Tailor-made: Pink's New Bespoke Service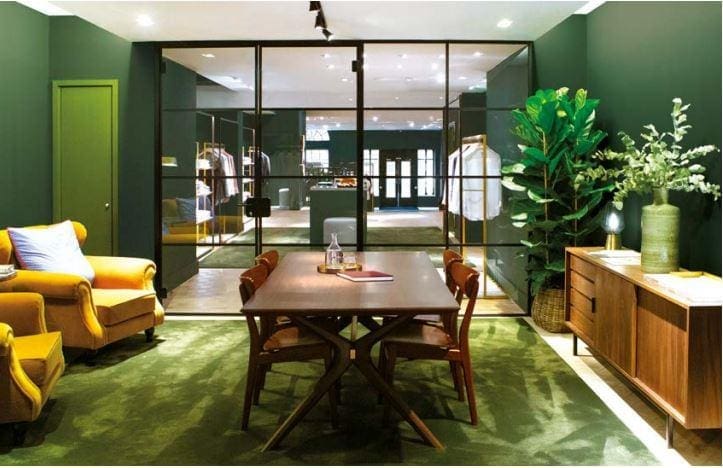 Central to Pink's overhaul is the launch of its new Bespoke service. Clients are given the choice between seven collar options, three cuff designs, three pocket finishes (that's if you want a pocket) and 400 types of cloth (Pink has three books of white fabric alone). Whereas other shirtmakers might create bespoke shirts from tweaked block patterns, Pink takes 24 measurements and then makes its patterns from scratch, meaning that each one is unique.
The true benefit of something bespoke, of course, is the ability to tailor said thing to your peculiar tastes. In the case of a shirt, that means choosing how slim you want the fabric to run through the body; how much sleeve you want to pop beneath a blazer; how tight you want your cuffs – wider on your watch-wearing wrist, perhaps; and the exact location of button holes, so, come summer, should you be feeling particularly louche, you can flash some chest without channelling Tom Selleck circa 1982.
Prices start at a punchy £330, but that does include £100 for your first pattern, a fee you'll only pay once. Bespoke doesn't come cheap, but then again, how much money have you already wasted in search of the perfect shirt?