Luca Rubinacci: Man of the cloth
"For years the fashion industry has been saying the suit is over... How many times have I heard 'no more ties'?"
"A nyone who meets me on the beach says 'hey Luca, can this really be the same man I see on Instagram?!' Of course it is! I'm not dressed up all the time," laughs Luca Rubinacci, grandson of Gennaro Rubinacci, founder, 90 years ago, of the Rubinacci tailoring house.
Over the course of almost a century, Rubinacci has become a doyen of leisurely Neapolitan style, with its easy shoulder and cardigan comfort, a pioneer of the deconstructed jacket. Today, Rubinacci is one of the most prestigious tailoring houses in the world. Yet even if you're not the kind of person to pay £5,000 for one of the company's suits, you may well have heard of, or more accurately seen, Luca Rubinacci. The creative director of the family firm has become something of an Instagram sensation, with his flamboyant style – to English eyes at least – a touchstone for wannabe peacocks.
On his unique personal style, Rubinacci says this: "It's not like I sit around for hours planning what I'm going to wear next. My grandfather was this master guru of tailoring so I knew I couldn't match that, so the idea was always to be ahead of him, in some way, by doing something different. It actually only takes me five minutes to get dressed in the morning – but I do have a huge wardrobe."
Rubinacci lives in Milan with his Spanish wife, Maria, and their young daughter. 'Luca' is actually a family nickname – his given name is Gennaro, after his grandfather. "I was third generation of an already very famous tailoring house. I said to my father, Mariano, that what we do is great but there's no face to the brand and that my generation needs a face. My father reminded me that if it was my face given to the brand I'd also be the first to be killed – anything negative would be on me. But, so far, it's worked out well," Rubinacci says, with a wry smile.
Word of mouth is still the most important form of advertising, says Luca, but social media, Instagram in particular – Rubinacci has almost 300,000 followers – has nonetheless helped transform a tailor famous in Italy into one that's recognised the world over. Rubinacci credits the increased exposure for helping the brand launch a ready-to-wear line, as well as to collaborate with the likes of Patek Philippe and Hublot watch brands, and drive custom to its Mount Street store, which is managed by Rubinacci's twin sister, Chiara ("She's my right hand," he says, affectionately).
Not that the social media thing is about trying to get men to copy the way Rubinacci dresses – "you don't have to like the way I dress, at all" – but to encourage them to "experiment". If you're new to bespoke, Rubinacci advises that you start with a simple, navy two-piece suit, in two-ply hopsack, and then take ever more personal choices from there.
"Look at 'style icons' and they tend to be famous for wearing the same thing all the time, for wearing their uniform. They only wear, say, a blue blazer, white T-shirt and vintage jeans and think they're a style icon. Well, yes, you've come to be identified for wearing that. But who wants to be identified in that way? I'm more like an ice cream maker – I like to make many flavours. I want to try everything."
That's not just because, as Rubinacci describes himself, he's "a bit of a joker". There's method behind the madness, the gingham and the herringbone, even all at once. The greater the diversity of style he's experienced, he says, the better he can advise his bespoke clients "to help them find their style, not my style. And that's important."
Rubinacci says that his grandfather "fell" into tailoring. An art dealer by trade, Gennaro's good taste often saw him pressed for his opinion on matters of style, including by the King of Savoy, who asked his advice on the best tailors in Naples. So, alongside his art business, Gennaro established an atelier of his own, naming it London House (it was only later renamed Rubinacci).
Rubinacci doesn't cut and sew himself, nor does his father. Rather, they work exclusively with the best tailors in Naples, some of whom – the likes of Cesare Attolini – have gone on to become tailoring superstars themselves.
"Usually, with a tailoring house, the head cutter is also the owner, so there can be a resistance to change," says Rubinacci. "'We've done this for so many years, so why change now?' They see it as a provocation, not a challenge. Some garments – like this traditional Indian wedding suit crossed with Neapolitan tailoring that we're working on now – we may only make once or twice in the history of the company. But the attitude has to be 'why not?', not 'why?'.
"A Neapolitan suit is, as they say, imperfectly perfect. And an English suit aims to be just perfect," continues Rubinacci, who interned at Kilgour on Savile Row for a year before returning to the fold. "But the fact is that some clients really need that perfect look – in business, for example. Yet that doesn't mean they can't dress in Rubinacci – we give them a very clean finish but with the Neapolitan structure. Most Neapolitan tailors wouldn't do that – they want the traditional shirt sleeves, the 'right' pockets, and if you don't do that it's 'oh my god, Luca! You're breaking the rules!' It's not about breaking rules. It's about bespoke. It's handmade. You can do whatever you want."
Certainly, while Rubinacci enjoys the glamour of the front-of-shop and making the viral videos, he appreciates that it is in the back office that the business is built and maintained. "Constancy is the most important thing for longevity," he says, "that, and paying your bills on time. Reputation matters. You must have the respect of all the people who work for you and work with you. To make it in the tricky business of tailoring, it's not enough to survive a few years. You have to survive a generation. I'm aware that I'm really just starting the beginning of my part of the journey."
The pandemic has, of course, sped up a major cultural shift towards remote working, which, in turn, seems to have sped up the steady decline of the suit. Unsurprisingly, Rubinacci isn't convinced that society is ready to completely abandon tailoring in favour of sweat pants and slippers. He and his father, if not his grandfather, have been here before.
"For years and years the fashion industry has been saying the suit is over – I remember it in the 90s, in the early 2000s. How many times have I heard 'no more ties'? I was 20 and I was hearing that. And yet ties are still here. The fact is that the world is big and there is cake for everyone. And, really, remember that bespoke tailoring is such a niche. If it's what you're into you can come to us. If you're not, no problem."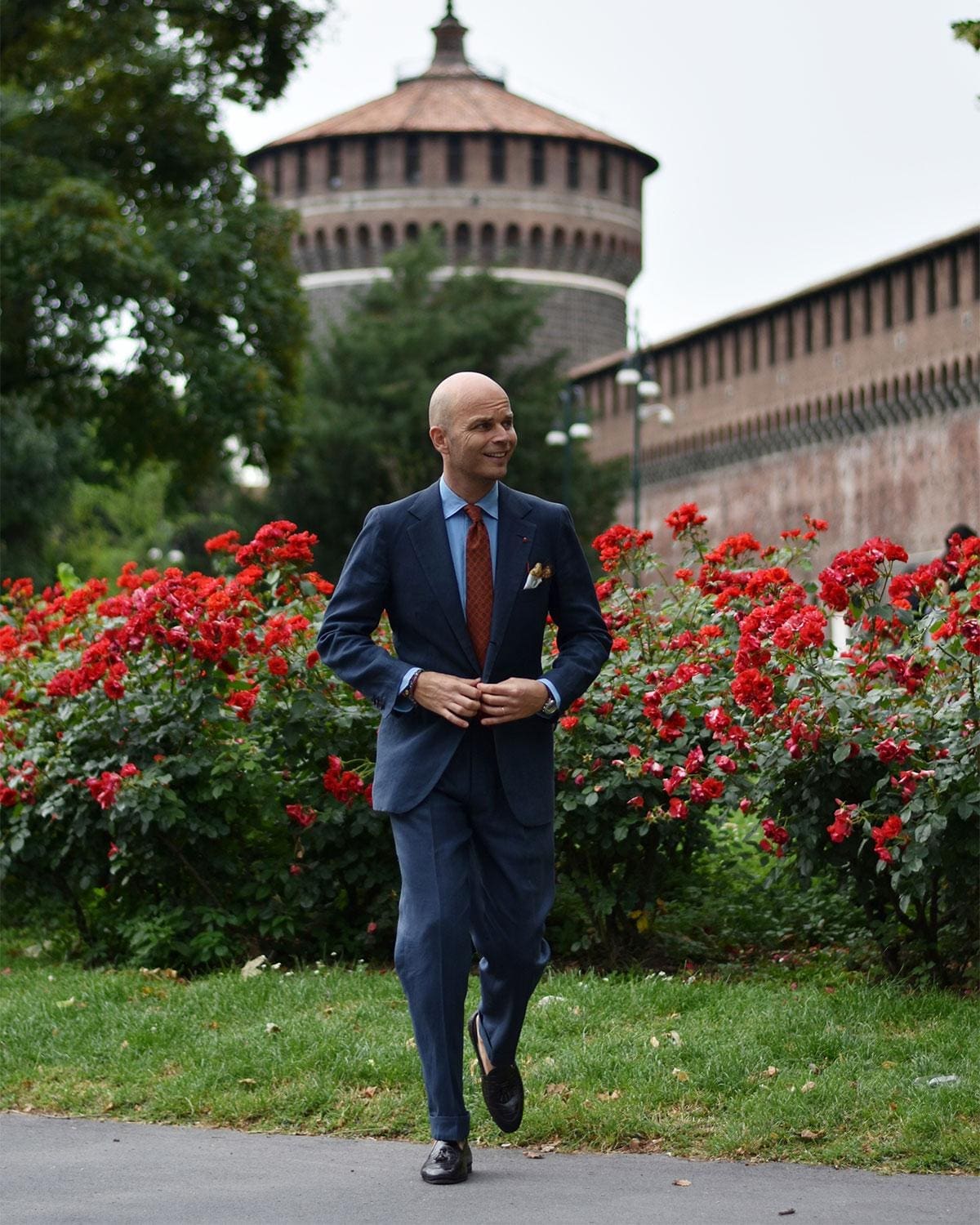 For all Rubinacci's talk of unconventional, contemporary tailoring, I point out that a lot of what he wears looks, on the surface at least, like it could just have easily been made in 1932, when Rubinacci was founded, as in 2022.
"Yes, and no," says Rubinacci. "Take what I'm wearing today. I'm wearing a nice double-breasted jacket, a turtle neck – so very comfortable – loafers and turned-up trousers with pleats – super-classic. It's elegant but sporty. But look at the trousers again – if I lift my sweater, you'll see they have a drawstring waist, just like jogging pants. Nobody knows that because aesthetically it all looks very classic – but I know.
"And that's the difference between a fashion brand and a tailoring brand – the fashion brand wants to show you that drawstring because it's trendy. But the important thing for a tailoring company is to keep an open mind about using a drawstring. Sure, my father would say he'd feel stupid suggesting jogging trousers to a client because he's of a certain generation. And he's right. But I'm here, in the now, in this generation – I'm riding today's wave."
And growing an ever-larger army of social media admirers in the process.