Chelsea Creek: Discover London's newest cultural hub this autumn
West London's most fashionable neighbourhood is a blend of art, nature and luxury with a vibrant community feel
Every Londoner knows that the neighbourhood you choose to live in is almost as important as your home itself. After all, there's a reason London is often compared to a series of interconnected villages, and scouting out the village that best suits your lifestyle and interests is key to finding your dream home. After all, you could be living in a palace but, if you're a foodie with no access to restaurants or a culture vulture living miles from the nearest art gallery, you're never going to be happy.
Step forward Chelsea Creek. Centred around a development of luxurious new one- to three-bedroom apartments, a number of which are still available to buy, this elegant waterside neighbourhood is quickly becoming the capital's must-visit destination for unique cultural events, complemented by the world-class bars, restaurants and shopping of nearby Imperial Wharf and Sloane Street.
Beautiful at any time thanks to its landscape of tree-lined avenues and waterways, this autumn Chelsea Creek is set to take things up a notch with two events bringing art and nature to the neighbourhood. Firstly, internationally renowned florist Kitten Grayson has revealed an impressive floral display created to celebrate the return of the Chelsea Flower Show.
Taking the form of a floral arch floating over arbour seating, as well as a 'bridge of flowers', the design features seasonal blooms including climbing roses, jasmine, foxgloves, magnolia and California lilacs. Also timed to coincide with the launch of The Imperial and Westwood House, the final two buildings in the Chelsea Creek development, the floral display is the perfect accompaniment to the neighbourhood's regular farmers' market and mirrors the beauty of the nearby Chelsea Physic Garden.
Elsewhere, the VOYAGE installation created by multi-disciplinary art and design studio Aether & Hemera has made its way to Chelsea Creek to highlight the tranquility of London's newest canal network. The piece is comprised of 165 floating LED paper boats which form a flotilla sailing through Chelsea Creek's 7.8 acres. The interactive installation is activated by viewers' smartphones, reflecting the real time activity of the neighbourhood and its inhabitants, and encouraging community interaction.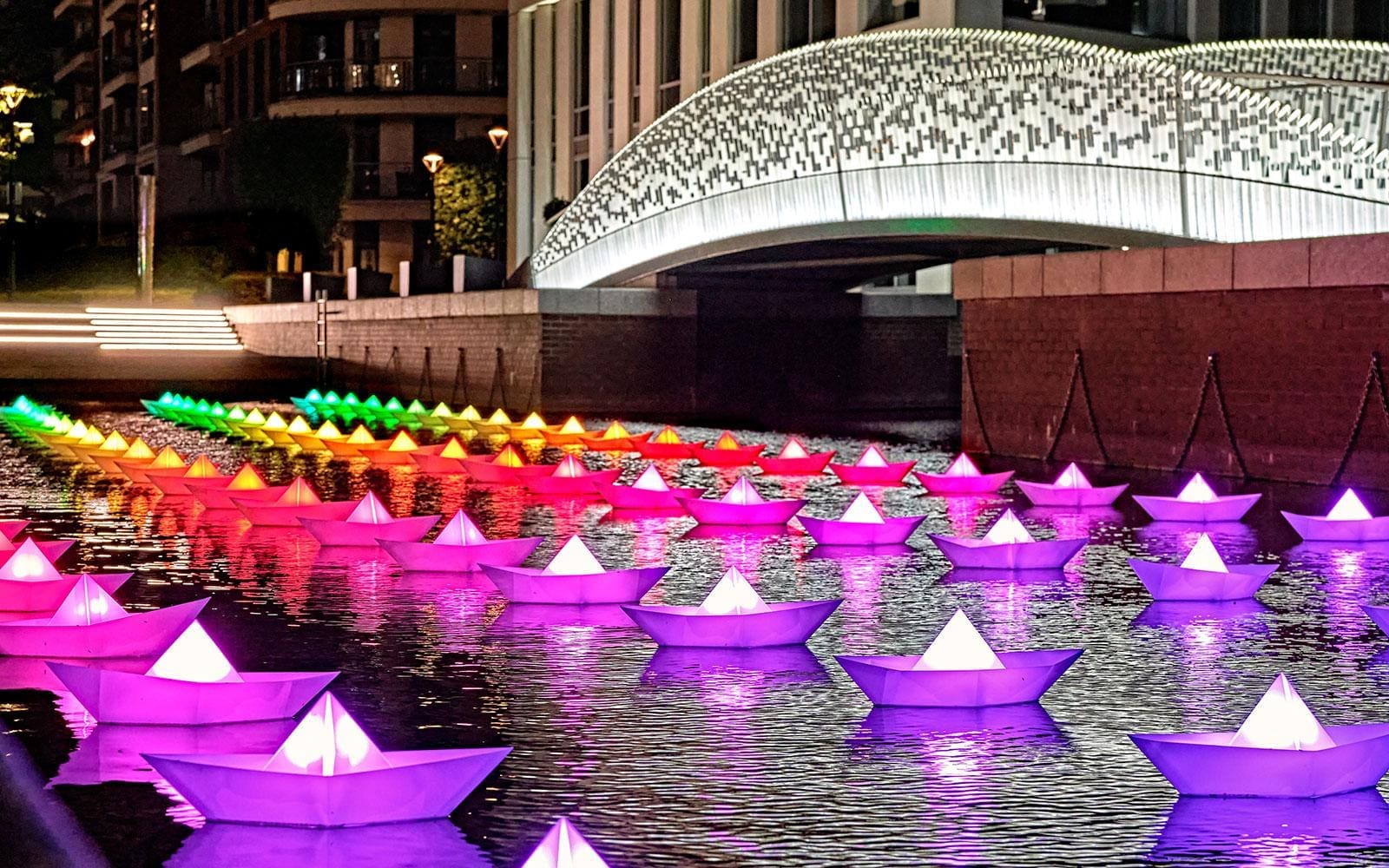 Having already wowed audiences in Dubai, Australia, the US, Spain and Germany, as well as closer to home at Blenheim Palace and Kew Gardens, this is a fitting inauguration of Chelsea Creek's Amsterdam and Copenhagen-inspired waterways, which form the largest manmade canal network created in over 100 years.
Just moments from the Chelsea Harbour Design Centre, as well as some of the best restaurants and shopping streets in the capital, Chelsea Creek was always going to be one of London's newest and most exciting neighbourhoods. With the help of Kitten Grayson and Aether & Hemera, and their emphasis on community and creativity, it is also guaranteed to become a destination that will be enjoyed by those from across the capital and beyond.