The latest interior collaborations and hotly anticipated homeware launches
With the pandemic having put a newfound emphasis on the home, some of the world's most astute designers have found new ways to channel their creativity — and encourage us to delve into our pockets, too.
All products are chosen independently by our editors. Luxury London may earn commission on items purchased.
Sister
As the founder and creative director of Studio Ashby, Sophie Ashby is no stranger to creating homeware and furniture pieces — but they have always been one-offs, produced with a specific project or client in mind. Whether it was for Ikoyi, the Nigerian restaurant in St James's, Casely-Hayford's Chiltern Street boutique or her own former home in the Television Centre, Ashby's creations have always been coveted by her large following on Instagram. Enter Sister, the designer's debut homeware collection of furniture, accessories and artwork. The edit of small-scale production and one-of-a-kind pieces is inspired by empowered femininity, and Ashby's own sisters and friends. Prices start from £40 for crockery and go up to £8,690 for a pair of incredible hand-painted bedside tables. A standalone store and larger collection is planned for 2021— watch this space.
Shrimps for Habitat
Shrimps' founder Hannah Weiland has lent her creative eye to Habitat once again, producing a second homeware collection that encapsulates her kitsch style. Following the success of her sell-out cushion from her last Habitat collection, which was inspired by Shrimps' Doodle clutch bag, Weiland has created a second print with new characters, which has been reimagined in cushion, rug and art print form. The rest of the range is inspired by 1970s Palm Springs and Hollywood and features a sunny colour palette of yellow, pink and sky blue, with hand-painted gingham prints and natural rattan accessories.
From £60 for a cushion, habitat.co.uk
Off-White HOME
View this post on Instagram
For Off-White's second homeware collection, Virgil Abloh has taken everyday objects and rebranded them with his personal design signifiers. Inspired by Off-White's latest ready-to-wear collection, the 80-strong range of home furnishings includes the fashion brand's 'swimming man', 'off-hand' and 'off-cross' iconography, stamped onto mohair blankets, pillows, clocks and towels. The collection includes items for every room, meaning die-hard fans can redesign their entire house with Off-White memorabilia should they wish— from wallpaper right down to doormats. Coffee cups, pitchers and dining sets in glossy black and marble-style ceramics make for an easier, entry-level purchase.
From £43 for a notepad, off–white.com
Laura Gonzalez for The Invisible Collection
Maison & Objet's designer of the year for 2019, interiors mogul Laura Gonzalez has collaborated with online contemporary design platform The Invisible Collection to produce a range of furniture. Produced in Portugal and her native France, Gonzalez's debut range includes a 1960s-inspired Soho armchair, a sculptural glass Lilypad chandelier and two chairs — Pondichéry and Madras — which are inspired by painted Indian wooden pieces from the late 19th century. Not to miss the chance to shine a light on another designer, Gonzalez has also produced two collaborative pieces: a green table created in partnership with artisan lacquerer Anne Midavaine, and a selection of pastel-coloured wall sconces by ceramicist Jean Roger.
From £474, theinvisiblecollection.com
Temperley London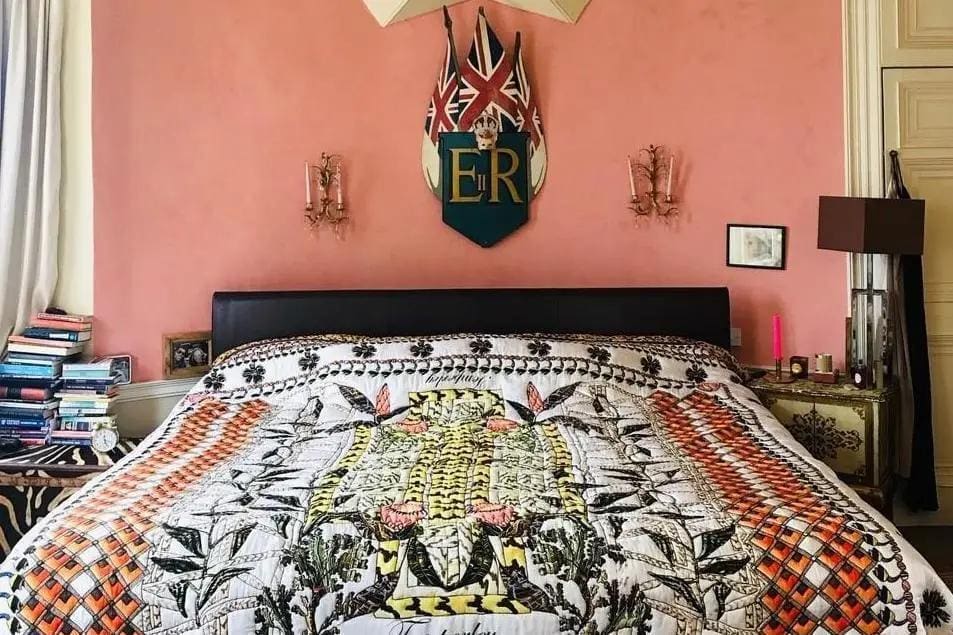 When Alice Temperley started making quilts for her Somerset home, she knew she was onto a winner. "People used to stay over and want to leave with them," she says. But it wasn't until another 12 years later that she struck upon the idea of a homeware collection, incorporating archive prints from her eponymous fashion label, her love of quilting and her eye for design to produce a range of soft furnishings. Temperley London's signature Lotus, Euphoria and Harmony prints have been reimagined as bohemian velvet cushions, throws and tablecloths, each of which is handmade and embroidered in India using traditional craftsmanship techniques.
From £120, temperleylondon.com
Summerill & Bishop X The River Café
Dinner parties might be off the table for now, but Summerill & Bishop and The River Café have created the perfect collection of table linens for when they are back on. Inspired by the 25-year friendship between the restaurant's co-founder Ruthie Rogers and the homeware brand's co-founder Jane Summerill, the new range of 100 per cent linen napkins comes in vibrant shades of hot pink, sunshine yellow and cobalt blue. A complementing tablecloth, featuring a graphic print designed by artist Michael Nash, completes the collection.
From £50 for a set of two napkins, summerillandbishop.com