The finest luxury board gamesthat double as home decor
These board games, from the likes of Jonathan Adler, Asprey and William & Son, are as aesthetically pleasing as they are entertaining
All products are chosen independently by our editors. Luxury London may earn commission on items purchased.
Board games and high design make for a winning combination. Not content with excelling in the interior and fashion industries, designers such as Brunello Cucinelli, Berluti and Jonathan Adler have turned their hands to entertainment, crafting beautiful board games to enjoy and display. Unleash your competitive side with these luxury versions of family favourites such as Scrabble, Tiddlywinks and dominoes. When not in use, these handcrafted sets are just as striking as coffee table centrepieces.
Alexandra Llewllyn's Dandelion Signature Backgammon Set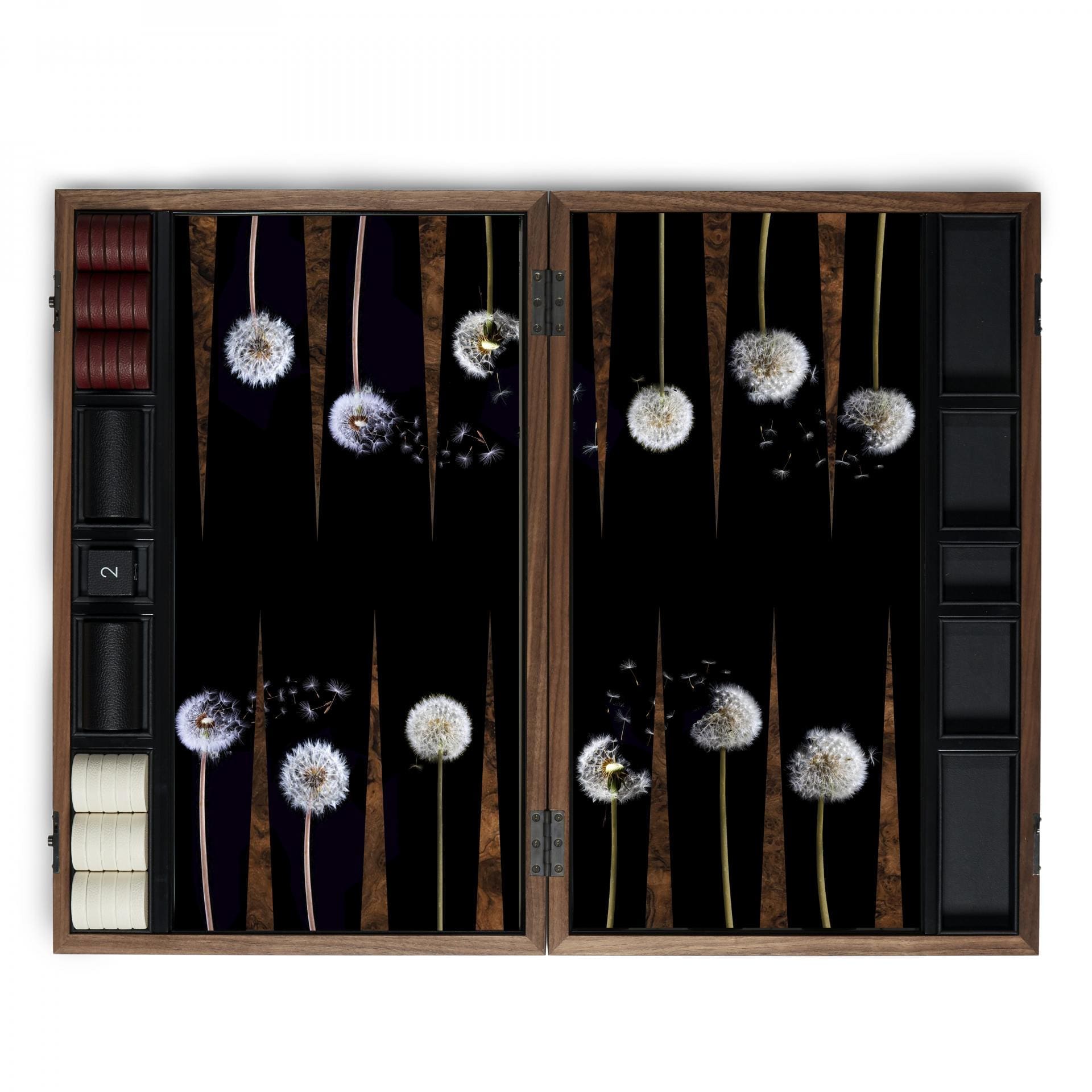 Alexandra Llewellyn's backgammon sets are a thing of beauty. Inspired by the games she played as a child with her step-grandfather in the backstreets of Cairo, Llewellyn began designing backgammon sets in 2010, and has since collaborated with brands such as Temperley London, Jumby Bay and Savile Row's Huntsman. Designed to be as much a beautiful focal point in a room as it is a game, this Dandelion Signature board is inspired by the concept of time and the slower pace of life experienced during the pandemic. Made using a series of original photographs printed onto Maccassar ebony wood, the board comes with soft calf leather shakers and weighted playing pieces wrapped in burgundy and cream leather.
£5,200, alexandrallewellyn.com
Jonathan Adler's Acrylic Chess Set
Netflix's The Queen's Gambit not only achieved record viewing figures when it was released at the end of 2020 (only to be quickly trumped by Bridgerton), but it also achieved the nigh-on impossible: making chess cool. The New York Times reported that sales of chess boards rose by 125 per cent in the weeks following the series' launch, with toy company Goliath Games recording chess set sales as up by more than 1,000 per cent compared with the previous year. Not yet jumped on the bandwagon? Jonathan Adler's acrylic version is a striking place to start. Inspired by the aesthetic of 1970s fashion designer Halston, this chunky neon set is as worthy of a champion chess player as it is a novice simply looking to bring some colour to their coffee table.
£595, jonathanadler.com
Asprey's Hanover Leather Scrabble Set
Put your vocabulary to the test with Asprey's Hanover Scrabble set. Beautifully crafted from lambskin leather, this playing board acts as a lid to a bullskin base box, in which four letter racks and a set of lambskin leather tiles are concealed. The set is finished with a velvet drawstring pouch and silk lining in Asprey's signature purple shade. A convenient rotating disk on the underside of the board allows you to spin it round when it comes to your turn. Looking for a big win? The highest-scoring Scrabble word is 'muzjiks' (a common term for a peasant in Tsarist Russia), at 29 points – score it on a triple for a game-changing 128 points.
£9,000, mrporter.com
Brunello Cucinelli's Domino Set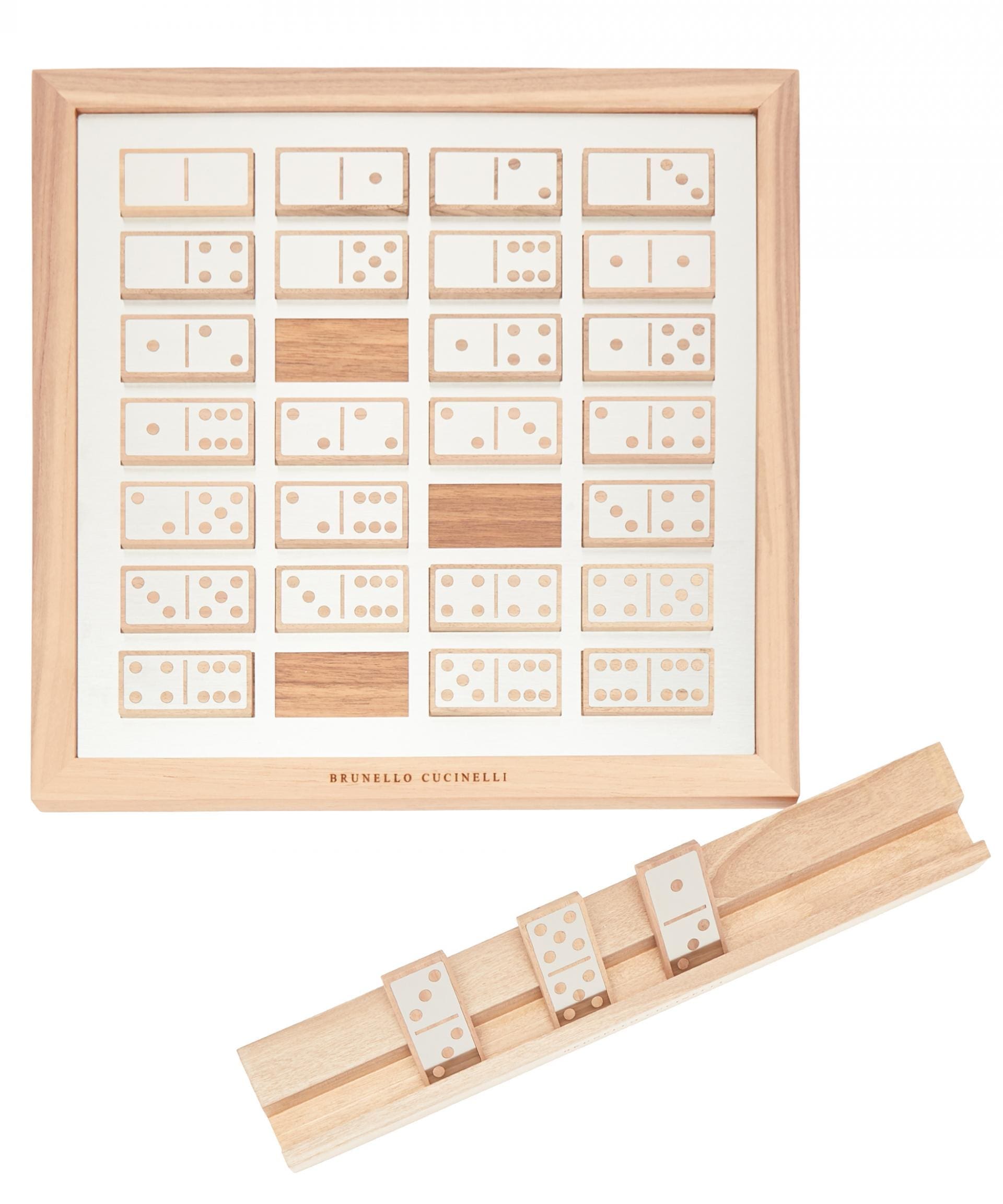 The earliest mention of dominoes was found in a Song dynasty text found in China dating from the 1200s, although the game as we know it in the west is believed to have originated in Italy in the 18th century. Taking the game back to its roots is Brunello Cucinelli, whose version is designed and handmade in Solmeo, Italy, where his brand is based. A fine example of Italian craftsmanship, this set of silver stainless steel pieces is presented on a logo-engraved tray carved from light walnut wood.
£880, matchesfashion.com
Smythson's Checkers Set
Smythson is known for its beautiful leather accessories, and its games offering is true to form. This checkers set comes in a neat snap-shut case made from cross-grain leather in a bright cobalt blue shade. Inside is a checkerboard in the same colour, with two snap-fastening pockets to hold 24 counters and dice. Neatly compact, this set can be tidied away into a cupboard when you've finished playing, or packed into a suitcase in preparation for a future holiday (remember those?).
£545, mrporter.com
Pinetti's Mahjong Set
Bored of Monopoly, exhausted Scrabble and can't get your head around Risk? Here's something you may not have played: Mahjong is a tile-based game originating from the Chinese Qing dynasty. Similar to Rummy, Mahjong is a game of skill, strategy and luck, commonly played by four players using 144 tiles to create a series of sets. This version, by Italian leather specialist Pinetti, comes in an elegant orange leather box, with a suede lining and a magnetic closure.
£1,383, farfetch.com
William & Son's Tiddlywinks
A 'bondook', a 'squidger' and a 'cracker' may sound like characters from a Dr Suess story, but they're actually Tiddlywinks lexicon, with each word describing a different move you can perform. It's hard to imagine there's any skill involved beyond simply flicking a counter and hoping for the best, but in fact Tiddlywinks is a competitive game played across the globe; there is even a world championship. Get your practise in now using William & Son's blue leather set, which is lined with felt and doubles as a charming decorative box.
£725, mrporter.com
Sunnylife's 4 in a Row
Four in a Row might seem like a game you would tire of easily, but if you're looking for something to keep you occupied then this might just be it, as there are apparently more than four trillion winning positions to achieve in this two-player puzzle. Set yourself the challenge using Sunnylife's rainbow take on the classic game. Crafted from clear and coloured acrylic, this set will brighten up gloomy lockdown days.
£95, amara.com
Montblanc & Purdey Poker Set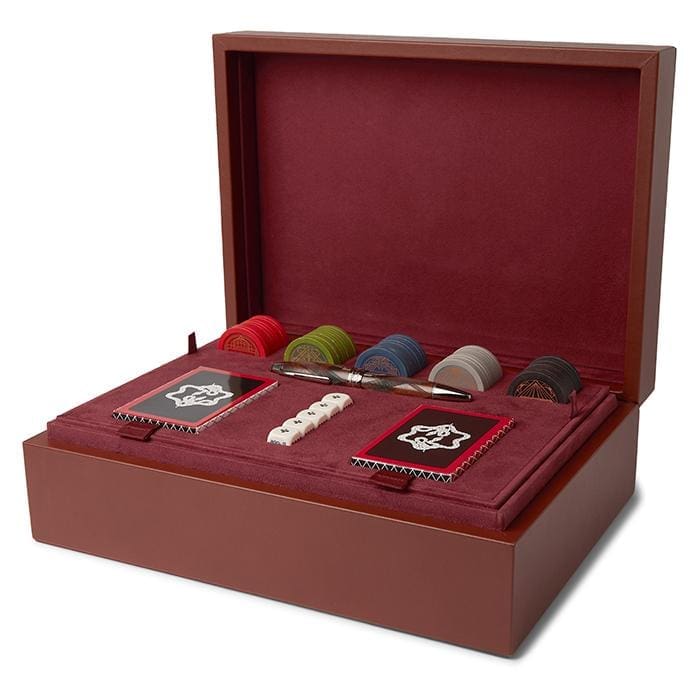 Whip out this set on games night and expect your opponents' poker faces to falter. Designed by Purdey and Montblanc, this Art of Gifting poker set combines the two heritage brands' commitment to fine craftsmanship. Presented in a leather coffret, the set includes 60 chips in five colours, two decks of personalised cards and a Montblanc special edition rollerball pen, which is made from Turkish walnut and topped with a mother-of-pearl and onyx cap.
£5,300, mrporter.com
Berluti's Go board
Go is a challenging two-player game of abstract strategy, involving a board and two sets of white and black stones. The main objective is to attempt to occupy more territory than your opponent, with the winner being the person whose stones take up the most space on the board at the end of the game. Berluti's version is crafted from the brand's signature Venizia leather and brushed stainless steel, and comes with two leather boxes containing white and black glass stones.
£5,000, mrporter.com