Small Talk: 'Watch out for those twins'
The sisterhood, the series and the sassy Tweets to know about this week
Friday 25 October 2019
1. The party
The Wing has finally landed in London, with a Portrait Room featuring Phoebe Waller-Bridge (long overdue mention), Le Labo in the lavs, book shelves lined with intersectional feminist literature, food and furniture designed by women, copies of their in-house publication No Man's Land and a launch party attended by Alexa Chung, Sinead Burke, Otegha Uwagba and Lily Madigan.
2. The production
Whoopi Goldberg is getting back in the habit in 2020, as Sister Act returns to the West End next July. She'll be joined on stage by Ab Fab's Jennifer Saunders as Mother Superior in the gospel-backed comedy-drama. Tickets are available from £26. eventimapollo.com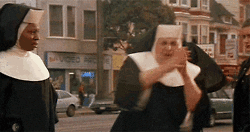 3. The present
Joni Mitchell's Both Sides Now will forever remind me of Christmas, mostly because of that heart-wrenching Oscar-worthy scene by Emma Thompson in Love Actually where she finds the album under the tree, so if anyone I know is reading this, consider this a completely shameless plug for my Christmas list. Coincidentally, her new book was originally called The Christmas Book, hand-made by the signer for a handful of close friends in LA. Now, Canongate is printing Morning Glory on the Vine. With hand-written lyrics, colourful waterpaints and poems, it's a rare insight into Mitchell's 75 years, and will make any Mitchell fan happy on Christmas day. canongate.co.uk
4. The burn
This week, actor Dennis Quaid (65) announced his engagement to 26-year-old Laura Savoie. While most have been grossed out by the age gap, no one's response came close to Quaid's Parent Trap co-star Elaine Hendrix.
Watch out for those twins. ?‍♀️ https://t.co/Rloat1gLCy

— Elaine Hendrix (@elaine4animals) October 21, 2019
5. The pop-up
I once posted a picture on Instagram of a beaded Matthew Williamson skirt with the caption 'May sell my car and my grandmother to own this'. Now, I don't have to (you can relax, Granny) thanks to my new favourite way to wear Williamson and more – Hurr. The online peer-to-peer rental fashion brand has just launched its first pop-up boutique in Belgravia until Friday 29 November, where you can rent designers for anything between a day and a week. I'm eyeing up the feathery turquoise skirt from the same AW15 collection I posted about – read more about rental fashion in our November issue of Luxury London. 37-39 Elizabeth Street, SW1; hurrcollective.com
6. The show
David Attenborough makes Sunday not suck again with his new series, Seven Worlds One Planet, kicking off this weekend on BBC1. He's a national treasure and the voice credited with starting the conversation about single-use plastics – we hope this series will have such a powerful effect, and soon. It promises to be both stunning visually and uncomfortable to watch, outlining both the planet's biodiversity and the way us humans are messing it up.
7. The 360
°
Insta-comedian Gary Janetti has entertained followers with his photoshopped images and faux captions depicting a spat between six-year-old Prince George and Meghan Markle. But in light of her recent interview on ITV, Prince Harry's statement about her struggles and the lawsuit against the tabloids, Janetti decided that enough was enough, and he didn't want to be part of the 'pile on'. His last few posts have seen George taking Meghan to the spa, and offering her a hug. It's still funny, but now it's sweet, too – we're glad fake George got over himself. @garyjanetti