Small Talk: 'What Have the Romans Ever Done for Us?'
Your guide to this weekend's top talking points
Friday 23 August 2019
1. The shop
Actor Kate Hudson made an appearance in London on Thursday to officially launch her Cali-cool Nature x Happy pop-up at Selfridges, which will be the brand's exclusive retailer in Europe. The womenswear collection, now in store, is made from 50% recycled materials and follows Hudson's athleisure brand Fabletics. I'm just waiting for a drop that includes that backless yellow silk dress from How to Lose a Guy in 10 Days, which, btw, is getting a reprise in the form of a series written by comedian Guy Branum.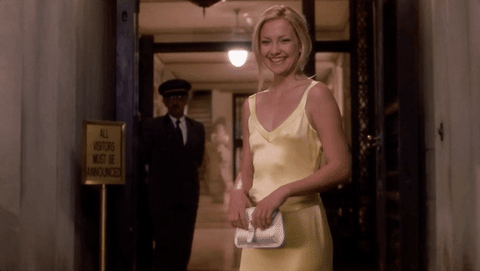 2. The party
The after-party, actually. After you've been crushed by the crowds at Notting Hill Carnival this bank holiday weekend, head to Idris Elba's bar The Parrot, where Afro-Caribbean Calypso music and a menu of jerk chicken, akcee, salt fish and fried plantain will keep the spirit of carnival alive long after your feet have gone numb and the Red Stripe has gone warm. Don't let the feather-finished cocktails out-dress you: here's what to wear to look the part.
Cocktails and live music is the best way to start the week - its a fact! #TheParrotLDN pic.twitter.com/JXNbac6rbt

— The Parrot (@theparrotldn) August 6, 2019
3. The honeymoon
Supermodel Heidi Klum posted a dreamy, rosé-tinted sunrise over Faraglioni off the coast of Capri this week, having hired 343-foot-long superyacht Christina O for her wedding and honeymoon. The $634,000-per-week-boat was previously owned by the Onassis family and is thought to be where Prince Rainier and Grace Kelly held their wedding reception.
When you wake up outside in this location ...... and your husband is still sleeping ❤️?? ??❤️#capri #Italy #honeymoon ?? pic.twitter.com/SE7dOGluKg

— Heidi Klum (@heidiklum) August 19, 2019
4. The voice
If you weren't falling in love with Steve 'The Hair' Harrington from Stranger Things in the latest series, you were probably falling for his BFF Robin instead, played by Maya Hawke. This week, she dropped two singles - To Love a Boy and Stay Open - and they're more addictive than a cone of strawberry and vanilla with sprinkles and extra whipped cream (Eleven's fave). The daughter of Ethan Hawke and Uma Thurman, Maya made her acting debut as the ballsy Jo March in BBC's 2017 take on Little Women, and you can also spot her in Once Upon A Time in… Hollywood, out now.
5. The island
New Design Hotel Parilio opened on the Aegean coast this week, a short walk from Kolympithres beach in Paros. It's got all the white-washed, sun-bleached, Cycladic-wind-flattened features we've come to expect from this cluster of summer holiday go-tos, just in time for a last-minute dash for sun (or 'ílios' in Greek, hence the name). Campaigners in Paros also announced plans to be the first Mediterranean island to go plastic-free, with organisations such as Common Seas and Clean Blue Paros pushing for businesses and homes to banish single-use plastics altogether.
6. The video
Originally posted three weeks ago, this (utterly brilliant) video of (utterly useless) Boris Johnson delivering a speech dubbed with one of Monty Python's best sketches has gone viral, and for good reason. Whether you like or loathe our PM, you can't deny the multi-generational reach and comic genius of YouTuber user Carlos Manwelly, who edited the clip.
7. The catastrophe
More than £870million in funds were raised overnight for Notre-Dame Cathedral after the fire there in April, but it's taken over two weeks for wildfires in the Amazon to hit the major news outlets. The area - you know, that tiny 5.5 million km² rainforest where the planet gets a mere 20% of its oxygen - has suffered a record high of infernos this year, and Brazil's president Jair Bolsonaro, has brushed off concerns. His policies, which prioritise development over conservation, have been called 'anti-environmental' by Greenpeace and actor-turned-activist Leonardo DiCaprio has called out the lack of media coverage. Click here to find The WWF's recommendations on how you can help.
Brazil environment minister heckled over Amazon fires https://t.co/RSW5H9aDrr

— BBC News (World) (@BBCWorld) August 22, 2019
8. The movie
Ambiguously referred to as 'Bond 25' up until now, No Time to Die has been confirmed as the latest James Bond title, which sees Daniel Craig hanging out in Jamaica, Lashana Lynch taking over the 007 moniker and Phoebe Waller-Bridge on the writing team, no doubt making a case for the pen being mightier than the Walther PPK pistol. The script will 'treat women properly', she says… even if Bond doesn't.