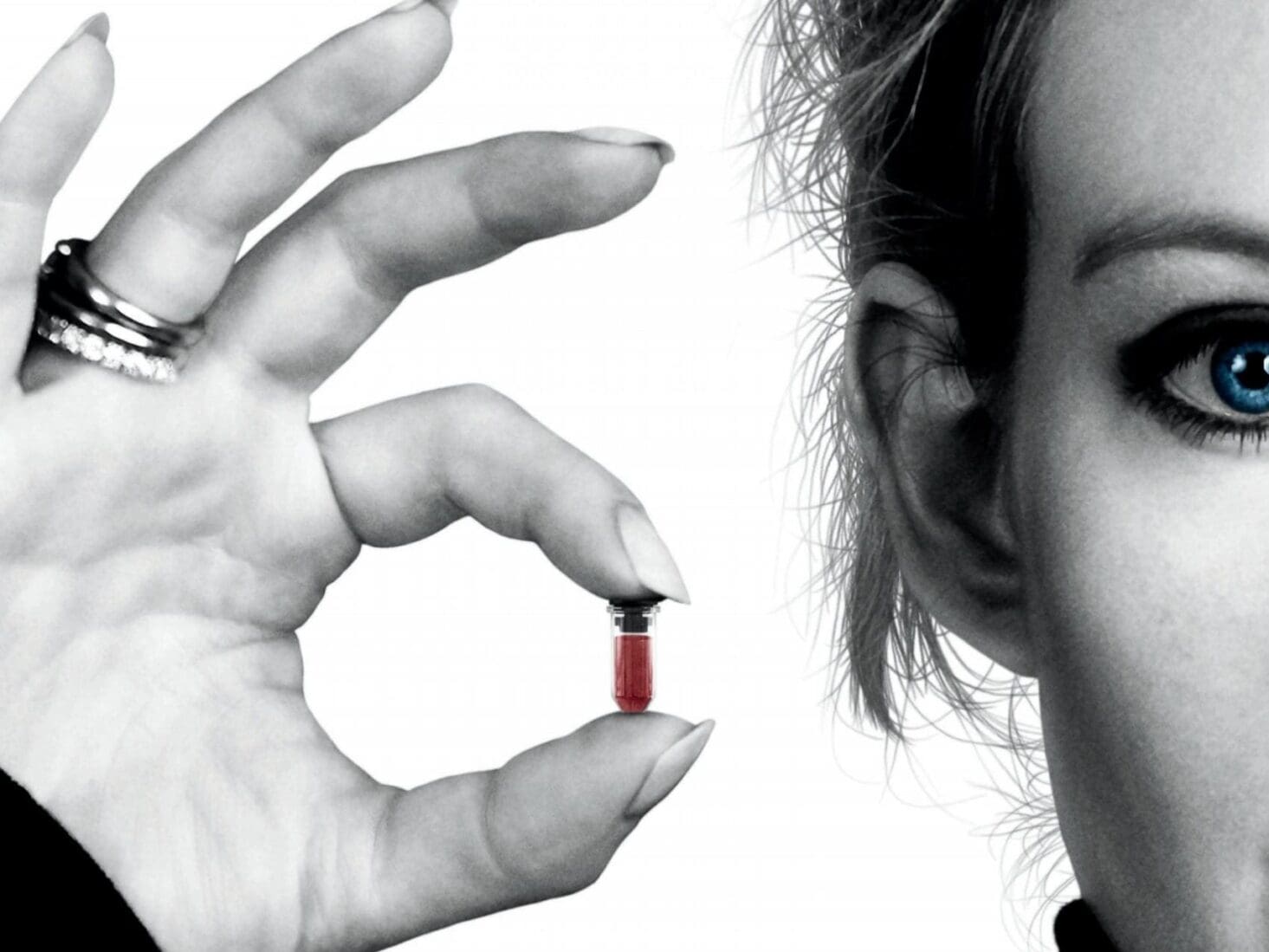 The most eye-opening documentaries to watch right now
"We realised that the important thing was not the film itself but that which the film provoked" — Fernando Solanas, The Exile of Gardel (1985)
The Social Dilemma (2020)
Watching The Social Dilemma might just be the incentive you need to kickstart a digital detox. Jeff Orlowski's Netflix documentary exposes how social media platforms profit from exploiting our data and, ultimately, manipulate human behaviour. Silicon Valley's engineers and executives speak candidly about helping to create a monster that they now fear. Watch alongside The Hack for an all-encompassing and unsettling insight into how social media platforms are threatening our mental health and democracy.
Available to watch on netflix.com
The Rise of the Murdoch Dynasty (2020)
If you binge-watched your way through Succession, chances are you'll find yourself as equally addicted to The Rise of the Murdoch Dynasty, a three-part documentary series from the BBC. Although the creators of Succession have quoted a range of inspirations behind their hit Sky Atlantic programme, the parallels between the fictional Roy family and the real-life Murdoch clan are clear for all to see.
The BBC documentary charts the incredible rise and influence of the Murdoch empire in the 1990s, through its fall from grace in the 2000s, to Rupert's personal and professional comeback in the mid-2010s. It tells the story of how Murdoch's huge political influence in the UK was finally challenged, revealing a closeness between his newspapers and politicians that eventually saw four living prime ministers questioned at the Leveson Inquiry. The final instalment illustrates how Murdoch's involvement in the US elections and the Brexit referendum proves his political influence may be as powerful as ever.
Available to watch on bbc.co.uk/iplayer
Extinction: The Facts (2020)
There has been much hype around David Attenborough's new Netflix series, A Life on Our Planet, which looks back at the 94-year-old presenter's career and the changing face of the world during this time. Add it to your watch list, but not before hitting play on Extinction: The Facts, a one-off, hour-long documentary on BBC iPlayer that uncovers the harsh reality of climate change — and humanity's involvement. Even Attenborough's soothing tones can't soften the blow of this eye-opening film, which will have you analysing your own consumption and carbon footprint quicker than you can say global warming.
Available to watch on bbc.co.uk/iplayer
Athlete A (2020)
Larry Nassar was a highly respected and celebrated doctor, known for his treatment of world-class Olympian gymnasts – until he was convicted and sentenced to more than 175 years in jail for sexually abusing those in his care. This unsettling documentary exposes three decades of sickening abuse, as well as the ruthless training camps experienced by girls as young as 14, which created a toxic environment plagued by eating disorders and low self-esteem. Nassar's victims accuse U.S.A. Gymnastics of turning a blind eye and neglecting to act on allegations of abuse and believe the system is still prioritising medals over the protection of young girls.
Available to watch on netflix.com
Once Upon a Time in Iraq (2020)
This harrowing BBC Two documentary tells the story of the Iraq war through the eyes of the civilians, soldiers and journalists who lived it. Divided into five parts, the series takes viewers into the eye of the storm as its narrators relive the heartbreaking realities of war. From American cadets to Iraqi civilians, the stories are powerful and emotive, and all the more so for being shown, as they are, alongside home videos, news reports and military footage. It is sensitively-made but at times makes for uncomfortable viewing — as it should. An essential watch for Brits whose knowledge of the Iraq war is scarce.
Available to watch on bbc.co.uk/iplayer
Robin Williams: Come Inside My Mind (2018)
HBO's touching tribute to Robin Williams charts the life of the idiosyncratic, complex and immensely gifted actor and comedian. It features copious clips of Williams, from his early days in stand-up comedy and 1978 breakthrough role in Mork and Mindy to memorable performances in Mrs Doubtfire, Goodwill Hunting and Dead Poets Society. A phalanx of stars discuss his genius, including Billy Crystal, Whoopi Goldberg, David Letterman and Steve Martin, as well as his first wife Valerie Velardi. The documentary veers between hilarity and heartbreak, as it touches on his tumultuous relationship with drugs and alcohol and the events that led to his suicide in 2014.
Available to watch on nowtv.com
Rising Phoenix (2020)
"Thanks for the warm-up" read the billboards for the London Paralympic Games 2012. It's this cheeky sentiment that informs Netflix's Rising Phoenix, in which nine elite paralympic athletes share their inspiring stories of struggle, success and international sporting fame. Chronicling the Games' evolution, from its founding in 1948 as a one-day event in London to its international debut in Rome in 1960, the documentary celebrates the unique resolve of paralympians and the Games' role in changing attitudes towards disability across the globe.
Available to watch on netflix.com
The Inventor: Out for Blood in Silicon Valley (2019)
Elizabeth Holmes was heralded as 'the next Steve Jobs' when she founded Theranos at the age of 19, mirroring the tech magnate's black polo necks and fierce ambition. The Silicon Valley darling raised more than $700m from a phalanx of powerful men including senators and secretaries of state to finance her upstart blood-testing company. Her portable machine, The Edison was touted to transform the world. Except then it didn't. This HBO documentary follows the rise and fall of the youngest self-made female billionaire, who is currently awaiting trial in New York. The scandal also birthed a podcast, The Dropout, which is set to air as a dramatisation starring Jennifer Lawrence.
Available to watch on amazon.co.uk and hulu.com
Generation Wealth (2018)
With a career as a society photographer spanning more than 25 years, Lauren Greenfield was granted insider access to the lives of individuals consumed by extreme desires of wealth. The 80-minute documentary candidly introduces us to characters like Limo Bob, who wears 33 pounds of gold and diamonds and "loves Old World elegance." At one point, Greenfield unwittingly captures a young Kim Kardashian attending a school dance. Then there's a fraudulent trader called Florian Hamm who lost $200 million and has a particularly sleazy way of sucking his cigars. There's nothing new or revelatory here, but if you want a deep-dive into wealth porn, you will be entertained. To quote Oscar Wilde, they "know the price of everything and the value of nothing."
Available to watch on playerplayer.bfi.org.uk
The Fog of War (2003)
You may not be as familiar with the name Robert S. McNamara as you are with John F. Kennedy and Lyndon B. Johnson, but, in his own way, McNamara was just as important in directing American foreign policy during the 1960s as the two presidents he served. Acting as US. Secretary of Defence during that decade, McNamara, the former president of the Ford Motor Company, oversaw the Cuban Missile Crisis and the first half of the Vietnam War.
The Fog of War distils 20 hours of interviews with then 85-year-old into a two-hour, Oscar-winning documentary that's sliced with archive footage, infographics and audio recordings between McNamara and Presidents Kennedy and Johnson. Subheaded Eleven Lessons from the Life of Robert S. McNamara, the film explores some of the most pivotal moments in recent American history and the role played by an unelected, corporate superstar within them.
Available to watch on amazon.co.uk
Icarus (2015)
The best documentaries transcend their subject matter. On the surface Icarus is a tale of drugs, urine swaps and suspicious deaths; in reality, the Oscar-winning docu-film is about much more than that, exploring the psychology behind state-sponsored propaganda and, more generally, cheating in sport at large – and why, despite the attempts of anti-doping agencies, it happens time and time again. Even if you've no interest in athletics, amateur cyclist Bryan Fogel's accidental uncovering of the most outrageous doping scandal in Olympic history will have you hooked. A white-knuckle whistle-blower thriller that had far-reaching consequences upon its debut at the Sundance Film Festival – an event Russian authorities supposedly tried to hack in order to scupper the film's release.
Available to watch on netflix.com
The Jinx (2015)
Directed by Andrew Jarecki, this HBO documentary series profiles Robert Durst, New York's notorious real estate scion with a sordid past, accused of murdering both his first wife, Kathleen McCormack Durst, in 1982 and his friend, Susan Berman, in 2000. He was also acquitted of murdering his neighbour, Morris Black, in 2001. Bizarrely, it was Durst that instigated the docuseries after watching Jarecki's All Good Things, a 2010 fictionalised retelling starring Ryan Gosling. Chilling interviews with Durst are spliced with witness statements, recordings and archival footage. Durst has no doubt since regretted offering up his side of the story – a haunting confession in the final moments of the show resulted in the disgraced magnate returning to court.
Available to watch on nowtv.com and amazon.co.uk
Free Solo (2018)
This gripping, Academy Award-winning documentary follows free soloist Alex Honnold as he prepares for the ultimate death-defying challenge: ascending the face of the 3,000 ft El Capitan in Yosemite National Park without the aid of any safety equipment. Stomach-flipping swoops as he scales the vertiginous cliff are captured alongside intimate moments of unlikely domesticity, as he lives out of his van with his understandably anxious girlfriend. Prepare to be on the edge of your seat.
Available to watch on netflix.com
Escape from Dubai: The Mystery of the Missing Princess (2019)
Latifa, the 32-year-old daughter of Dubai's ruler, Sheikh Mohammed bin Rashid Al Maktoum, was seized from a yacht in 2018 during a bid to flee her repressive life – a break for freedom that was seven years in the making, with the help of a French ex-spy. Prior to her disappearance, the Emirati princess made a damning video, exposing the extremities of Dubai's restrictive regime. "If you are watching this video, it's not such a good thing," she said in her video. "Either I'm dead, or I'm in a very, very, very bad situation." This BBC documentary chronicles the build-up to her doomed escape, depicting a life of extreme privilege and suffocating constraints.
Available to watch on bbc.co.uk/iplayer
Amy (2015)
It's called the '27 club' – the age of Morrison, Hendrix, Joplin, Cobain and Winehouse when they died. There's a legend that surrounds the deaths of these musicians except, with Winehouse, there was nothing mythical about her very public self-destruction. Asif Kapadia's Academy-award winning documentary exposes the toll that drugs, bulimia, alcohol and the media took on the mouthy jazz singer-turned global sensation."The world wanted a piece of her, and took it" a friend says. Footage from her abysmal performance in Belgrade the year she died stands out against intimate recordings of a teenage Winehouse, not yet afflicted by her demons. Winehouse's voice, masterfully utilised by Kapadia at crucial points in the film, is an agonising reminder of why we wish the music never stopped.
Available to watch on netflix.com
Formula 1: Drive to Survive (2019)
F1 has taken a bit of a battering in recent years, with many critics claiming it has lost the high-octane thrills and competitive edge of its past. Liberty Media, the new American owners of F1, has seen the importance of making the sport less anaemic. This documentary, made in partnership with the sport's owners, is a step in the right direction. Drive to Survive dives headfirst into the politics, dynamics, highs and lows of racing and does so without mincing its words. Günther Steiner, the melodramatic boss of underdog HAAS, makes another welcome appearance. Mercedes and Ferrari have decided to feature in this series, revealing the inner workings of the hegemonic duo. If F1 were ever played a eulogy at its funeral (luckily, the men in suits have woken up) this would be it.
Available to watch on netflix.com
When Louis Met … Jimmy (2000)
Award-winning but uncontroversial at the time, When Louis Met … Jimmy has become the filmmaker's best-known work, arguably for all the wrong reasons. In 2000, Theroux spent a week with the eccentric broadcaster and charity fundraiser Savile – 11 years before the entertainer's death prompted hundreds of allegations of sexual abuse – attempting to understand the man behind the very public persona. Creepy at the time, the documentary is a whole new watch two decades later. Theroux has openly admitted being agonised by the documentary, admitting feeling like he left Savile off the hook. In 2016, Theroux made a follow-up documentary, Louis Theroux: Savile, in which he hears from the paedophile's victims, which is currently being streamed by Netflix.
Available to watch at enhancetv.com
Bowling for Columbine (2002)
In March 2020, with most of the country under some form of lockdown, Americans purchased more guns than in any other month since the FBI began collecting data more than 20 years ago. The complex relationships that exist between Americans and their guns was a subject explored by director Michael Moore in 2002, three years after the Columbine High School shooting in Littleton, Colorado. In one scene, Moore walks into a Michigan bank and is given a free hunting rifle after opening an account. Just before leaving the bank, Moore turns and asks: "Do you think it's a little dangerous handing out guns at a bank?"
Available to watch on amazon.co.uk
Senna (2010)
Before the highly-acclaimed Diego Maradona and Amy documentaries, Asif Kapadia directed the emotional big-hitter Senna, which won a BAFTA for Best Documentary in 2010. Using extensive archive footage of Senna on-and off-track, the film weaves a delicate story around the Brazilian's obsessive desire to win and the cult-like following he earned with well-chosen voiceover narration by the driver himself, his parents, his sister, rival Alain Prost and a great many television commentators. The genius of the documentary is that it resists the tabloid sensationalism that focused on Senna's untimely death at San Marino. Instead, like the man himself, it's a subtle, spiritual and intelligent retelling of how he lived.
Available to watch on amazon.co.uk
Grizzly Man (2005)
Werner Herzog's extraordinary documentary tells the peculiar story of Timothy Treadwell, a wacky wildlife enthusiast who moved to Alaska to live among grizzly bears. He became a minor celebrity for his fascination with the furry animals, until he was mauled and eaten by the animal he called his friend.
Available to watch on playerplayer.bfi.org.uk
Man on Wire (2012)
High-wire French acrobat Philippe Petit made history in 1974 when he walked on a wire between the towers of the World Trade Centre, while a perturbed audience watched on from street level. He 'danced' on the metal cable for 45 minutes and was later arrested for his illegal tightrope act. James Marsh's unflinching documentary collages interviews with archival footage of Petit as he prepared for the death-defying stunt. These grainy visuals of the Twin Towers – which were not yet completely built – feel particularly poignant in our post-9/11 world.
playerplayer.bfi.org.uk
Diego Maradona (2019)
From the director of Senna and Amy, comes another scintillating eponymous biopic, this time based on Argentina's most infamous sporting son Diego Maradona. A British venture produced by On The Corner Film in association with Film 4, the documentary centres on Maradona's 1984 transfer from FC Barcelona to the underachieving S.S.C. Napoli, weaving together more than 500 hours of never-before-seen footage in an attempt to separate Diego the man from Maradona the myth. On the pitch, the superstar footballer might have lead the Naples side to its first-ever Serie A title – and a UEFA Cup a few years later – but off the pitch, a celebrity alter ego would leave a wake of drug busts, disqualifications and extramarital affairs. A documentary about hopes turning to dreams and dreams turning to nightmares.
Available to watch on netflix.com
March of the Penguins (2005)
"They have wings but cannot fly. They're birds that think they're fish. And every year, they embark on a nearly impossible journey to find a mate," narrates Morgan Freeman, in the perfect Sunday afternoon, family-friendly documentary March of the Penguins. Antarctica, explains Freeman, once had a tropical climate. But then the land masses moved and the weather changed and almost all the other animals left, but there was one tribe that stayed: Emperor penguins. The film begins in March, the end of summer in the southern hemisphere, as the penguins begin their 70-mile walk to their ancestral breeding grounds. They walk, day and night, for a week, in temperatures as low as -80 degrees Fahrenheit to find a mate with which to produce an offspring, at which point things get really tough. And you thought lockdown was a struggle.
Available to watch on amazon.co.uk
Blackfish (2013)
Few documentaries have had as much real-world impact as Blackfish, the 2013 film that investigated the killer whale programme at SeaWorld. In response to the film, New York state banned the keeping of orcas in captivity; California introduced the Orca Welfare and Safety Act, a bill that banned entertainment-driven orca captivity. Southwest Airlines ended its 26-year relationship with SeaWorld, while SeaWorld itself would see its stock price fall by 50 per cent by the end of the following year – at which point its CEO resigned. In March 2016, SeaWorld announced it would end its orca breeding program and begin to phase out all live performances using orca whales.
Available to watch on netflix.com