Sacha Jafri: The British Painter Creating a Splash in High Society
"The art world has become this phenomenal money-making machine, creating booms and busts that can end up killing an artist's career"
Sacha Jefri may be the only artist whose brain is of particular interest to science. "They've studied it," says the 42-year-old, "and apparently it creates really deep theta waves. That's what is generated when your subconscious is hard at work. I'm always after new experiences because that's what fuels your subconscious – unless you expose yourself to new things it has nothing to work on. And then it's a question of tapping into it."
Jafri does this by staring – sometimes for hours – at the centre of a blank canvas. He enters into a meditative state. And then, on surfacing from deep down, he begins to paint – often for 24 or 30 hours straight, declining food and water until, in effect, his mind is emptied. No wonder he produces a 12-piece collection of paintings only every couple of years – it must be exhausting. It's certainly not a way most painters work, but then Jafri's works are largely not like those of most painter's. Described as 'magic realism', they're a large-scale high-energy riot of colour and form, seemingly random, visually arresting, figurative perhaps only if he were trying to paint the doors of perception – which, in a way, he is.
His works are certainly popular: Barack Obama, Bill Gates, George Clooney, Leonardo DiCaprio and Madonna are among his collectors. Jafri knows this because, unusually in the art world, he meets anyone who wants to buy one of his pieces – to size them up, to get a sense of where they will hang the piece, perhaps above all to make sure that they're in it for the art and not just to make a buck.
"I'm not about art that's out to shock, in order to get attention, generate press and push the price up – to make the kind of connections with the public that last just a few months," says Jafri. "I'm not about having my art manufactured and then just putting my name to it, which is almost laughable – the kind of art that relies on people assuming they must be stupid if they don't get it. What nonsense. And I'm really not into the idea of people buying my art to stick it in a vault, just with the intention of selling it later for profit."
As well they could – with Jafri's star in the ascendant, his painting of cricketer Virat Kohli was bought on the secondary market earlier this year for £300,000 and recently sold for £2.9m. February 2018 saw a retrospective of Jafri's work kick off at the Oscars cereomy ("a lot of my collectors are Hollywood types, in the entertainment world," he notes). A three-year world tour of around 30 countries is under way.
That Jafri chooses to deal direct is less an indication of preciousness than of his general disgruntlement with what he calls "the art system". While he concedes that the art market has been manipulated "since Leonardo", he argues that it's in a particularly negative state right now. Power is moving away from artists and towards dealers, "who get to determine what people see in galleries and museums, what people should like -– which is insulting to them, as to say someone has a better eye for a piece of art than someone else is an idea I find enraging." This ultimately influences the market value of the art.
"The fact is that dealers don't care what's being made, just so long as it can make the maximum amount of money," Jafri adds, now sounding well on his way to being truly angry. "The art world has become this phenomenal money-making machine, creating booms and busts that can end up killing an artist's career. Your work's value suddenly crashes and then you're buggered. I want to step outside of all that nonsense. Of course, I can't control it totally. But I try."
Jafri is certainly busy creating specially commissioned works – among the organisations seeking a little of the magic realism have been a diverse bunch that includes MGM, the Lawn Tennis Association, Disney, Manchester United and various members of the royal family. He takes this approach in part because he has a progressive attitude to money in the first place.
"I treat money as a thing with which I can buy time to create," he explains. "If I sell, say, two paintings and make some money, I look at my account and see the number, and immediately convert that into a certain length of time – time I can spend in the studio, or travelling, or with my family. But unfortunately I don't think many artists think that way because, almost inevitably, they're caught up in that art machine."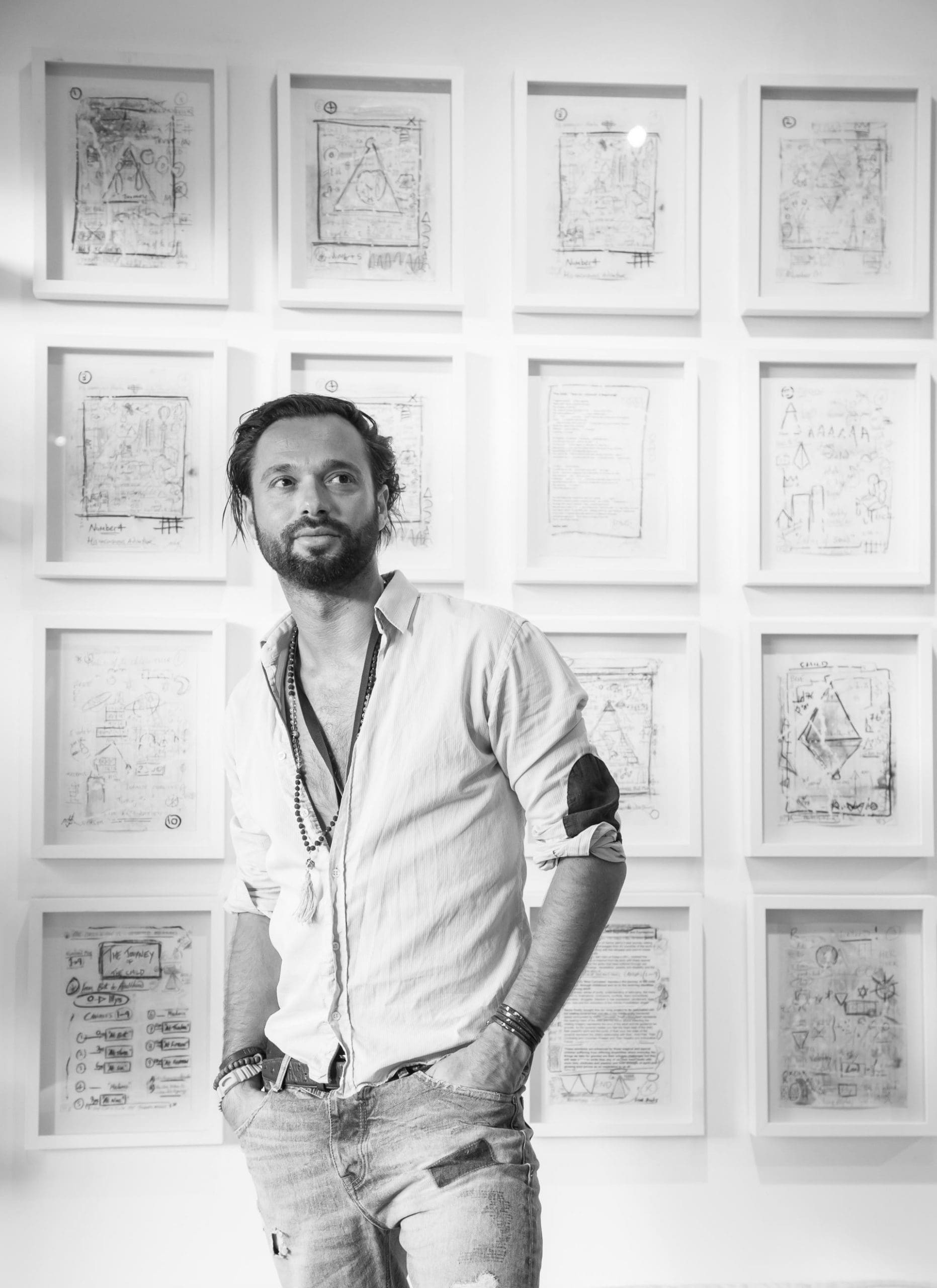 But Jafri also takes this outsider approach because he wants to maximise the return – and not simply to line his pockets or maintain his studios in London, New York and Dubai. He says he gives around 10 to 20 per cent of the take on each painting to charity; more dramatically, over the 20 years that he's been painting, he's also managed to raise $48m for good causes by auctioning special one-off works.
"When I saw that figure it was, like, 'Wow, did I really?' But that only encouraged me to set a target, to take a more deliberate approach." To this end, last year he set himself the target of raising $12m over 12 months. Most of the money goes to various organisations working for children, notably those with mental health issues or special needs, or orphaned refugees from Yemen, Syria and other war zones; not long ago Jafri conducted a rather grim tour of dozens of the worst refugee camps, painting his response to what he saw in situ. The logic of his charitable choices is simple. "Childhood is the greatest gift we're ever given and yet unfortunately we live in a culture that's constantly trying to get children to leave their childhood behind, to grow up and take on the constraints of adulthood. You have to keep that inner child." He works especially closely with the Royal Foundation, the philanthropic vehicle of the Duke and Duchess of Sussex and the Duke and Duchess of Cambridge; Jafri went to Eton with Prince William.
Jafri even has a touch of royal blood himself, with a pedigree that no doubt makes for a great dinner party tale. His great-great-grandfather was one of the maharajas of India, back in the day when they lived in 5,000 room palaces, as his ancestor did. Jafri's grandfather was close friends with Gandhi, and helped found Pakistan. By the time his father was born, the family money had all but evaporated in a cloud of complex geo politics. Jafri's dad became the first Muslim ambassador to the Vatican – his final post being in London, Jafri grew up in the UK.
"I had a very weird upbringing," says Jafri, "because I was surrounded by the super-rich, by royalty and the very privileged, but had to get into Eton on a scholarship. I think that whole experience is what taught me to treat the janitor and the king exactly the same. Besides, the one thing I have to do – just have to do – in life is paint, and I don't think I can paint if I can't connect with people."Unsurprisingly, Jafri has scooped a fair few high-profile humanitarian gongs. The United Nations has recognised his artistic and humanitarian efforts; in 2018, he received the Global Gift Foundation's Humanitarian Award. As befits an artist who seeks to operate outside the art system, he's received more accolades for his charity work than for his art.
"I have to say that I'd rather get an art award," laughs Jafri, "because I'm always questioning whether I'm a great artist or not. Humanitarian awards are very nice – we all need a bit of affirmation and it does make you think you're doing the right thing. I do find it really strange that artists don't take a more humanitarian approach. Art – like sport, for example, or acting – is one of those fields in which people sometimes have the ability to earn a huge amount of money in a short space of time, and yet there's a reluctance to use that money to humanitarian ends. It seems an obvious thing to do."
While helping humanitarian causes is great, he says, he wants to leave a legacy in painting. "That's not easy. But if you create art that enters someone's soul it's with them forever – it's art that comes from a moment of creativity that's a by-product of that artist's life. That's what gives art meaning, not marketing. That's art that's part of the world forever. That's what leaves a legacy."