Fresh faced: London's most impressively-refurbished buildings
From the Hoover Building to The Ned, Luxury London looks at the capital's most successfully renovated developments
London is defined by constant change. Like an ocean it's constantly moving, endlessly to-ing and fro-ing, never still. Regularly scan its shapeshifting skyline and it'll seem as though a shiny new glass structure pops up weekly, battling it out with other expensive stalagmites for aerial recognition.
New buildings are usually impressive in their scope, but they're rarely as inspiring as old ones. Which is why the city's best architecture tends to be old. Some of it, unfortunately, has been demolished over the years, leaving only ghosts of its historical context behind. But other structures, thankfully, have been refurbished, transformed into something other than what they were originally intended for. From Kings Cross to Wapping, here are London's most impressively-refurbished buildings.
British Museum
London's, and indeed one of the world's most popular galleries, the British Museum sees some 6.7 million people walk its floors every year. It's incredibly popular, but not without controversy: its over eight million works, including parts of Greece's Parthenon, were collected (or stolen, depending on your point of view) during the reign of the British Empire.
Its many rooms and exhibits house works from all over the world, and you can spend days without seeing them all. They are, of course, the main reason to visit, but architecture fans needn't go beyond the entrance hall to get their design itch satisfied. Created by Norman Foster, the Great Court opened in 2000, and completely transformed the museum, acting as a central hub connecting its many galleries and rooms.
Walk in through the opulent facade of the museum's entrance and the first thing that will strike you is the roof. A geometric puzzle of curved glass and steel, it shelters the vast hall while letting in streams of light, almost giving the feeling of being outside. It's a masterpiece of structural engineering and the crown of Foster's tasteful refurbishment.
Tate Modern
Following its closure in 1981, Bankside Power Station's future was uncertain. A number of plans to redevelop the building – including an opera house and an entertainment venue – never quite came to fruition. It was refused listed status and there were fears it might be demolished to make way for something new and shiny. Those who appreciated the building's heritage breathed a sigh of relief then when it was announced, in 1994, that the Tate would transform it into a modern art gallery.
Today, the Tate Modern is the UK's second most visited museum and it's easy to see why. From an architectural standpoint alone, it's a marvel. Its imposing size and trademark brick chimney hark back to London's Industrial Age, but it's how the building's been redeveloped that is most impressive. Enter and the huge scale of the Turbine Hall imbues a strangely calming presence – it never seems busy here, such is its volume. And then there's the Blavatnik Building, a 2017 Herzog & de Meuron-designed addition that further modernises the site, with its harsh lines and beautiful concrete staircase.
The Ned
A former banking headquarters might not seem like the ideal spot for a five star hotel and members' club, but that's exactly what 27 Poultry in the City of London became when the Soho House group took over in 2017. A vast structure designed in 1924, and made from Portland stone, the building spans 11 floors and boasts ten restaurants, 250 bedrooms, a gym, spa and – in true Soho House form – a rooftop terrace complete with swimming pool.
The group isn't shy to turning its hand to renovations: it has previously transformed a derelict former English farm into a luxury retreat in a similar fashion. For The Ned though, a number of the building's original features have been left intact, including the 20-tonne, two-metre wide vault door, which welcomes visitors to the basement cocktail bar. The original 3,800 deposit boxes also remain. The Gringotts feel is consistent throughout, with the ground floor banking hall retaining its many rows of walnut counters, serving today as spaces to eat or drink. It's an imposing space, but one that almost seems tailor made for its current purpose.
The Design Museum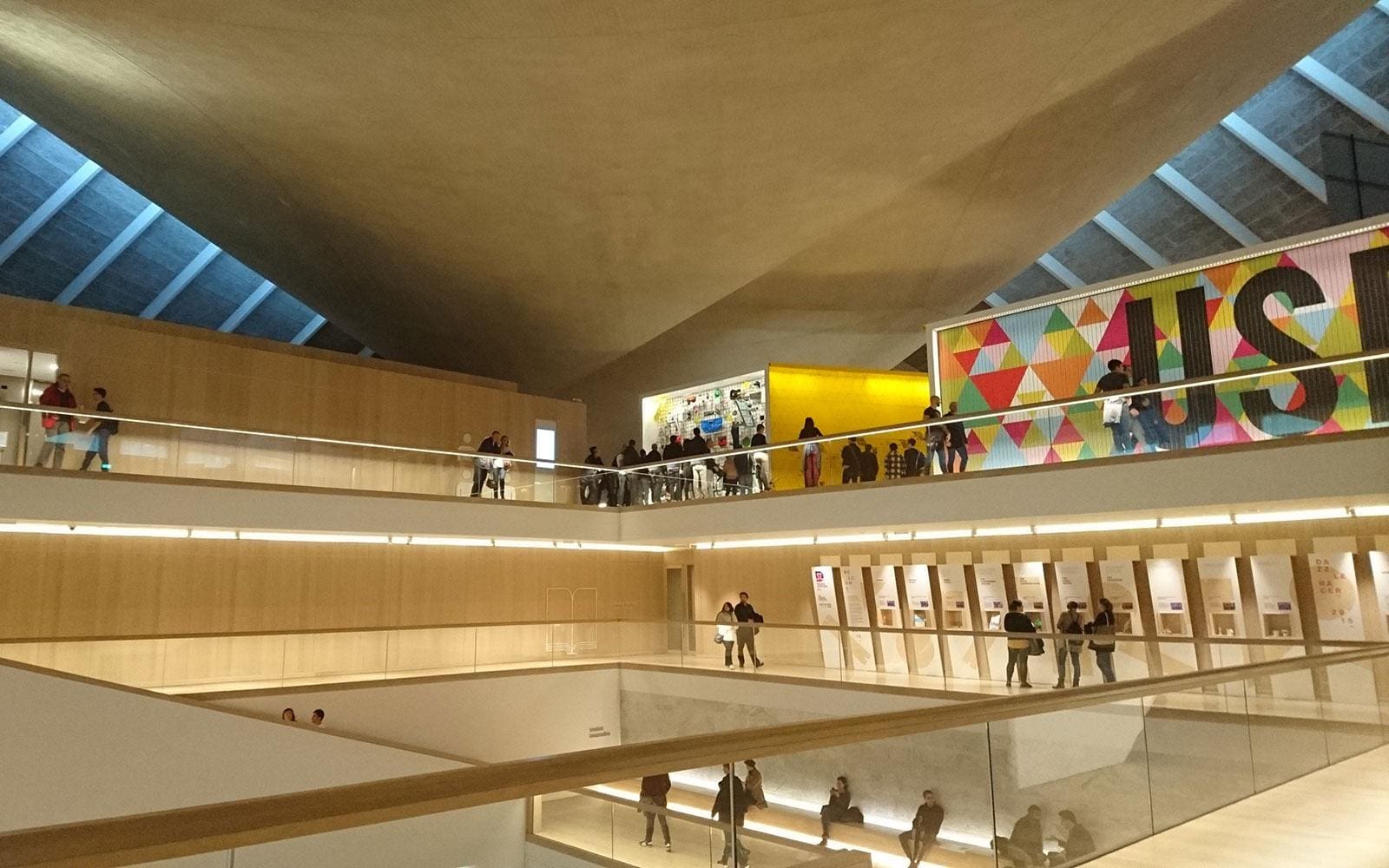 Another of London's nearly-demolished landmarks, the Commonwealth Institute was a 1960s modernist marvel complete with a unique undulating roof made from copper. It closed in 2002, and was left empty for over a decade before the Design Museum took over, turning the building into a multi-functional gallery space when it opened in 2016.
Minimalist architect John Pawson was behind the transformation, which gutted the interior, replacing it with squared-off oak staircases and well-lit balconies that lead the eye towards the underside of the unique roof. Some criticised the design, believing too much of the original building was lost in the revamp, but the pared-back interior does at least allow the ceiling to be the talking point. It is, after all, the original building's strongest feature, and it somehow seems right that a museum celebrating design would put its own stamp on its home.
St Pancras International
Perhaps laying claim to the crown of London's greatest railway station, St Pancras was originally opened in 1868 as a terminus for the Midland Railway, connecting London to the north. A monolithic building and an incredible example of Victorian engineering, St Pancras is one of London's busiest stations today, with some 48 million people passing through each year. Its most impressive feat might be the £800 million refurbishment that took place in 2007 though.
By the mid-'80s St Pancras was borderline derelict, with its iconic train shed roof only just saved from a feared collapse a few years earlier. A plan hatched in the mid-'90s sought to revive the ailing station, turning it into the home of Eurostar, as well the new High Speed 1 connection to the south east coast. Completed in 2007, the new station was completely modernised, but with respect given to the original structure: its iconic roof now houses some of the UK's most important rail links as well as a number of cafes, shops and three much loved, publicly-playable pianos.
Pennington Street Warehouse
The London Docks once acted as the city's gateway to the world. A network of docks spanning 30 acres, they were completed in 1815, allowing goods as diverse as ivory, coffee, wool, wine and a multitude of spices to enter the UK. Following the dock's closure in the '70s and '80s though, they became largely derelict and today, the Pennington Street Warehouse is one of the only large structures from the original docks to survive.
A 300+ metre long brick building, it was completed in 1806, and was originally used to store imported products held for tax reasons. After its closure, Rupert Murdoch's News International did a stint on the site, controversially basing its offices and print works there, but now the warehouse is going through another change, and has been refurbed for commercial use as part of a wider London Docks development by the Berkeley Group.
The build plays on the character of the warehouse's previous life, with exposed brick and numerous arches allowed to shine throughout, and is being promoted for use by artists, architects and other creative professionals. We would rather have seen a more creative use for this Grade II-listed building – a museum or gallery perhaps, considering the building's crucial part in London's history – but when so much of the London Docks no longer exist, we're just grateful it's still standing.
Hoover Building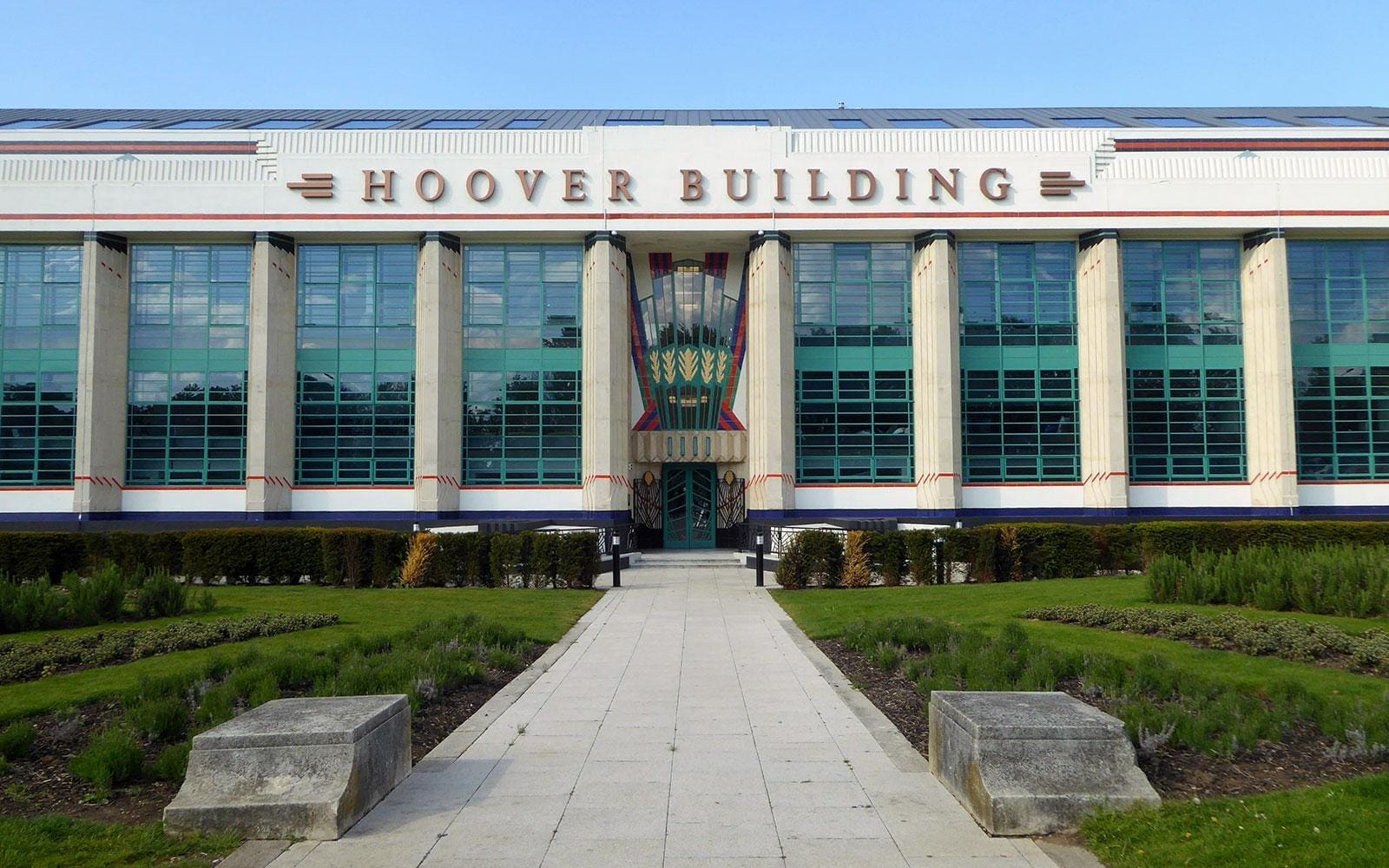 There aren't many remaining Art Deco buildings in the UK, but of them, the Hoover Building is surely one of the most well known and easily recognisable. It will be a familiar site for anyone that's driven the A40 in or out of London, with its striking white, red and green colourway and streamlined moderne facade.
Following its intended use as the headquarters of the Hoover Company, which occupied it from its build in 1933, it became a Tesco supermarket. The chain even decided to demolish parts of the original factory to better suit its needs – a fact that hasn't aged well. Tesco eventually gave up the site though, and following an unloved period in which it remained empty, the Hoover Building has now been converted into apartments. Thankfully, developers Interrobang decided to retain as much of the former factory's original features as possible, including the terrazzo flooring, wrought-iron bannisters and large sweeping staircases.
Four Seasons at Ten Trinity Square
It's not unusual for a luxury hotel to take over a grand old building. Ten Trinity Square was originally built in 1922 as the home of the Port of London Authority, to which hundreds of people every day would pay taxes on products entering London. It wasn't until the 2010s that the Four Seasons group took over, transforming the Beaux Arts building into one of the city's more lavish hotels.
From the outside nothing has really changed, with its Corinthian columns and ornate facade made from Portland stone remaining as impressive as it's ever been. But head inside and you'll be able to enjoy food at the two Michelin-starred La Dame de Pic, headed up by chef Anne-Sophie Pic, as well as relax in the comprehensive spa complete with sauna, hammam suite and swimming pool.
Battersea Power Station
It was hard not to be sceptical when the developers of the Battersea Power Station described turning the Grade II* listed building into an 'exciting and innovative mixed-use neighbourhood'. This only increased when it became clear that a one bedroom flat in the building that used to give London its electricity would cost over £600,000. But it was probably always inevitable that the power station would be at least partly turned into luxury apartments – the building is one of the city's icons, an instantly recognisable landmark directly overlooking the river downstream towards Westminster and beyond.
The power station is the centrepiece in arguably the city's most ambitious redevelopment project – costing over £9 billion, the 42-acre Nine Elms site will be home to shops, bars, restaurants, offices and lots of luxury apartments. When completed, the building will be publicly accessible, with hundreds of shops located in the old turbine halls, as well as a large food court and a 2,000 seat entertainment venue. Apple has even chosen to house its 'London campus' here, which is a testament to the investment and level of finish that's likely to be achieved.
Standard Hotel (Camden Town Hall annexe)
Too many brutalist buildings have been demolished, not just in London but across the UK. What was initially thought of by some as an architectural utopia quickly became unfashionable, overly harsh and oppressive. Many were torn down less than 50 years from being built. Which is why the Standard hotel group acquiring the former Camden Town Hall annexe building was such a positive move. Rather than knock down the building and start over – as happened with Welbeck Street Car Park – it chose to build on what is a unique and under-appreciated piece of modern design history.
The building is harsh, yes, but its mixture of curved concrete and the more angled lines typical of brutalism gives it an intriguing, if not inviting look. The Standard has jazzed things up, adding a bright red pill-shaped lift on the outside of the building, part-demolishing the old roof and plant rooms in the process. A new extension was added to the top of the building, completely transforming the exterior, but not taking away from the building's distinctly 1970s feel. It might not be to everyone's taste, but few can deny that adding to and improving an existing building is more sustainable and infinitely more interesting than starting over.